Legion Y520 review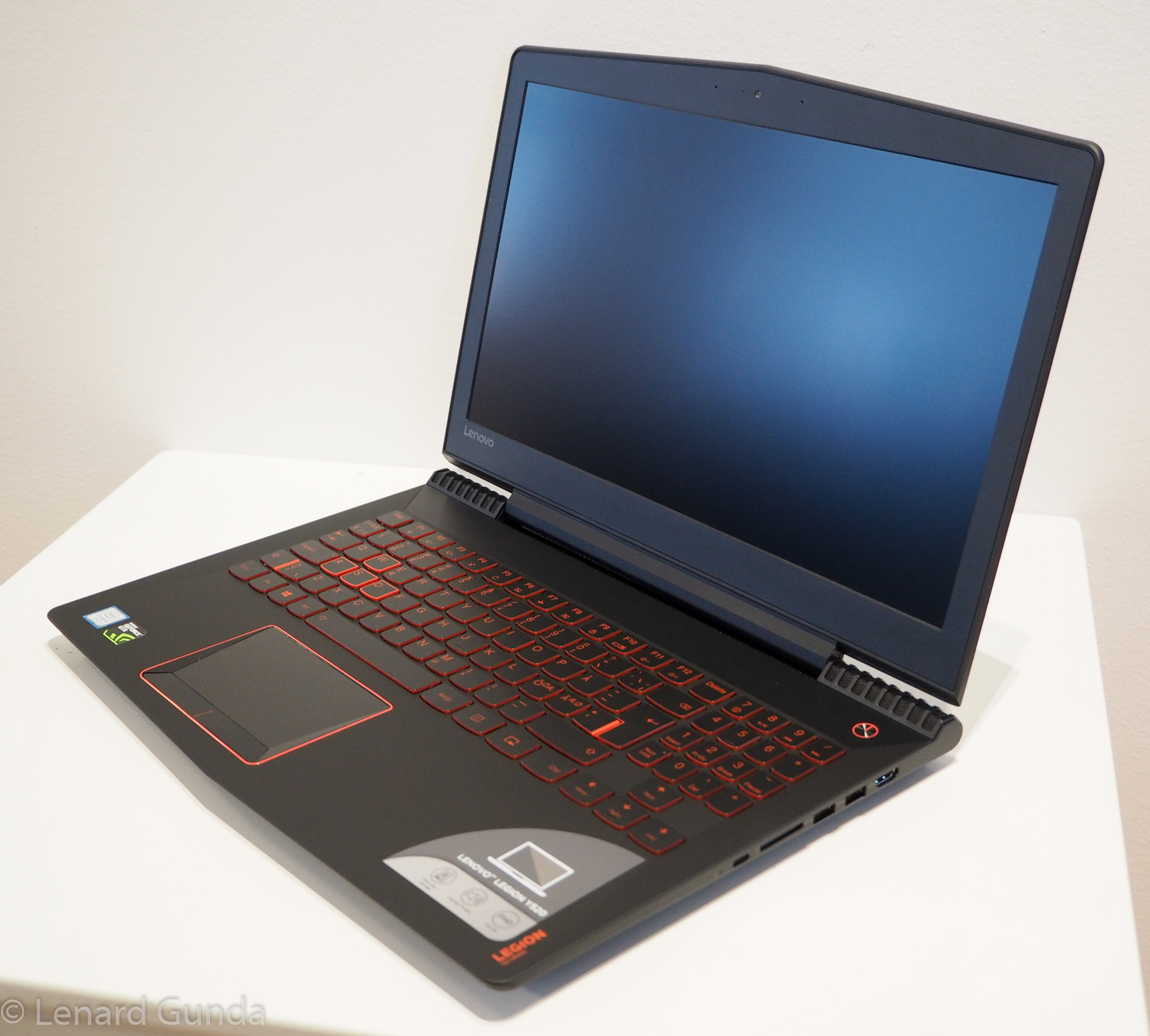 I purchased the Lenovo Legion Y520 gaming notebook to finally get back to gaming after years of living with business focused notebooks. It also allowed me to test out Windows Mixed Reality better. I settled on the Legion Y520 after careful consideration. Lenovo has been producing dedicated gamer gear for a few years now, the Legion being their gaming brand.
Overview
Pros
Strong performance
Budget friendly
Great keyboard
Nice asthetics
Cons
Some compromises in quality (all plastic construction, weak lid)
Not so good wireless performance
Sub par display
Unboxing
The notebook came in a big black box. The box had the Legion branding on it. I was initially a little bit worried about what UPS did to the box, but luckily the inside is very well padded.
As you open the box, the inside contains a foam container that houses the actual notebook. This provides good protection during transport.
The notebook itself is contained in a bag.
All in all, the packaging was well thought out, but nothing fancy. I took it out of this bag, and the textured lid of the notebook greeted me with embedded Lenovo logo. The lid has this texture to it – not just visual, you can fell it as well. Even though it is made up entirely of plastic, it feels good to hold it, and has a sturdy feel to it.
The box also contains a power supply, but nothing else. It would seem the box could hold more accessories, so maybe this is for more premium versions.
First impressions
As I opened the lid, a red accented keyboard greeted me. The backlight is also red, but the keys have red accents all around. Very nice! The keyboard area has no flex and the base has a nice quality feel to it. I was certainly prepared for much worse, this being marketed as the "budget" offering from Lenovo.
While the base is really sturdy, the lid itself is not that strong. Applying pressure will be seen as ripples on the screen. Even when closed, the lid has quite some flexing.
The hinges are also sturdy and keep the screen in place. I especially like the speakers on the sides.
While the overall appearance is a bit bulky (hey, it is a gaming notebook!) it doesn't feel too heavy at all.
The palm rest are is covered in a soft touch material, which feels nice, although all the parts attract fingerprints.
Hardware
The Legion Y520 I bought came in the following configuration:
CPU: Intel Core i5-7300HQ, quad core CPU
Memory: 16GB
Storage: 256GB SSD + 1TB HDD
Display: Full HD 1920×1080
GPU: NVIDIA GTX 1050 Ti, 4GB
This configuration was sold for about 1050€ (including taxes) in Finland.
Currently it is being sold with the GTX 1060 graphics card, but the configurations (in Finland) only come with 8GB of RAM. Some stores carry notebooks with different configurations.
Performance
CPU performance is plenty enough for anything. I ran my usual programs on the Legion Y520 to see how it fares with my usage. Gaming worked flawlessly (more on the graphics side later). Development also went smoothly. Obviously there were no performance problems with web browsing and Office applications 🙂
I opted for a version of the Legion Y520 that comes with SSD+HDD combo: startup performance is a breeze and Windows reacts very fast to everything.
I installed the games on the HDD, so there is some loading time involved that could be improved with an SSD.
Noise
Idle noise is not audible (well maybe in a super quiet room it would be?). But turn up the heat a little and the fans will kick right in. If you are running games, the fans are loud and the notebook will produce quite some heat at this point – not unexpected when gaming 😉
The noise is not disturbing when using headsets.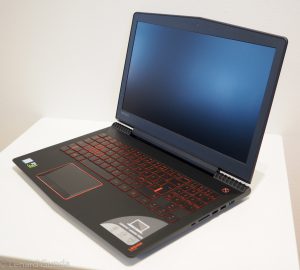 The display
The notebook came with a 15″ FullHD IPS display. It is not too bright, but gets the job done. Even during the day the display is ok. It might not cope with direct sunlight, but that is a scenario I rarely face with a gaming notebook.
The colors are a bit washed out, so I would probably not process my photos on this one.
Wireless networking
The Legion Y520 contains an Atheros Wifi chipset instead of the usual Intel one I am used to with business notebooks. The Atheros Wifi gets the job done, but is noticeably slower than the Intel chipsets. If you intend to use the notebook further away from your router, this could mean slower wireless performance.
Ports
Port selection is quite good. The notebook also has a Type-C port but it is not Thunderbolt 3 compatible. And it does not support charging the notebook. Other than that, 3x USB Type A (2x USB3 and 1x USB2) ports provide nice extensibility.
On the left side:
Kensington lock
Power connector
Ethernet
USB Type-A port 2.0
Headphone
Reset button
On the right side:
USB Type-C port  (with the functions of USB 3.0 and DisplayPort 1.2)
SD card reader
2x USB Type-A port 3.0
HDMI port, supports HDMI 1.4 (max resolution 3840×2160 (4K) @30Hz)
Keyboard
I was surprised at how great the keyboard felt. I needed a short time to get used to the layout, but the keys felt excellent. Not too much pressure is needed to press them, but they provide good feedback. The typing experience is great. I could write code on this keyboard!
The red accents look cool. I know that most gaming notebooks go for the black and red colors – I still find it good looking and pleasing. I also like the red backlight.
The keys themselves are a little bit of a fingerprint magnet. This is probably because of the coating/finish. But nothing a good microfibre cloth cannot fix.
Touchpad
The Legion Y520 I purchased came with a Synaptics touch pad. It is precise and works great.
It would seem Lenovo ships the Legion Y520 with two different brands of touchpads. Mine works great and I am satisfied, but when I did my initial research I found some people were complaining about the touchpad. Looking at the drivers, I think the other manufacturer is Elan. I wonder if those complaining got an Elan touchpad?
I do have some complaints about the physical buttons though. The buttons do not register clicks the same way along their entire surface. This means missed clicks all the time, even with some usage I just fail to hit a click every time.
Tapping on the touchpad itself will work fine.
Palm rejection did not work flawlessly every time.
Audio
The audio sounded nice. The speakers are larger than the average notebook speaker, so they were not that bad. Although for gaming I use a dedicated headset, that has its own audio hardware.
Graphics
I am not a hard-core gamer, so I am not put off by the graphics performance in this notebook. In fact, I find it more than enough for anything I threw at it. Then again, I do not play the latest flashy titles.
The GPU in the Y520 I chose is the GTX 1050 Titanium. It has 4GB of video memory included. If you wish to run the notebook with an external 4K display, do notice that the HDMI output only supports 30 Hz with 4K resolution.
Gaming
I did not measure FPSs or timed demos for this review, because there are so many reviews out there that do this very meticulately.
I tried the following games on this one:
Counter Strike: Global Offensive
World of Tanks
World of Warplanes
Skyrim
StarCraft ][
League of Legends
The Lab (Steam:VR / Windows Mixed Reality)
Graphics was always fluid and graphics settings were always up high (with Full HD resolution). Granted, these might not be the latest AAA titles out there.
Battery life
Battery life is nothing special. With light usage, middle brightness, web browsing and note taking you can get about 4 hours, maybe 5 if you are very conservative.
Do anything more intensive, and battery life drops like a stone. Intensive use will get you slightly above 1 hour. This is not your all day laptop, that's for sure.
As usual in my reviews, I will not measure exact figures. You will find precise measurements at Notebookcheck for example.
Software
The notebook came preloaded with Windows 10 version 1703. I had to immediately update that to 1709 in order to have Windows Mixed Reality working.
During the setup, Cortana starts to talk to you. Although not specific to Lenovo, I find it very annoying on recent notebooks. But I guess it could help out non-IT-pro users during the setup process. Luckily Cortana can be made silent.
There are some Windows Apps installed by default, again, mostly because of Microsoft. It is great that Lenovo stopped shipping junk software on their notebooks, but now Microsoft started preinstalling all kinds of garbage apps on Windows. Luckily these can be removed very easily. And because of the nature of Windows Store Apps, they will not leave junk behind.
The notebook still had Lenovo Companion installed, which is the old Lenovo App. But this was updated to Lenovo Vantage during one of the reboots I made while updating Windows.
The only "real application" that I needed to remove was McAffee LiveSafe. But this too uninstalled rather quickly.
All in all, the software experience was really nice, and the only think I wish is if the preload would have been updated for the newer Windows version.
Driver updates
There haven't been driver updates to the Y520 for a very long time now. In fact, just recently came a single BIOS update, but the drivers themselves are not being updated. While I appreciate that there are not a ton of upgrades, drivers are tweaked all the time with small fixes.
This makes me wonder if the Legion line is just another "consumer" line for Lenovo, where they produce a computer every year, but long term support is not really in the cards.
For a gaming system, graphics driver updates are important. The included NVIDIA Geforce Experience application will care take of keeping your graphics drivers updated. Although I wish it would do this without me needing to register for an NVIDIA account, which is really annoying.
Mixed Reality
Windows 10 starting with version 1709 supports Mixed Reality. Although it does not require a gaming power house to use, the more power the better. In addition, Windows Mixed Reality headsets also support Steam:VR. But if you want to have Steam:VR content/games then you need something more powerful than your average business notebook.
I was very impressed with the Lenovo Explorer, a Mixed Reality headset from Lenovo. In fact I was so hooked that I almost immediately wanted to try it with proper graphics hardware. After some research I decided to get a Legion Y520 to fill that gaming gap I had for years, and and the same time I could check out MR as well.
Mixed Reality works really great on the Y520. You can read more about my MR experience in my post about the Lenovo Explorer.
Conclusions
I was looking for a gaming notebook that I can use when I occasionally game and that could drive Windows Mixed Reality to try out some VR titles. After researching several gaming notebooks from various manufacturers I decided to go with the Legion Y520. I was a little bit scared about the "budget" designation with the Y520. But my fears turned out to have no merit.
The Legion Y520 is a well built notebook with great performance. Build quality is good, with only a few compromises to reach this budget price point. CPU and GPU performance is enough to power your games. I also tested software development on it, because that is my day job and hobby as well. It fared very well in that regards as well. In fact, if I would be on a budget (no ThinkPads 😉 ) I could very much take this as my main computer!
Who this is for?
If you are a occasional gamer or a gamer on a budget, this might be a great choice to invest in. My model came with the 7300HQ CPU but you can also get this with the 7700HQ to get even more performance.
If you are a power gamer / hard core gamer, you might want to look at the Legion Y720. It is about the same size, but has better GPU options available, better build quality, and also has a multi-zone backlight for the keyboard. Is is aimed at Pro gamers.
If you are looking for a computer for general usage, you might want to check out other models. While you can browse the web, run Office apps and the like on this without problems, for general usage something else might serve you better. Battery life is not too great. The Legion Y520 is also a bit bulky, and unless you plan to game a lot, you can find lighter models with GPUs that can serve you.
If you are a developer like me, rest assured that this machine can do both gaming and development. Although I do not use it as my primary coding computer, I did test my projects on it, and it can certainly handle everything I need.
For people who want to work with graphics, photos or movies, you might want to look at the Y720 or other notebooks that have dedicated GPUs. The not-so-great color reproduction and brightness of the display on the Legion Y520 is not that great for this kind of work. Although performance wise this would serve you really well – just connect an external display.
Useful links