How fast does it go? The ThinkPad P15 Gen 1 benchmarks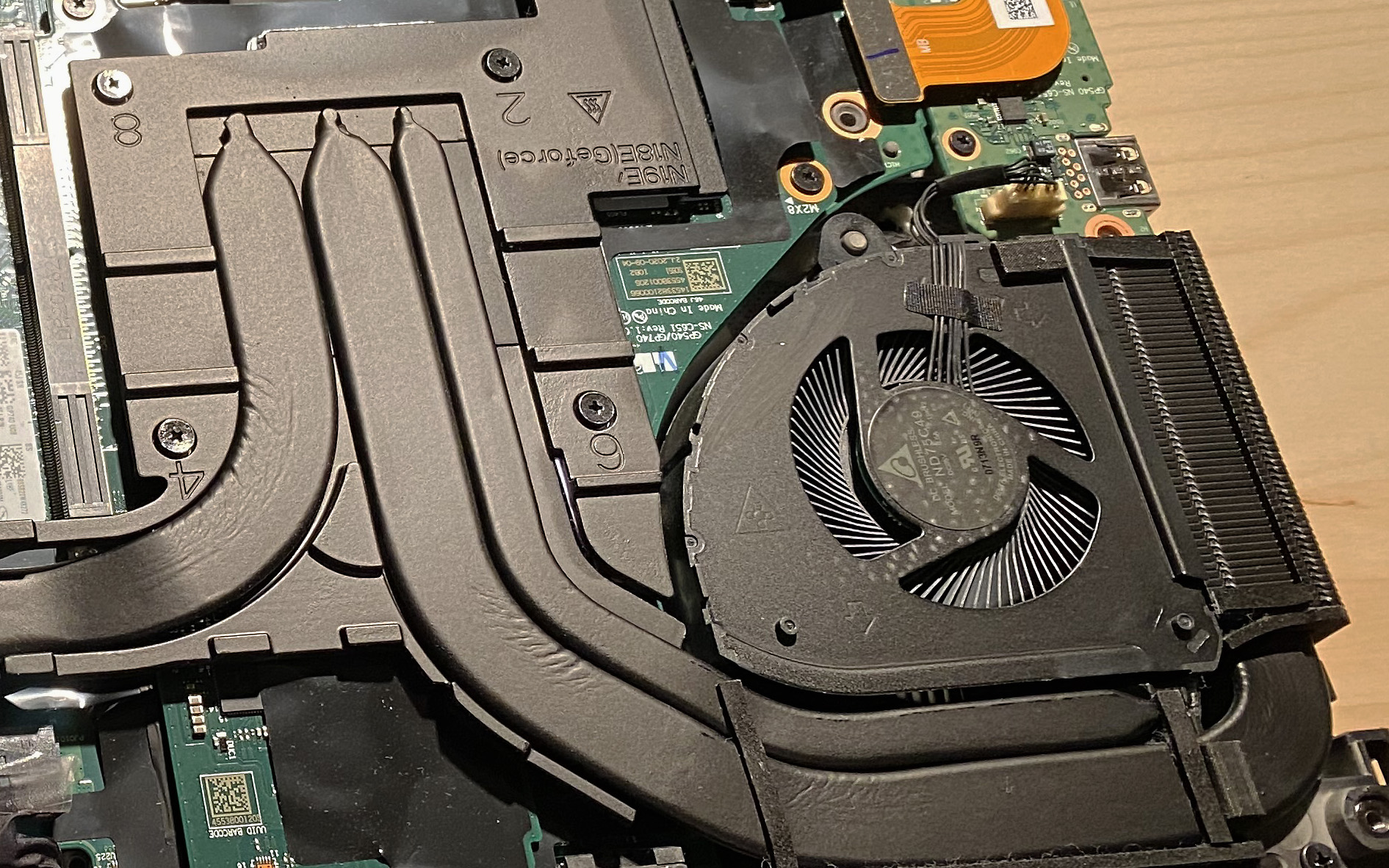 How does the ThinkPad P15 perform under stress? How fast does it really go? These are the questions I am set out to answer in this article by providing ThinkPad P15 benchmarks. If you want more of an overview of the computer and how it all works out, then please read my review of it.
Disclaimer concerning the benchmark results. I have used the ThinkPad P15 for about 5 months before doing a repaste of the CPU and GPU. (Most of) the benchmarks that I present in this article have been measured after I did a repaste. I will be publishing another article where I tell about the repaste and it's effects – coming in a few weeks.
ThinkPad P15 Gen 1 articles
Part 1: The ThinkPad P15 Gen 1 review
You are now reading part 2: Benchmarks and performance of the ThinkPad P15 Gen 1
The upcoming part 3 will tell about repasting the CPU and GPU cooler.
SSD performance
The ThinkPad P15 has two full size M.2 slots for attaching SSDs. They are conveniently located under the little service door on the bottom of the notebook. I ordered the ThinkPad P15 with two SSDs, here is what I received.
SK Hynix 1TB NVMe, HFS001TD9TNI-L2B0B
Kioxia 2TB NVMe, KXG6APNV2T04 TOSHIBA
Both feel speedy and responsive. Here is the benchmark for the 1TB SK Hynix SSD:
And for the 2TB Kioxia:
I am a little perplexed about why there is such a big difference in random 4k reads and writes, but it might be something specific to these drives. As far as I can tell, in everyday use, the drives perform really well.
ThinkPad P15 benchmarks
Let us now dive into the different performance metrics that benchmarks provide us.
Cinebench
I ran three different CineBench versions on the ThinkPad P15. I also included results from the ThinkPad P52 for the R20 benchmark. But do remember, that the ThinkPad P52 has a 6 core CPU, which explains the difference in the multi core results.
BenchMark
Single core
Core i7-10875H
Multi core
Core i7-10875H
Single core
Core i7-8850H
Multi core
Core i7-8850H
CineBench R15
181
1627
Cinebench R20
437
3682
414
2212
Cinebench R23
1164
8824
The 10th gen H series CPU is a slight upgrade in single core performance over the 8th gen. The bigger leap is achieved by having more cores available.
GeekBench
GeekBench 5 scores.
Single core: 1226
Multi core: 8066
3DMark benchmarks
I ran multiple benchmarks in 3DMark.
| | | | |
| --- | --- | --- | --- |
| Benchmark | Score | Graphics | CPU/Physics |
| Time Spy | 7572 | 7279 | 9810 |
| Time Spy Extreme | 3591 | 3491 | 4294 |
| Port Royal | 4412 | — | — |
| Fire Strike | 17435 | 18878 | 21974 |
| Fire Strike Ultra | 4575 | 4419 | 21818 |
| | DLSS OFF | DLSS ON | |
| NVIDIA DLSS feature test | 20.46 fps | 51.02 fps | |
| | FPS | | |
| DirectX Raytracing feature test | 14.60 fps | | |
| | Mesh Shaders Off | Mesh Shaders On | |
| Mesh Shader feature test | 57 fps | 242.44 fps | |
The results indicate a strong CPU score, but not that strong graphics score. This is probably because of the Quadro RTX 4000 is not primarily geared towards games, and is running at a lower clock speed compare to gaming geared GeForce RTX cards.
The scores would suggest that in games at least, the Quadro RTX 4000 Max-Q is a little bit below the GeForce RTX 2070 Max-Q.
Temperatures
While running graphics benchmarks and the GPU is working on full load it does so by going to about 60C. This used to be about 65C before I repasted the GPU and CPU coolers.
The CPU does around 75C for the graphics test and of course maxes out at 100C when doing the CPU stress test. The CPU is also running a few degrees cooler after the repaste when not stressed but has a continuous workload. When stressing it still goes to 100C even after changing the thermal paste, but there are fewer dips and max frequency is slightly higher.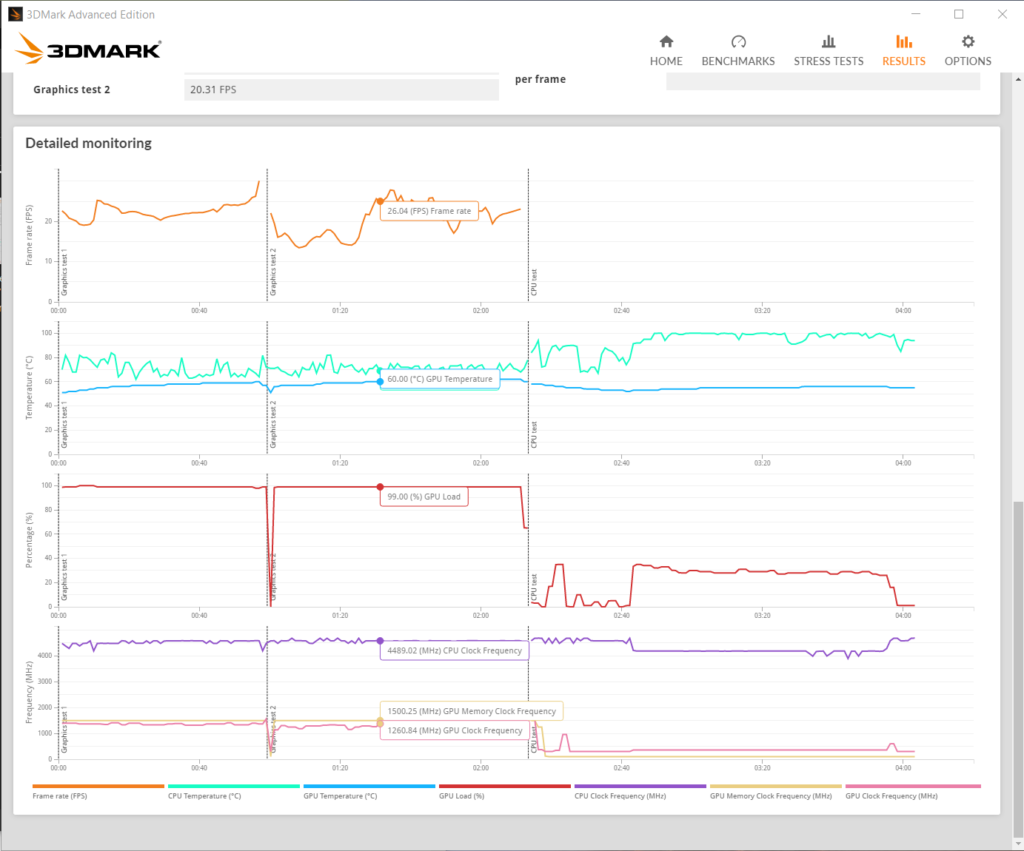 User benchmark and PassMark
Follow the link below to check out details about the User benchmark results for the ThinkPad P15:
https://www.userbenchmark.com/UserRun/39717547
The PassMark rating.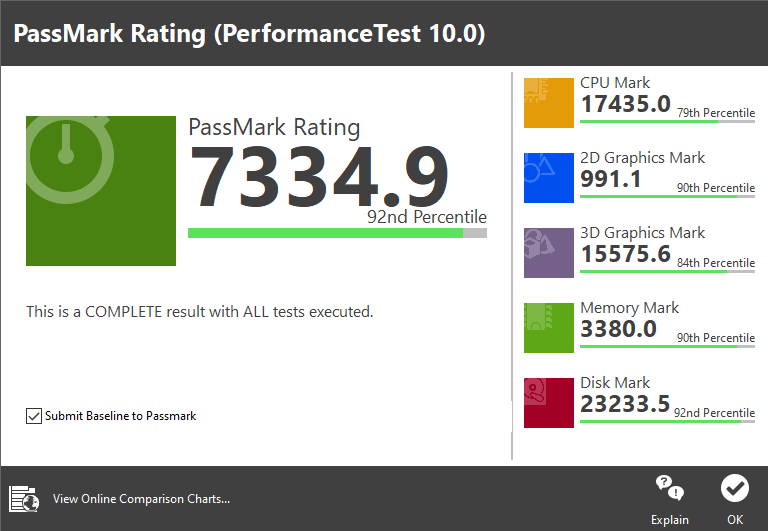 Below is a comparison between this ThinkPad P15 Gen 1, my ThinkPad P52 and the ThinkPad X1 Extreme Gen 3 (Thanks goes to Atli for providing the X1X3 numbers).
ThinkPad P15 Gen 1
Intel Core i7-10875H
Quadro RTX 4000
ThinkPad X1 Extreme Gen 3
Intel Core i7-10850H
GeForce GTX 1650 Ti
ThinkPad P52
Intel Core i7-8850H
Quadro P3200
PassMark score
7334.9
3679
6191
CPU mark
17435
13744
14148
2D mark
991.1
346
848
3D mark
15575.6
7280
9625
Memory mark
3380
3160
3040
Disk mark
23233.5
19460
19710
Thermal performance
Intelligent Cooling Solutions
The ThinkPad P15 Gen 1 has a new Intelligent Cooling feature available. To use it, you actually change the performance mode from the default Windows 10 battery widget. As you change it, a colourful icon will show up near the vantage toolbar's battery icon (if you have that enabled). This icon tells you which mode is being activated.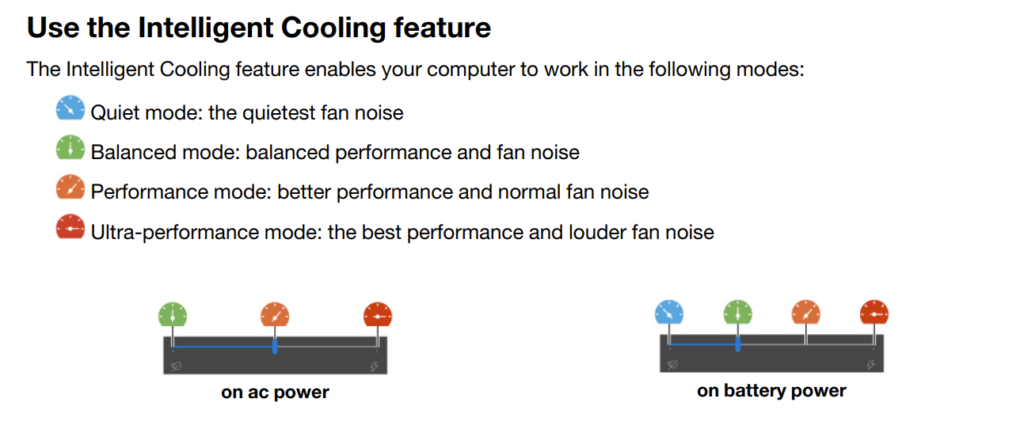 Why they are called intelligent, I don't know. There is nothing intelligent about them IMHO, they are just power profiles. They are well thought out, and I do like what they bring to the table very much!
But I would prefer if they would change intelligently on their own. 🙂
If I am writing an article like this one, I have to manually put it into balanced mode, or otherwise the fans will be spinning faster than needed and the CPU produces more heat than needed. When I then start to play with Docker containers or VMs, I need to manually switch to performance mode, otherwise the CPU will just be too slow. Similarly if I start developing and compiling I need performance mode for a while. But if I am then just writing some code, before it is time to build and compile again it might be good to switch back to balanced mode. If these switches could happen automatically, that would be intelligent!
How the thermals work then?
On balanced mode, the CPU is held back by power limits. What this means is, that it will not go too fast. Because in this case speed equals heat, this means it will also not heat up that much. The computer looses a little performance in exchange for being cool and silent.
In this mode, the fans are barely audible, and even extended periods of stress will not cause noise. As a result this has been my preferred operation mode during less demanding work, like writing documents or working with presentations.
While Lenovo added a separate ultra performance mode, I find it pretty similar to performance mode. In both modes the fans will start going fast and loud sooner or later. The ultra mode pushes things a tiny bit further that the regulat performance mode.
In these modes, even a small need for performance drives the CPU up to the max, and from there it is hard to get it to cool back. This means that some apps that use the CPU only partially will still push the computer to become noisy and hot. For example Teams, I am looking at you. These apps perform just as well in the balanced profile.
Measurements
Let me present some rough measurements. First, what was before the repaste operation.
| | | | |
| --- | --- | --- | --- |
| | Balanced mode | Performance mode | Ultra-performance mode |
| Idle temperature | 50-60C | 50-60C | 60C |
| Idle power consumption | 15-20W, spikes to 35W | 40-50W | 45W |
| Idle fans | none or barely audible | audible, holds the temps with the fan | fans all the time |
| Stress testing | | | |
| > Power consumption | 42-54W | 89-100W | 95-100W |
| > Temperatures | 67-82C | 93-100C, stable around 99C | 100C |
| > CPU max frequency | 3.05 – 3.2Ghz | 3.95 – 4.05 Ghz | 4.05 – 4.15 Ghz |
| > Throttling | No throttling | Thermal | Thermal |
My repaste improved these values ever so slightly. How much and what effect it had I will summarize in my repaste article, due in a few weeks.
Conclusions
All in all, I am satisfied with the performance of the ThinkPad P15. The "Intelligent cooling" is a great addition. The heatsink and heatpipes and fans do an amazing job on cooling this beast, even when it is under constant stress.
After performing a variety of ThinkPad P15 benchmarks, I am impressed by what this machine can do.
The intelligent cooling profiles could be adjusted a little, because currently the top two profiles are too similar to one another. Also, I don't know what is intelligent about them, because I need to change the profiles by hand depending on the situation.
Some common questions
Is the cooling enough? It seems Lenovo allows for a tad warmer thermals in the P15 than before. I realize that Intel's decision to stick with 14 nm tech this long (or their inability to go smaller) means that for many years the thermal envelope had to be pushed further and further to eke out even more performance. The heatsink inside the P15 is massive and heavy, and I am impressed at what it can do.
No undervolting? Unfortunately, undervolting is no longer an option with Intel CPUs. We are in this situation because of the Plundervolt vulnerability. When this was discovered, manufacturers answered by disabling undervolting. This means that undervolting cannot be used any longer to make the system run cooler and with less fan noise. Or to gain a little performance along the way. This route is now closed.
Can you game with it? You most certainly can! Even though the Quadro card is not primarily for gaming, it does perform very well, even with close to max settings in many games. For example Forza Horizon 4 runs really well on max graphics settings on a Legion Y44w 32:10 display. The lower clock speeds (compared to the GeForce line) mean that if you are looking for a gaming notebook, you should probably look at something specifically designed for gaming.