CES2020: Lenovo Yoga 5G announced
Lenovo announced the 5G equipped Lenovo Yoga 5G at CES 2020. This convertible notebook can turn into a tablet, allow you to write on it with the pen and also features a 5G connection.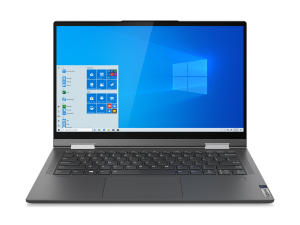 Hardware overview
The Lenovo Yoga 5G is an upgraded big brother of the YOGA C630 WOS that was announced back in 2018.
Powering the notebook is the Snapdragon 8cx processor with built in 5G support (X55 modem). This enables the notebook to support up to 4 Gigabits of downloads speeds – if you can find a network to support it.
The notebook has the same 8Gb of RAM as the predecessor, while storage options are 2x as big (256GB or 512GB).
The actual size of the notebook is also bigger, this time it's a 14″ notebook, which is ever so slightly larger and heavier than the C630 WOS.
The speakers are also improved, and now support Dolby Atmos. The FHD screen offers 400 nits of brightness. In addition, the screen now does not have that thick black space under the actual screen that was a little disturbing on the YOGA C630 WOS.
The notebook supports pen input in addition to multi-touch.
The battery life is quoted as 24 hours of video playback. If the C630 WOS is the benchmark, I can say this is indeed possible, and you should get a good 2 days of office work out of this, without ever charging it.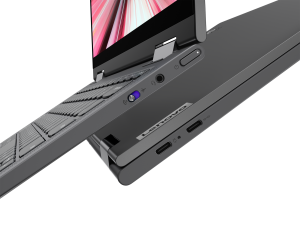 Ports
Port selection is unchanged from the previous version with 2 USB Type-C ports plus a headphone jack and sim tray.
There is now a hardware airplane mode switch, which is a cool addition in my opinion. As the notebook is always connected – even when closed / sleeping (unless you shut it down) -, such a switch is super convenient: no need to open the notebook just to put it into airplane mode.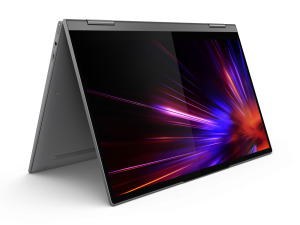 Operating system
The notebook runs Windows 10, but this is of course again Windows On Snapdragon, the ARM version of Windows. I have written about it in my review of the YOGA C630 WOS.
Why?
The C630 WOS was an excellent notebook for light work and connectivity. The Yoga 5G seems like a well thought out successor to this concept. While I personally do not (yet) see the need for 5G (plus lack the proper coverage), going forward this will be a viable option.
The long battery life means you can work long hours disconnected from power. The mobile connectivity means you no longer need to be close to a Wifi hotspot to work or use the notebook. The Qualcomm CPU inside offers ample performance for light tasks and office work.
Compared to its predecessor, the Yoga 5G now includes Dolby Atmos speakers and a bigger screen with smaller bezels. Both of which are welcome changes.
Who is it for?
Office workers who require a usual set of Office tools will probably find a great tool in the Yoga 5G, especially if they change working location or travel a lot.
The Yoga 5G will also be a great device to consume content on.
For more professional work, it depends on what you do. Drawing, designing and writing, project management are all tasks the Yoga 5G will be good at. But for more serious work (development, research, rendering, video editing, etc), you will probably run into two big problems.
First, the Snapdragon CPU is limited in the amount of power / work in can do. CPU / GPU intensive workloads are not well suited for this light convertible.
The other problem is the ARM platform. Unless a program is written for the ARM64 platform the CPU uses, the notebook will use emulation to run it. And emulation is slow.
Gaming is not something you will do with this notebook, mostly because of the above mentioned two reasons.
Availability
The 14-inch Lenovo Yoga 5G (known as Lenovo Flex 5G in North America) will start at $1,499 and is expected to be available starting spring 2020.
I really like the predecessor, the YOGA C630 WOS – as a result I am looking forward to this Yoga 5G as well.