ThinkPad P52 hands on review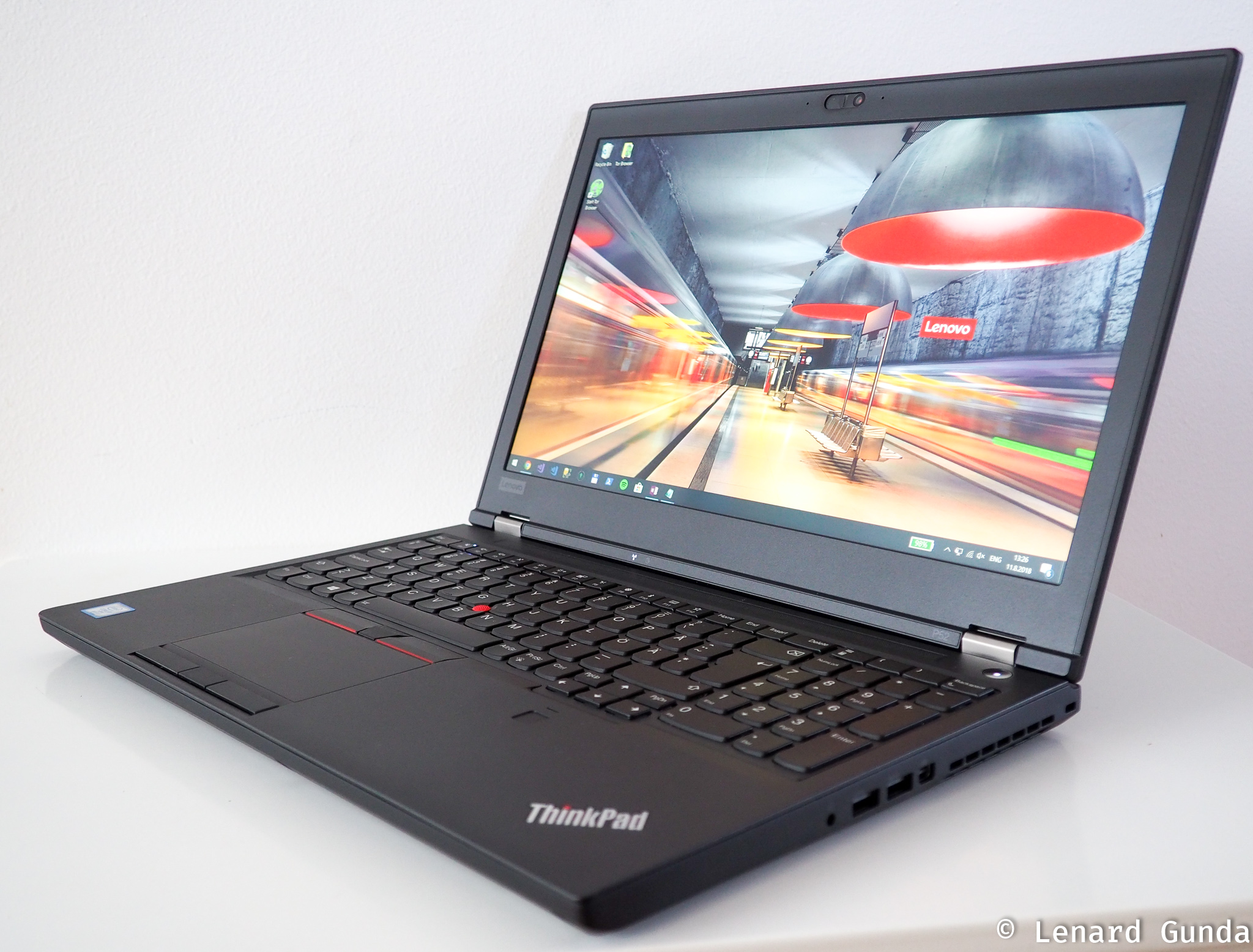 Lenovo announced the ThinkPad P52, its next generation mobile workstation back in June. It packs the latest 6 core processors from Intel and even a VR ready Quadro GPU from NVIDIA: plenty of power for anybody. I have been waiting for it for quite some time: this is my next work computer.
Overview
I chose the P52 as my next work computer after long considerations. I use it for software development, and I need a lot of memory for emulators, virtual machines and develpoment tools. CPU performance is needed to run things in parallel and in the background. And graphics performance for … ehm … well, to relax after work with a good game or two 🙂
The P52 is the third generation model in the P5x series. The P50 was the successor to the W series mobile workstations. Although the P52 might be a minor upgrade when looking at it from the outside, it is actually a big step on the inside.
With support for 6 core CPUs and a VR-ready GPU, the ThinkPad P52 is a powerhouse for those that need the performance. The amount of memory and storage that can be packed inside is also huge.
Pros
Very powerful components
Support up to 128GB of memory
Built like a tank (High build quality)
Cons
CPU limited by TDP
Strange configuration options (lack of non touch 4K display, etc)
Too soft touchpad and TrackPoint buttons (subjective!)
Heavy power brick
Why the P52?
I outlined my reasons for upgrading from the ThinkPad X1 Yoga to the ThinkPad P52 in my P52 preview article. If you need all the gory details, I refer you to that article. Here is a short summary.
The X1 Yoga could not handle all the development tasks I needed to perform for my work. Maximum memory was at 16GB, and the dual core CPU along with the SSDs could not perform as much I needed to. Other machines like the P51 outperformed the X1 Yoga in compilation, and development IDE performance. Some tasks just took too long on the X1 Yoga.
Packaging
Packaging was minimal, a plain cardboard box with Think written on the side. In recent years ThinkPads have been packaged quite minimally. And it uses recycled materials.
Inside was the P52 itself, between two plastic holders and a cardboard box, that contains the battery and the power cable. Nothing fancy.
Build quality
Overall build quality seems excellent. The machine felt solid right as I took it out of the packaging. I expected nothing less from a ThinkPad.
The lid on the outside has the familiar ThinkPad soft touch finish. The ThinkPad logo has the dot on the i glowing in red, which is a design aesthetic I like very much. The etched Lenovo logo from the outside of the lid is gone.
Opening up the lid reveals the keyboard and touchpad. It also reveals two indicator lights: one for Wifi and one for storage activity. These are on the bottom side of the display, just like on older ThinkPads, although the color is now white instead of the usual green leds.
Keyboard
I love the keyboard in the ThinkPad P52! I received a Chicony unit. It feels very sturdy, the keys have a nice resistance to them, and good travel too. The key travel was reduced from the P50/P51. I never typed too much on these units (just tried briefly), so I cannot comment how different the P52 is. But the typing experience is certainly on the better side of all the ThinkPad keyboards I have tried.
Also changed from the previous generation keyboard is that some keys – namely the 4 keys to the left of the ENTER key – are a little bit narrower than the rest of the keys.
The keyboard has backlight – in fact you cannot order a non-backlit keyboard any longer. The backlight is bright and uniform.
Palmrest
The palm rest has not changed much from the P51, it still has a rough plastic feel to it. While it certainly feels durable, I might have preferred the soft touch feel that you can find on the X1 series or the Legion notebooks.
Hardware
My ThinkPad P52 has the following hardware inside:
CPU: Intel 8th generation i7 8850H 2.6 Ghz
GPU: Nvidia Quadro P3200 with 6GB of VRAM, VR capable
Memory: 64GB 2667Mhz DDR4
Storage: 2x 1TB Samsung PM981 M.2 NVMe SSD
Screen: 15.6″ Full HD 1920×1080, 250 nits
Connectivity: Intel Wireless AC 9560 + Bluetooth 5.0
Weight: 2.45 kg
Dimensions: 377.4mm x 252.3mm x 24.5-29.4mm
CPU
My unit came with a i7-8850H 6 core CPU from Intel. It has 6 cores, each running at the base frequency of 2.6Ghz. In Turbo mode a single core can reach 4.3 Ghz. The CPU supports hyper threading, meaning there are 12 execution threads available.
The CPU has a TDP of 45W, meaning it will draw – on average – 45W of power. In peak mode, momentarily, the CPU is able to take on even 78W. If it is not too hot it can also take on 55W for a longer period of time, although this usually heats the CPU up and it will go back to 45W.
The CPU is very fast in all operations I have tried. Multitasking works seamlessly, even when running virtual machines.
I choose the i7 version to be able to choose the P3200 GPU. This GPU is not available with the Xeon processor option.
GPU
I opted for the NVIDIA Quadro P3200. The actual GPU is of the Max-Q variant. Based on the performance figures, it is close to the GTX 1060 desktop card in performance. The GPU is VR capable.
Benchmarks
If you have read any of my reviews previously, you will know that I usually do not run benchmarks in my reviews. This time there has been some arguments about how good the 6 core CPUs work in mobile computers and what kind of throttling to expect. Because I gt the notebook relatively early in the product life cycle, I decided to run some tests to see for myself how my unit behaved.
Temperatures and throttling
I started investigating the throttling and temperature issues by running 5 minutes of the Intel Extreme Tuning Utility Stress test. What I found was that even when stressed, there is no thermal throttling happening. Only power limit throttling.
As the CPU is stressed, initially it tries to turbo boost as much as possible. The power limit at this point is 78W, and the CPU can sustain this for a short period of time, before getting too hot. At this point the power limit is decreased to 55W, which reduces the CPU performance and allows it to run more cooler. Finally after a period of time with the power limit at 55W, it is decreased to 45W (the "published" TDP limit for these CPUs).
While running the stress test the CPU was clocked at around 3.4-3.7Ghz for all cores. This is less than what the specification say for 6 core turbo boost, which would be 4.0Ghz. But as there is no more power available to the CPU it cannot sustain that speed.
Note that this is not a problem, neither is this thermal throttling (which would mean the CPU getting too hot). The cooling system and CPU and TDP limits working together to maintain a working temperature.
Cinebench R15 and 3DMark benchmarks
After the initial throttling tests I also ran Cinebench and 3DMark. The tables below will include my benchmark results (i7-8850H + P3200) and benchmark results from @lukacsa82 (Xeon E-2176M + P2000) who was kind enough to run the same benchmarks on his P52 and allowed me to use his results here. (the original results for his P52 can be found on reddit)
| Benchmark | P52 with i7-8850H + P3200 | P52 with Xeon E-2176M + P2000 |
| --- | --- | --- |
| Cinebench R15 | – | – |
| – Single core | 173 | 172 |
| – Multi core | 1212 | 1081 |
| 3DMark 11 Performance | 14493 | 8951 |
| – Graphics | 15480 | 8662 |
| – Physics | 12541 | 11970 |
| 3DMark Cloud Gate | 30889 | 23128 |
| – Graphics | 70801 | 41160 |
| – Physics | 9821 | 9130 |
| 3DMark Fire Strike | 10513 | 6171 |
| – Graphics | 11839 | 6848 |
| – Physics | 16236 | 14713 |
| 3DMark Ice Storm | 158670 | 62302 |
| – Graphics | 310218 | 65978 |
| – Physics | 58554 | 51138 |
I monitored the temperatures and core frequencies and found about the same results as with the stress tests before. The CPU does not thermal throttle, and tries to keep a 80-85C temperature. It managed quite well.
TDP limiting
The TDP allowed about 78W for a few seconds, but at this power level, the CPU package gets very hot very fast. So after the initial surge it drops back to 55W, where it stays until the CPU gets hot again, at which point the TDP limit is dropped to 45W. This is called power limit throttling.
Running a single core 100% will produce a TDP of 20W. This calculation would suggest that in order to run all cores at full speed, the P52 would need 120W (give or take). So putting all these cores into a 45W CPU seems like a bit of an overkill on Intel's part.
PassMark and UserBenchmark
I also ran PassMark and UserBenchmark. PassMark results are included in the table below. UserBenchmark results are hard to reproduce in this blog, so I will include the links to those.
| Benchmark | P52 with i7-8850H + P3200 | P52 with Xeon E-2176M + P2000 |
| --- | --- | --- |
| PassMark | 6191.6 | – |
| – CPU Mark | 14148.5 | 14223.2 |
| – 2d Graphics Mark | 848.9 | 600.9 |
| – 3d Graphics Mark | 9725.2 | 5180.4 |
| – Memory Mark | 3040.5 | 2992.3 |
| – Disk Mark | 19710.8 | 19852.2 |
UserBenchmark results:
 P52 with i7-8850 + P3200
P52 with Xeon E-2176M + P2000
Benchmark between i7 and Xeon
The i7 and the Xeon version seem to be pretty close together. The 3DMarks are won by the i7 but I suspect the stronger NVidia Quadro P3200 has a major part to play in this. The non-graphical Passmark results seem to indicate the Xeon's power.
Performance thoughts
Overall I am very satisfied with everything. Some people reported overheating, and the CPU going all the way up to 97-99C, this is not something I have seen. I was able to get thermal throttling but only for a second and not constantly. Sometimes if the CPU started working on something, the fans did not have time to kick in fast enough – this is when there was a short period of thermal throttling (less than 1 second). With the cooling kicked in, the CPU maintains a steady 80-85C.
The limiting factor for the CPU is the TDP. Meaning the CPU is prevented from taking on as much power as it would need, being capped at 45W – and sometimes at 55W or 78W momentarily. This clearly indicates that stuffing in 6 cores into the CPU and using the same 14nm architecture as before, Intel is essentially capping these CPUs, they are never able to run at full speed.
Is this a problem for Intel? Probably so. With their 10nm production technology delayed, they were forced to put in more cores, but without rising the limit or improving the CPU, the entire package is limited.
This is not to say that the notebook performs bad. In fact, it is a wonderful computer to use! 🙂
Screen
I opted for the Full HD screen. The screen is bright (Lenovo says it can do 300 nits) and looks sharp. Colors are not that saturated, but I would say they are pretty natural, which is actually a good thing. Compared to other FHD screens I have at my disposal the P52 screen seems sharper and more color true. I would say it is a better than average quality screen.
I was a little bit worried about downgrading from a WQHD screen in the X1 Yoga I have been using, but I think I will be ok. As I have observed when reviewing the X1 Yoga (2nd generation), the difference between the resolutions in evident if you put them side by side, but during normal usage, it is not that evident.
The reasons behind this choice as opposed to the 4K+touch option are:
FHD uses less battery than 4K
Non-touch uses less battery than touch
Touch adds weight to the notebook and thickness
4K+touch option costs a lot
Because I use my notebook mostly docked during the workdays, the screen on the notebook does not matter that much. If I am on the move, then I value the lightness and the longer battery life the FHD screen gives me. I do miss touch a little bit, but the pros outweigh the cons in this case.
Camera
I choose to forego the IR camera and get the regular web cam. This also means that my P52 includes the ThinkShutter, which physically shuts the webcam lense. Because I use the notebooks mostly docked, I did not want the IR camera (which can do face recognition and Windows Hello).
Memory
I opted for 64GB of memory. This allows me to comfortably run a VM or two, mobile emulators and development tools all at the same time. My unit came with Micron memory, 2666Mhz DDR4.
SSD
I was reading when people received their new Lenovo ThinkPads only to see that some people reported getting not so stellar SSDs. Both my SSDs are made by Samsung and they offer excellent performance.
The SSDs are based on the PM981 controller, and seem to be pretty fast. I opted to skip the HDD (2.5″) drive, the two M.2 SSDs should be plenty enough.
The drives are identified as: Samsung PM981 NVMe PCIe M.2 1TB
I did some SSD benchmarking myself (see below). If you want a more thorough analysis, read more about this particular model at Anandtech.
SSD benchmark
I benchmarked my SSDs both before and after applying BitLocker encryption to the drives. First the results witout BitLocker.
And then the results with BitLocker:
So I am not too concerned about the effect BitLocker has on the drives. I need all my drives encrypted because of work reasons, but I would probably encrypt them myself anyway.
Keyboard and touchpad
The keyboard is a pretty standard ThinkPad keyboard. For newcomers it might be strange that the Fn key is first, and then the Ctrl key. If you are bothered by this, you either apply a software fix inside Lenovo Vantage, or go into the BIOS and have the two keys switched.
By default the Fx keys perform the extra function built into them. To access the Fx function keys, you need to press them together with the Fn key. Or you can activate FnLock, in which case a small led lits up and you can use the Fx function keys directly. If you rather had this the other way around – Fx by default and multimediafunction with Fn/FnLock – again, you can either apply a software fix in Lenovo Vantage. Or go into the BIOS and change the behavior there. Which is what I did.
Fingerprint sensor
The fingerprint sensor is a little bit smaller than what previous models had. I sometimes find it has difficulties with recognizing my fingerprint, but the failure rate is not alarmingly high. The fingerprint reader is a Synaptics model – so basically the same thing I have used in other ThinkPads. I have no idea why the size was reduced.
Touchpad
The touchpad was a bit of a disappointment at first. I have used Synaptics touchpads for many years, and this one came with an Elan touchpad. In fact, looking at the drivers, there is not even an option for Synaptics touchpads. I also dislike the surface. It is ok, but not as good as glass would have been.
After some usage, it does feel that the touchpad works as really well, recognizes multi touch gestures, and has a good reaction time. It has Windows precision drivers, meaning it should work very well. The buttons are a little bit too soft, and not clicky, which I dislike.
So in the end, the Elan touchpad does not seem to be a problem at all. But I find it lacks the multitude of configuration options that were available with Synaptics touchpads. I could not find a way to configure the multi touch gestures for example, which one to use, and how they should behave.
The trackpoint works the same way as on other ThinkPads. The trackpoint buttons I find a little bit too soft for my liking, but within working range. The little bumps on the middle trackpoint button are somehow very shallow and in the wrong place, I cannot really feel them. Compared to the X1 Yoga (1st generation) they are much less pronounced, which is a bad thing in my opinion. It would be good to properly feel this middle button.
Ports
The thinkPad P52 has a wide variety of ports on all sides.
Right side
Headphone jack
USB 3 Type A
USB 3 Type A
Mini displayport 1.4
Kensington lock port
Left side
USB 3 Type A
4-in-1 card reader
Back side
RJ45 Ethernet port
HDMI 2.0 port
USB Type C / Thunderbolt 3 port
USB Type C / Thunderbolt 3 port
Slim tip power connector
Audio and speakers
Audio is loud and clear, and speech sounds very good on the P52. The same cannot be said of the bass, which the speaker completely lacks.
This works very well for conference calls.
If you are a fan of classical music, you can enjoy that with the built in speakers, other music fans will need to connect an external speaker to really enjoy it 🙂
If you want to watch movies, then based on the movie this may or may not work out for you. Don't expect to enjoy the latest action movies with explosions and effects on these speakers.
Dolby Atmos
To enjoy Dolby Atmos, you need to plug in headphones into the audio jack. Dolby Atmos will improve the listening quality by trying to detect the type of sound source (music, game, etc) you are listening to, and adjusting what you hear.
I am no audiophile, so take this with a grain of salt. I did enjoy the enhancements that the Dolby Atmos software did with the sound. Music sounded slightly better than without it.
If you are using USB headphones – like headsets – these will not be affected by Dolby Atmos. Only headphones plugged into the headphone jack will be affected.
Battery life
I have not yet had time for extensive battery testing. I will add to this section as I complete more tests and have real world usage.
Light usage I have tested. With web browsing, writing notes or documents in Office, replying to emails the notebook can easily do 8-9 hours on a battery, maybe even 10 is possible. This is because of the FHD screen. The 4K+touch option would not allow such endurance.
Medium and heavy usage times are not yet available.
The power adapter for the P52 is a 170W adapter, which is quite bulky and heavy. If you need to carry around the notebook and the power brick, it will be heavy! 🙂
Software
Lenovo has been true to its word, and especially ThinkPads ship without any excessive software installations. This is more true on the ThinkPad P52, which didn't even get the usual McAfee anti-virus treatment. Beyond the Lenovo drivers and the Lenovo Vantage software, there seems to be nothing extra here.
This is not to say there is no junk: thanks to Microsoft, all sorts of apps and games are installed by default on Windows. Luckily these being Windows Store apps, they are very easy to uninstall and remove.
Lenovo Vantage
The notebook does include Lenovo Vantage, the place where you can find anything related to your computer. For those who are still unfamiliar with this utility, please give it a try. It can install Lenovo driver and software updates, it can change hardware settings (like battery charging thresholds, power behaviors, etc). It can tell you about your computer, show warranty information etc.
Even if you clean install Windows on a P52, you should be able to download Lenovo Vantage from the Windows Store.
Docking
The ThinkPad P52 dropped support for mechanical docks. All ThinkPads are now using Thunderbolt 3 as the docking technology.
The official dock is called ThinkPad Thunderbolt 3 Workstation Dock. It shipped several months after the P52 was available, I received mine only sometime in October. You can read my full review of the dock here. The docking stations works ok, but there are a few little quirks sometimes – that is why I also wrote a troubleshooting article for it 🙂
Before I received the Workstation dock, I also used the ThinkPad Thunderbolt 3 Dock  at my workplace. It works ok with the ThinkPad P52, with some minor issues. I also need to connect the 170W power supply to the notebook, because the single USB-C / Thunderbolt 3 cable cannot carry enough juice to power the P52.
The minor issue is, that when the display turns off (sleep or just power saving), sometimes when coming back online the external displays start to flash. I need to reconnect the dock to make it stop. Installing the latest dock drivers and dock firmware does not help.
Conclusions
The ThinkPad P52 is a powerhouse, full of performance. No wonder UserBenchmark calls it a Nuclear submarine and a UFO. Even the gaming performance is described as a Battleship.
I am very satisfied with the performance of this machine. Yes, there is power limit throttling, but that is kind of unavoidable, and in the end, the actual performance is what matters.
I like the long battery life as well, for those occasions I am away from my desk.
And yes, you can also game on this thing, quite well I might add. I will want to do some VR tests with the Lenovo Explorer, but that I leave to another article.
Who is it for?
Mobile workstations are not for everyone. They are bulky, heavy and expensive. But if you need this kind of performance, then the P52 will serve you well.
If you are looking to do Office work, write notes and emails and watch movies, then look elsewhere. Other computers will serve you much better.
If you are looking to do CAD, 3D modelling or game development, this is the machine you will want.
Should you want a gaming machine, also look elsewhere. While the P52 will be able to run most games just fine, specific gamer machines will still do a better job. Also, you are buying much more than just a machine for gaming with the P52. You will be served better by a gaming machine (on that note, I will be publishing a Legion Y530 review soon 🙂 )
If you are going to do software development, you need to look at your workload and what you want to do. Web development or simple programs do not require that much performance that you would need a computer like this.
For students, the performance might be overkill and the price will probably be too high, unless you have some sort of discount from your university.