ThinkPad P15 Gen 1 review: Serious mobile workstation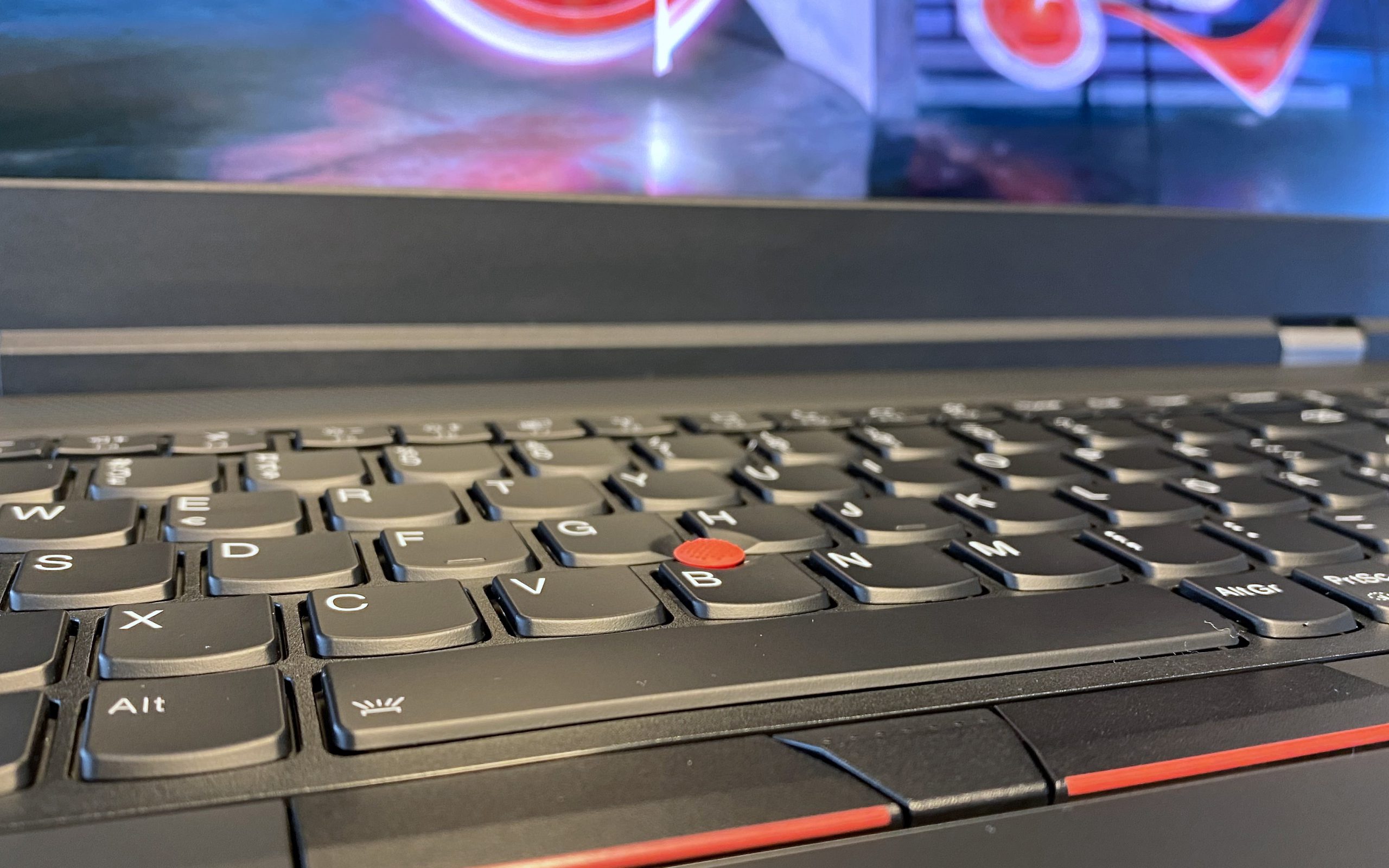 If performance is your middle name, then you probably need a mobile workstation for work. 🙂 The ThinkPad P series has been producing great notebooks for serious professional work. The ThinkPad P15 Gen 1 is the current 15″ mobile workstation offered by Lenovo.
For 2020 Lenovo changed the naming an the 15″ P series models are now known as the P15. The P15 Gen 1 is the successor to the ThinkPad P53.
The ThinkPad P15 is a mobile workstation with lots of options to customize. This allows for a great variety of setups. The combination of the 10th gen 45W H series CPUs from Intel and Quadro RTX GPUs from NVIDIA will solve just about any problem you can throw at them.
Disclaimer: This device was bought by me with my money. There are no affiliate links or advertisements here. All opinions are my own.
PROS
Performance monster
Cool and silent when doing less demanding work, but a real beast when you need it
Four RAM slots (max 128GB) and two SSD slots, easy servicing.
GPU card makes it possible to order many CPU/GPU combinations and choose the right computer for you
CONS
Undervolting disabled
Speakers not so great despite Dolby Atmos label
No more status leds, no leds for fingerprint reader
Palm rest and keyboard buttons are a grease magnet (material used is not the greatest)
ThinkPad P15 Gen 1 articles
You are now reading part 1: The ThinkPad P15 Gen 1 review
My ThinkPad P15 Gen 1
The ThinkPad P15 I ordered has the following components:
CPU: Intel 10th Gen Comet Lake CPU. Core i7 10875H (8C 16T, 2.3Ghz, turbo 5.1Ghz)
RAM: 64GB (2×32) DDR4
GPU: NVIDIA Quadro RTX 4000 8GB (Max Q)
SSD drives: 2+1 TB
Display: 16:9 UHD 15.6″ 600 nits
Construction
This thing is built like a tank and certainly weighs like a tank. The power brick is also a serious instrument of destruction (230W adapter, heavy and big, although smaller than some years ago). If you are looking for something light to haul around, look elsewhere.
But the sturdy construction hides a massive heat pipe and cooling system. When you let the P15 run fast, it will not disappoint.
Build quality
Build quality feels excellent, on par with what I expect from a ThinkPad. The notebook is solid, both closed and also when being carried around while the lid is open. There is no flex in the body.
Tha display is firm and there is no wobble when adjusting it. The hinges are solid.
Display
There are four display options with the P15.
15.6″ FHD (1920×1080) IPS, 300 nits, 16:9, 72% NTSC, 160 degree viewing angle
15.6″ FHD (1920×1080) IPS, 500 nits, 16:9, 72% NTSC, 160 degree viewing angle, Dolby Vision HDR
15.6″ UHD (3840×2160) IPS, 600 nits, 16:9, 100% Adobe RGB, 178 degree viewing angle, Dolby Vision HDR
15.6″ UHD (3840×2160) OLED, 400/500 nits, 16:9, 100% DCI-P3, 178 degree viewing angle, Dolby Vision HDR
I chose the UHD screen that is not OLED (the one with italic font, above). While the UHD eats into battery life (compared to FHD), the better colour accuracy and larger resolution are some things I wanted to get.
The UHD option also gets a factory calibration and colour profile.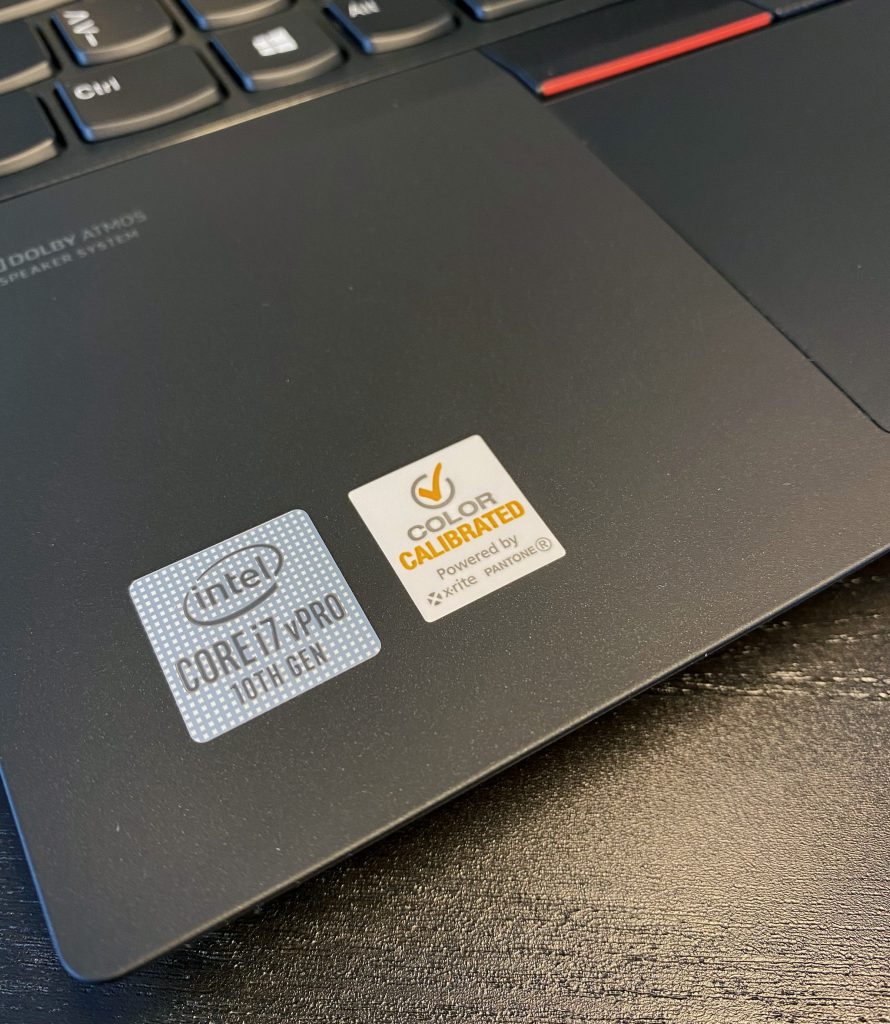 The GPU daughter card
The ThinkPad P15 marks a change in how the GPU is attached to the system. While previous 15″ P series ThinkPads soldered the GPU onto the system board, in the P15, the GPU uses a separate daughter board that is then attached to the systemboard. Previously the ThinkPad P70 and P71 also used these kinds of MXM daughter cards.
This solution is very clever, because now you can combine any CPU and any GPU together when configuring your system! In previous years, usually the beefier GPUs were available only on the very top CPUs. Not all variations were possible.
With 8 CPU options and 5 GPU options you can create a whopping 40 different configurations!
(Some combos will not be available, because of regional availability and because of various COVID and other shortages in components)
Ports
The left side
The left side has the following ports:
HDMI 2.0
USB 3.2 Gen 1 (USB-A)
Sim card tray or filler
Headphone combo jack

The right side
The right side has the following ports:
SD card reader
USB 3.2 Gen 1 (USB-A)
Kensington lock port
The back side
The back side has the following ports:
Gigabit Ethernet
1x USB-C 3.2 Gen 1 (support data transfer, Power Delivery and DisplayPort™)
2x USB-C 3.2 Gen 2 / Thunderbolt 3 (support data transfer, Power Delivery and DisplayPort)
Slim tip power adapter port

If you ever wonder why the 3 USB-C ports are not inline, it is because two are located on the system board and a third on the GPU child board.
CPU
The ThinkPad P15 I ordered came with an Intel Core i7 10875H mobile CPU. This CPU packs 8 cores and 16 threads. In the previous generation, you needed a Core i9 if you wanted to have 8 cores.
You can also get the P15 with a 6 core CPU (either i5 or i7) or go even higher, to an i9 or XEON CPUs.
No matter which one you go for, you are getting a 45W mobile processor with great performance.
Should you go 8 core or stay 6 core?
The 8 core CPUs operate at a slightly lower frequency, but as the numbers indicate, have more cores. If parallel processing is NOT your thing, then you might get a slightly better performance sticking with less cores. If your typical workload drives only a single (or few) cores, the slightly faster speed of the 6 core could be an advantage.
On the other hand, if you rely on parallel processing, run multiple VMs, etc, then the more cores the merrier.
ThinkPad P15 Performance, thermals, benchmarks
TL;DR: Performance is excellent.
I published a another article about the benchmark results of the ThinkPad P15 Gen 1.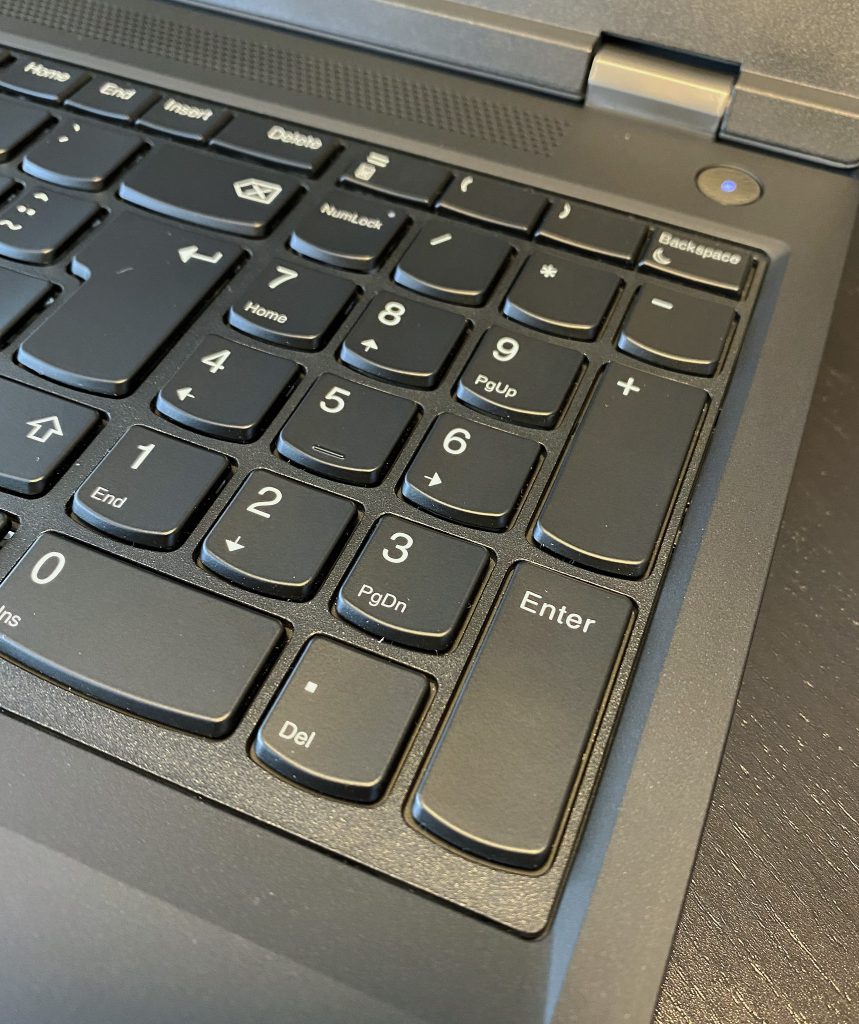 Graphics
I opted for the Quadro RTX 4000 graphics card. The P15 uses the Max-Q version, and the performance is somehwere around the Max Q version of the Mobile GeForce RTX 2070.
Other optoins for the P15 include the T1000 and T2000 GPUs and Quadro RTX 3000, 4000 and 5000.
In this generation, GeForce Experience is officially supported and it can be used to keep your graphics card driver up to date with official NVIDIA drivers. If you do not want to live on the edge and install the latest drivers, then you can update the drivers through Lenovo Vantage / the support site.
A word of warning here: sometimes NVIDIA drivers come with issues, even though they are not beta drivers. It usually is a good idea to wait a week or so after release before upgrading.
I have tested the RTX 4000 and ran various benchmarks. I will publish a benchmarking article separately soon.
(But yes, it can run games pretty well too! 🙂 )
Speakers
I tested the speakers thoroughly, because of the fact that they got the Dolby Atmos label to them.
In previous iteration of the software, the Dolby Atmos was only able to affect the headphones. In this version, it can now be used to affect the speakers as well!
Unfortunately, I was disappointed in the speakers themselves.
I took out my ThinkPad P52 and the MacBook Pro 16 to make a speaker comparison. Why the MBP? The MBP16 speaker can only be described by me as magic. Movies, videos, music, compared to all other notebooks it is just on a different level of how it sounds.
Sound quality
My subjective sound quality test ended with the following results. On a scale of 1 (worst) to 10 (best):
ThinkPad P52: 5
ThinkPad P15 Gen 1: 6
MacBook Pro 16 (2019): 10
I tested mostly with music videos and movie trailers. I tested electronic music, classical music and rock music. There is a slight improvement from the P52 in the P15 Gen 1, but it is behind the MBP16, which has just a whole different level of sound quality.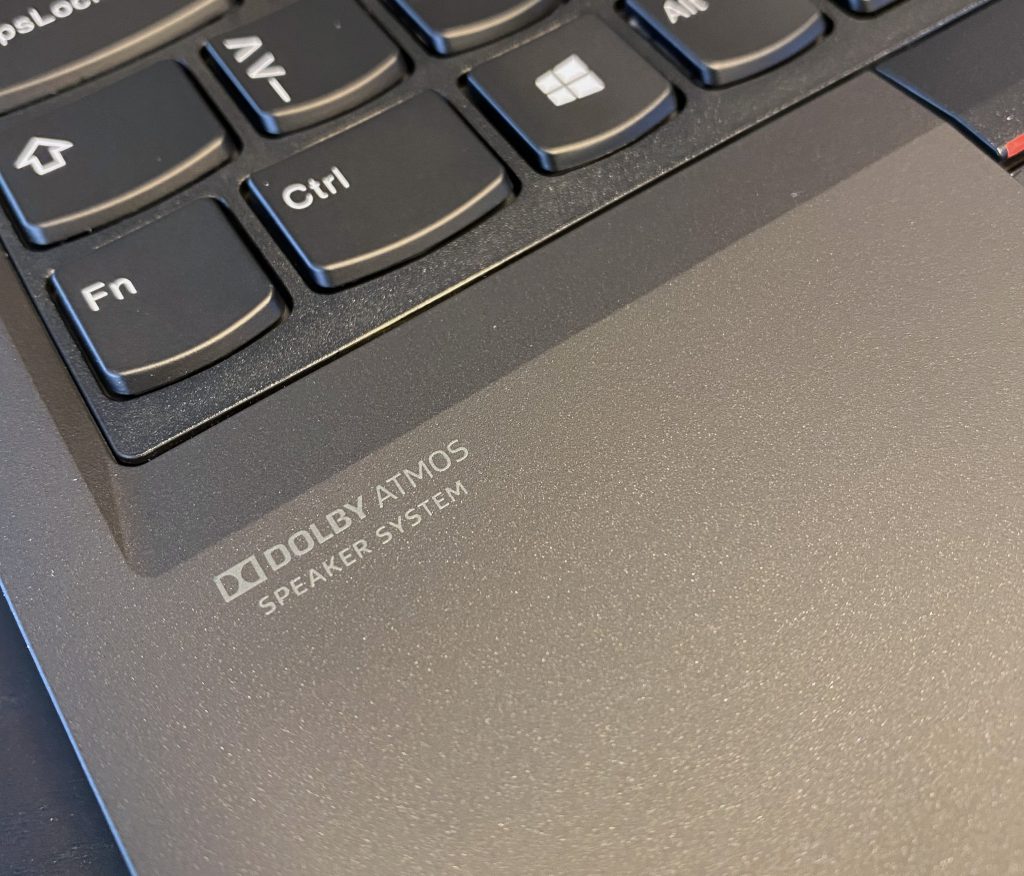 Loudness test
Next up was loudness: how loud can the speaker put out sound. Here there was a bigger improvement noticable from the P52, but the MacBook won this round as well.
The scale is the same.
ThinkPad P52: 5
ThinkPad P15 Gen 1: 7
MacBook Pro 16 (2019): 9
Overall sound
Lenovo has made massive strides with the audio on ThinkPads in recent years, but the P15 is still behind the best possible quality. You might argue that the MBP16 is not the same category, but I would argue they are indeed the same category, a notebook aimed at professional users. I would easily categorize the 16 inch version of the MacBook Pro as a mobile workstation.
Granted, most audio professional will not use the speakers to edit videos or sound. So how much importance you put into the speakers will vary based on your use case.
I know the 2021 models (at least the X1 series) are again touting improvements to speakers, so I hope Lenovo will be improving in this department further.
Keyboard and palm rest
Still love the ThinkPad keyboard! The great feel and exceptional typing experience is still here. Key travel is deep and key feedback feels comfortable.
The only slight annoyance is that I feel the keys gather greasy too easily, certainly more easily than the ThinkPad P52.
The same goes for the palm rest area: it has a softer touch to it, but at the same time it gathers oils from the hands instantly. If you prefer your notebook clean, you will have a lot of cleaning to do! 🙂 The ThinkPad P52 used a coarser plastic feel on the wrist pad area, but it hardly gathered any oils from the hands.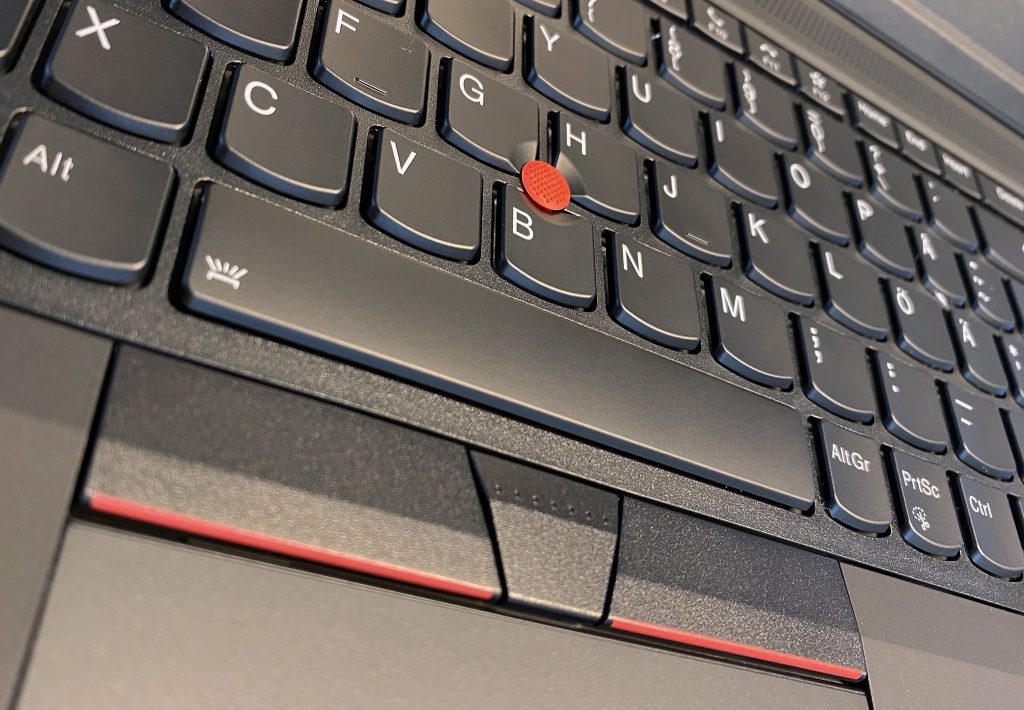 Touchpad and TrackPoint
Synaptics is back on the P series! Both the P52 and P53 was using an Elan touchpad, and I have to say I am not a fan of their software.
The Synaptics one offer lots of touch gestures and work great. The Users's Manual has a whole section dedicated to touch gestures you can perform on the touchpad. I also wrote an article about the gestures that are missing from the documentation.
Fingerprint reader
The included fingerprint reader is from Synaptics. Year over year, the Synaptics fingerprint hardware is getting better and better. I still feel it lags behind the Authentec sensors used on ThinkPads about 8-10 years ago.
(Let me add: this is how I feel about Authentec and Synaptics. Also, while the performance / speed might be lagging behind, it very well could be that these are more secure today than they were back then. So take this statement with a grain of salt!)
Camera and shutter
The camera quality is not exceptional, but gets the job done.
With good lighting, it is sufficient for regular video conferencing. Teams and Zoom has no problem finding you and replacing the background. If you are thinking of starting a video podcast, you might want to pick up an external webcam.
The camera comes with a ThinkShutter: a physical switch you can put in front of the camera to block it.
Battery life
Under light usage, the battery might last you about 6 hours.
Using it for a Teams meeting with video, you will get about 3 hours of usage this way.
If you start coding or driving heavy things, expect about 1-2 hours of battery life.
Graphics routed through the dedicated GPU
I find the following feature a bit annoying if you care about battery life. There is probably some technical reason behind this.
Because external displays use the dedicated GPU, if you start your day plugged into an external display, all your apps will use the dedicated GPU.
If you then disconnect from the external display and power, these apps will not switch over to the Intel GPU. Meaning the NVIDIA GPU will stay active, and will siphon away battery life. The apps cannot switch to just using the Intel GPU. To do that, they need to be restarted.
Because some apps that use the GPU are not even in the foreground, you will either need to hunt them down using Task Manager and the NVIDIA GPU Activity app or just restart your computer while on battery power.
This is very annoying when going to a meeting, where Teams then starts using the dedicated GPU to decode video. This makes the machine hot and starts affecting battery life.
Software
As expected, the notebook comes pretty clean of any bloatware. I did not clean install Windows, because there is simply no need for that any longer.
Those people disliking Lenovo Vantage should just switch over to Commercial Vantage, which is a streamlined and stripped down version of Vantage, without all the bling and articles and such.
Lenovo Quick Clean
One app I particularly like is the Lenovo Quick Clean app. This will disable the touch screen (if you have one), the keyboard, TrackPoint and trackpad while you clean these. In the time of COVID (or if you have cleanness OCD like I do) this is a godsend. You can clean the keyboard without needing to shut the computer down 🙂
Windows Hello — face or fingerprint unlock
I found face unlocking with Windows Hello works great — if
You keep your notebook display open (as in, not closed and docked in a docking station), and
You keep the privacy shutter open – which really beats the privacy shutter's purpose really?
Windows Hello can use the fingerprint sensor as well.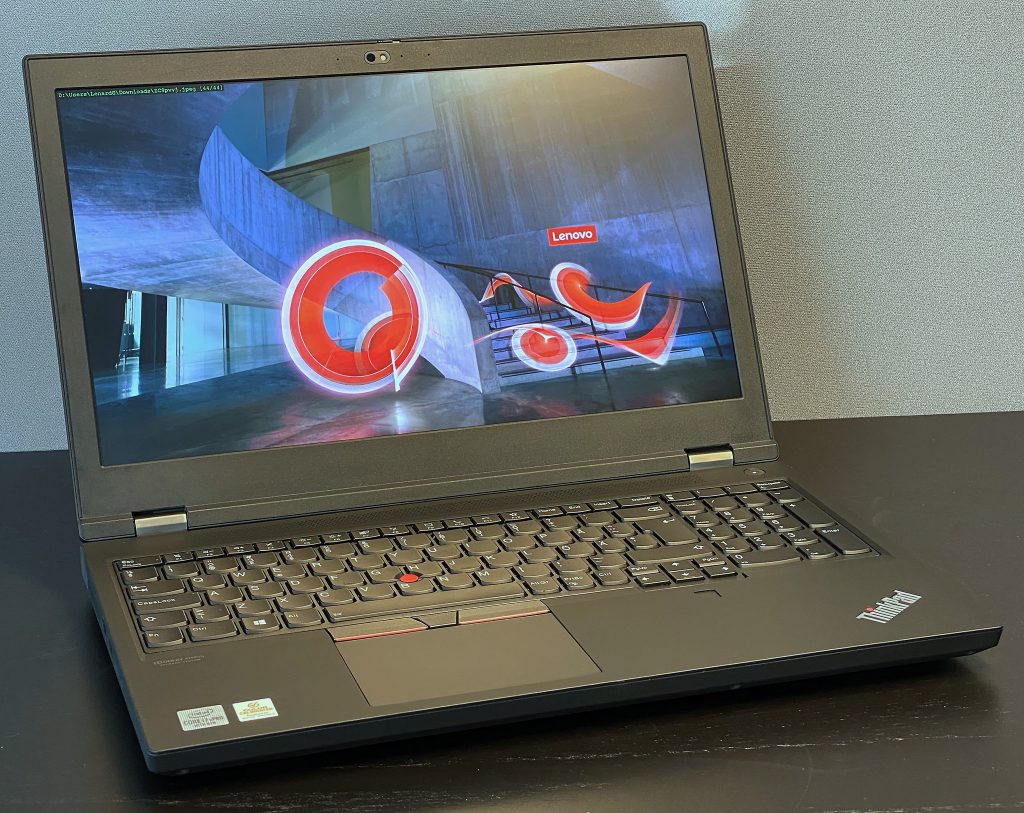 Conclusion
With the ThinkPad P15 Gen 1 Lenovo continues to put out excellent mobile workstations that meet even the toughest demands of working professionals. Despite a few minor shortcomings, the ThinkPad P15 is an excellent machine and a real performance beast.
I am really satisfied with all aspects of the ThinkPad P15, it has been really great to use for all sorts of tasks, both work related and personal.
Who is it for?
If you are a software developer, a game developer, someone who uses CAD software (designing machines or architecture) you definitely need a mobile workstation. If performance is your world, go for the ThinkPad P15.
Those looking for long battery life or a lightweight machine or a power brick that will not break your foot should it fall onto it, should look elsewhere.
But if you want to run your local Kubernetes cluster or VMs on your machine, if you need CPU performance to compile source code (or these days, to process JavaScript…) then the ThinkPad P15 is your companion!
Why not the P1?
At our company, many people choose the ThinkPad P1 instead of the more thicker P15 (previously P5x). Why would anyone want the P15 instead of the slimmer P1, when both get the same CPUs and some of the same GPUs as well?
Graphics cards. The ThinkPad P15 supports a wider range and more performant dedicated graphics cards. If you need an Quadro RTX, that is not available on the P1 line.
Cooling performance. Even though the CPU options are the same/similar, the cooling performance is not. For burst performance – using the CPU for a short time – there probably is not much difference. But for sustained performance – longer use of the CPU – there will be a difference between the same CPU. The reason behind this is because the P15 is thicker, and because the cooling system is superior compared to the P1, the P15 can cool the CPU (and GPU) better. Better cooling translates into better performance.
Faster GPUs. The T1000 or T2000 card inside the P1 is not allowed to run as fast as the ones in the P15. They are power rate limited to a lower wattage. So again, the same GPU will be slower in the P1 because they are more power limited.
RAM slots. Only two RAM slots in the P1 versus 4 in the P15.
If these points do not resonate with you, then the P1 is also an excellent mobile workstation to look at!
ThinkPad P15 or the Legion lineup?
What about the Legion lineup? Those also come with Intel H series CPUs. Why not go for them?
In fact, if you are looking for performance only and want to save on the price, you will probably get a better deal on a Legion. Many creative professional are choosing gaming notebooks for their work today.
How does a Legion compare to a ThinkPad? I'll save this comparison for a Legion 7i review coming in a few weeks 😉