Lenovo PHAB2 and augmented reality (TechWorld 2016)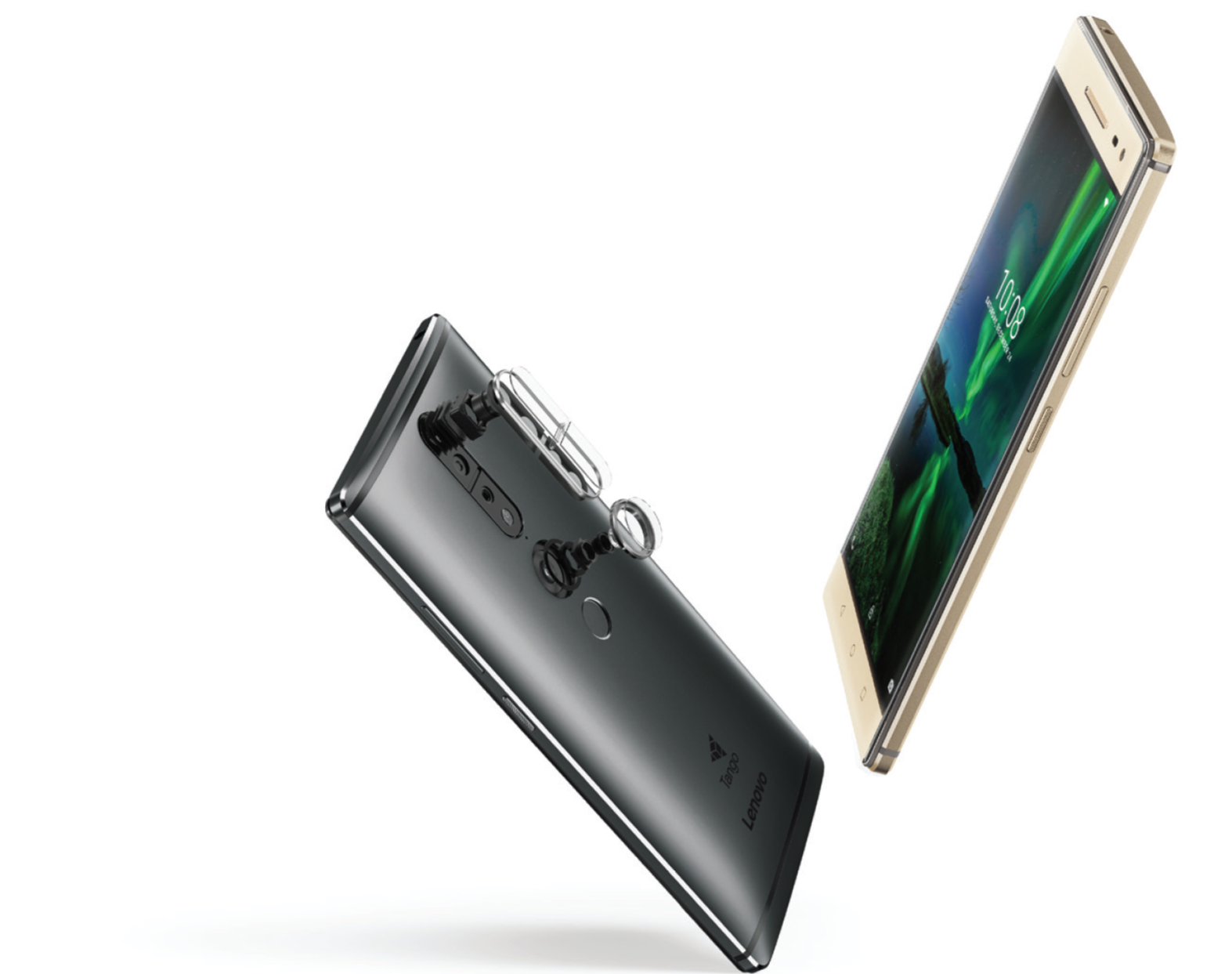 Lenovo TechWorld 2016 is being held in San Francisco this year. And there are some exciting news coming from there. I usually don't write about phones but what Lenovo today announced is something really interesting. Google and Lenovo has been working on a Project Tango phone this past year. Project Tango enables a device to support augmented reality (more on that below).
And today Lenovo announced the PHAB2 phone family, and in particular the PHAB2 Pro which supports Project Tango. The PHAB2 Pro will be available this September.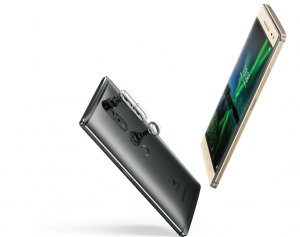 The Lenovo PHAB2 Pro is a 6.4″ phone – not at all small. But it features the Depth and Motion Tracking sensors on the back that enable Tango to do their magic: Augmented reality.
Augmented reality
Augmented reality is the integration of digital information with your physical environment in real time. Unlike virtual reality, which creates a totally immersive environment, augmented reality uses your existing environment and overlays new information on top of it.
How this works in practice: you view the world around you by using the camera on your phone and actually look at the display of the phone. The phone augments the picture with more information, so you see things that are not really there. Information is not limited to textual information, but can include almost anything.
The use cases are limitless, and they allow new scenarios, like:
Building guides. You select your destination and the phone will show a colorful line on the floor where you need to go. Perfect for indoor navigation.
Museum tours. The phone displays additional information about exhibits. Information need not be textual. Imagine looking at a mummy in a display case, but when you view it through your phone, you can see below the layers of the mummy and explore the mummification process. Or viewing same mummy when you look around (using your phone) you can see the actual burial place from inside, instead of the museum.
Restore historical places. Imagine touring some ancient ruins, but using your phone you can view in real time how it looked before it was destroyed.
Teaching. You can explore 3D models of things from all sides. Dinosaurs, ancient building, the human body. I believe that learning visually is much more enjoyable than reading a book and looking at still pictures.
Entertainment uses. I can imagine a lot of new games that can use AR to create a more immersive environment. Imagine ghost hunting in your house, but you can only see the ghost through your camera! 🙂
Ever wanted to try how a new piece of furniture would look in your home? I hope IKEA will create an app for AR that lets you try out their furniture in your home, in real time, even before going to the shop.
Some other use cases mentioned by Lenovo: virtual pets (that live in your room), Shopping guide (find things in the store), find your friend (at a concert or large event), customize things virtually (bike, car), etc.
Is AR the future?
I am looking forward to seeing AR and especially the developer offering around it. It creates many new opportunities for developers, but it depends on the way things are organized how fast people would get on board. If a lot of 3D modelling and custom coding is needed, it limits how fast and well developers will embrace a new tech like this.
Virtual Reality (VR) and Augmented Reality are two buzzwords today. But let us not forget that VR helmets were available sometime in the 1990s, and they never became mainstream and widely adopted. The same thing happened to 3D televisions – they have been with us for quite a few years now, but they faded away and today are not even the biggest selling point anymore. Only time will tell how well VR and AR can become adopted this time.
I certainly have high hopes for Tango and AR, much more than current VR offerings (Oculus and phone based VRs). People still consume a lot of content, and going the AR route feels more natural than going full blown VR. But this is just my 2 cents 🙂
PHAB2 Pro
YY, the CEO of Lenovo and Jeff Meredith presented the PHAB2 Pro on stage at Lenovo TechWorld. The PHAB2 Pro is basically a large Android phone with some funky cameras and software added.
The PHAB2 Pro has:
6.4″ QuadHD display with curved glass
4GB of RAM
64GB of storage
Qualcomm Snapdragon 652 processor
Dual nano SIM slots
an array of sensors
and of course the cameras. The back shooter is 16MP and the front one is 8MP.
But of course the most stand out feature is the Tango cameras, which enable the phone to sense its environment and utilize that in the Augmented Reality features it offers.
PHAB2 and PHAB2 Plus
In addition to the PHAB2 Pro that includes the Tango cameras, Lenovo also announced two other phablets the PHAB2 and PHAB2 Plus.
PHAB2
The PHAB2 is a very basic phone apart from it being a large phone. It runs Android 6.0, has a 6.4″ display with only HD resolution. It has a dual SIM slot, a 13MP back and 5MP front camera, 32GB of storage and 3GB of RAM. Battery is 4050 mAh, and is rated for 14 days stand by time or 32 hours talk time.
PHAB2 Plus
The PHAB2 Plus goes a little higher than the very basic PHAB2. We now get Full HD IPS display with curved glass, 13MP back camera and 8MP front camera (the cameras have large pixels and some other magic to create great images – how great, you will need to wait for a review to find out). The battery is the same 4050 mAh size as the smaller brothers, but talk time is reduced. The better hardware inside is probably more power hungry.
More information
Visit the Lenovo news site / press releases or the Lenovo YouTube channel for more information.