Lenovo Yoga 910 (preview)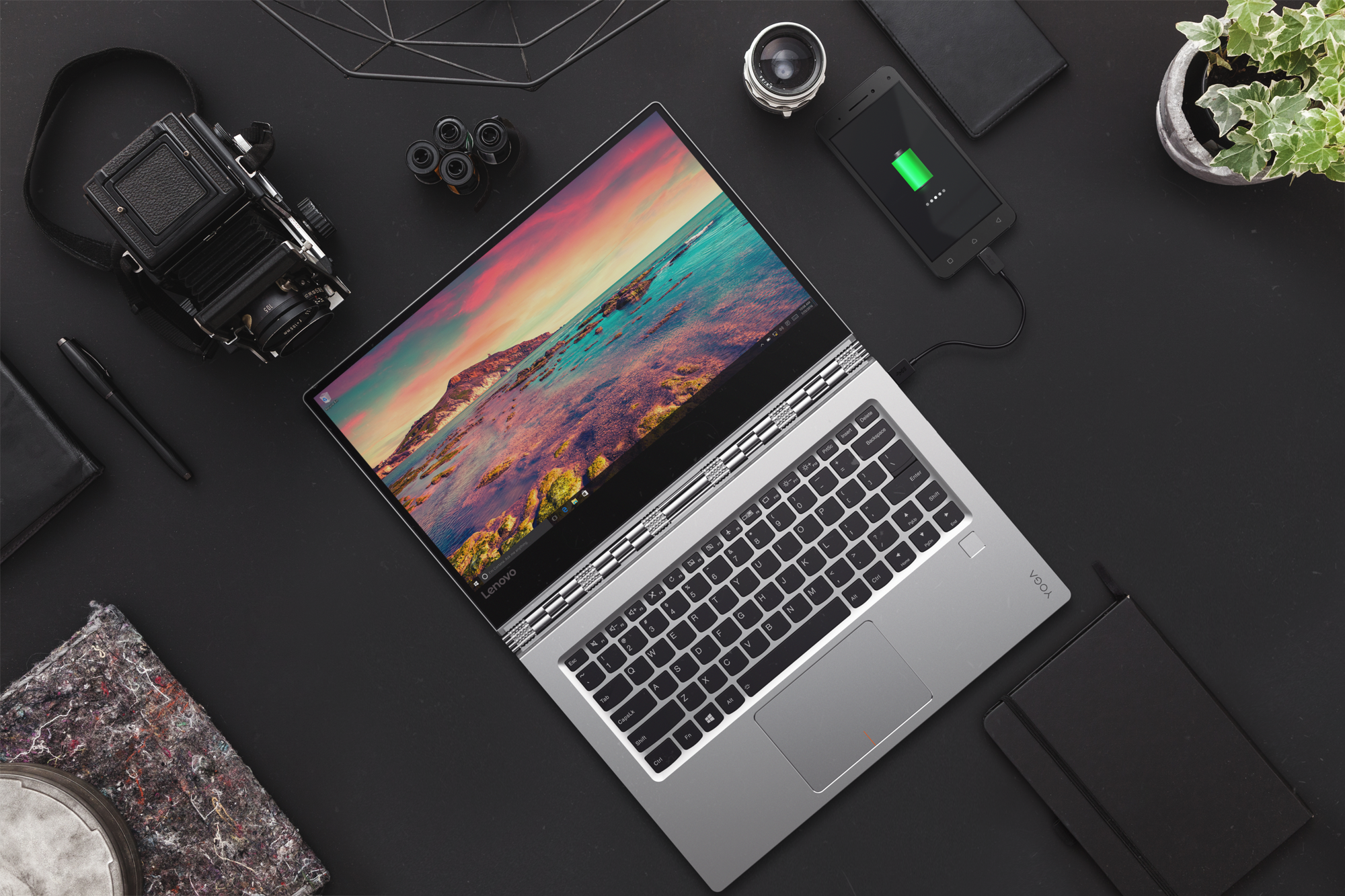 At IFA 2016 in Berlin Lenovo announced the next iteration of its consumer Yoga notebook, the Yoga 910. With new ports, a new CPU and the same familiar Yoga features the new notebook looks like a really great machine.
Technical specs
The form factor of the new Yoga notebook is about the same as last year. It is a tiny bit thinner, and the battery has decreased from 66 Whr to a 48 Whr battery.
Here is a list of key tech specs:
CPU: Intel Kaby Lake (7th generation Core i CPU)
Memory: up to 16 GB
Storage: Up to 1 TB PCIe SSD
Display: 13.9″ FHD or UHD (4K)
Security: Fingerprint Reader
Battery life: 10.5 hours UHD / 15.5 hours FHD
The UHD or 4K resolution is a new one for this year. The previous generation Yoga 900 had a 3200×1800 screen, but this year it was upgraded to 3840×2160. Finally you can enjoy 4K videos without scaling! Note that you can also the Yoga 910 with a FHD screen, which gives you a big battery time boost. The screen should cover 100% of the sRGB color gamut, which is great news if you are into photography!
Other than the resolution, the screen is now edge-to-edge – well, almost. The edgeless means there are almost no bezels on left, top and right sides (just 5mm), but the buttom still has a quite substantial bezel.
The watchband hinge is still here, and I still think it looks amazing!
Ports
Lenovo replaced the charging USB port with a USB Type-C connector. This supports only USB 2.0 via the Type-C interface — without a dongle, probably can only be used for charging.
The other Type-C port is USB 3.0 and supports Video Out. Again, you will probably need a dongle to utilize this. Finally, there is a "regular" USB 3.0 port (Type-A).
Having to use dongles is not that great, and having to share your USB ports with other features (video out, power) also is a little difficult.
If you have a USB mouse and keyboard, you are probably in trouble without dongles or a small USB hub. On the other hand, the Type-C ports are pretty future proof.
Fingerprint scanner
The Yoga comes with a fingerprint scanner, which is pretty cool. We already saw a business edition of the previous model, the Yoga 900. The addition of the fingerprint scanner suggests that probably lot of businesses started using high end consumer notebooks.
And why wouldn't they?
The Yoga line is cheaper than the ThinkPads, yet, make excellent work computers!
Colors
I am little bit sad to see the cool orange color go away. It was a really stand-out color for the Yoga products. The Yoga 910 is available in Platinum Silver, Gunmetal and Champagne Gold.
How does it compare?
The UHD resolution, the fingerprint reader and the USB Type-C ports are probably the biggest changes compared to last year's YOGA 900. The 7th generation Kaby Lake processor is a small upgrade (in my opinion), and everything else is similar to last year.
Visit my Yoga Comparison web application to compare the new Yoga 910 to other Lenovo Yoga notebooks. (read more about this web app here)
Availability
The Yoga 910 is now shipping and available for purchase.