Somewhere in Berlin, about 5 years ago …
This little memoire is different from the usual content I publish on my blog. It documents some behind the scene details of my trip to IFA Berlin in 2015, as part of the Lenovo Insiders program. In particular, this piece is about our last day in Berlin. This is the first time I write these details down, so my memory might not be accurate in every detail. 😉
Note: while this post highlights our last day, it is by no means a complete look back at what happened at IFA 2015 or what products were showcased there and what we wrote about. Of course technology announced back then is ancient. But in case you want to, read more about the Miix tablet that I completely fell in love with there or my look at the event itself.
On a cloudy day in Berlin, during the 2015 IFA trade show …
… a group of technology enthusiasts who proclaimed themselves to belong this special group called Lenovo Insiders, found themselves in Berlin. It was the last day of their visit there, the following day seeing many of them leaving on flights to different parts of Europe.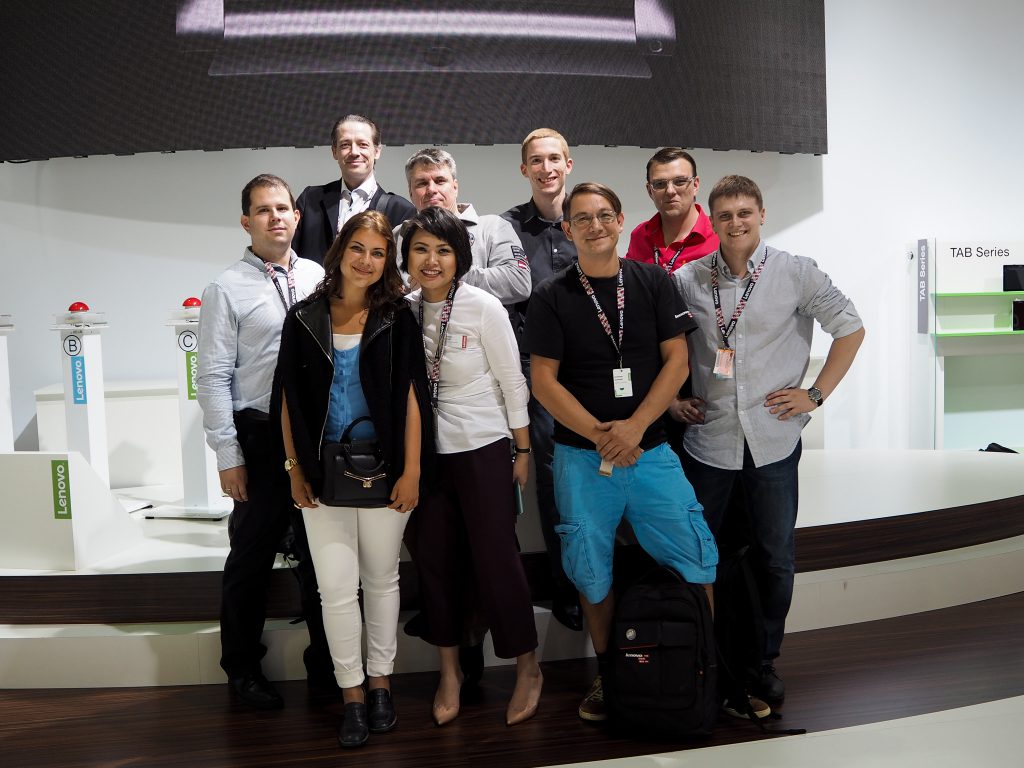 The program of the day would have had to be a sightseeing tour of Berlin, but many of said group wanted to walk around IFA and look at things before the tour. Or just hang around the Lenovo booth. Actually, hanging around the Lenovo booth turned out to be quite the treat, with getting a first live glimpse at the coveted SILVER ThinkPad! What a treat and delicassy that was, it sure felt like the top of the day – at least up until that point, for little did the group know what will come later that day.
(Note1: This was the first year that a ThinkPad in Silver color was available. If I recall this correctly.)
(Note2: If you too think that the only color ThinkPads should come in is black, I feel you! 🙂 )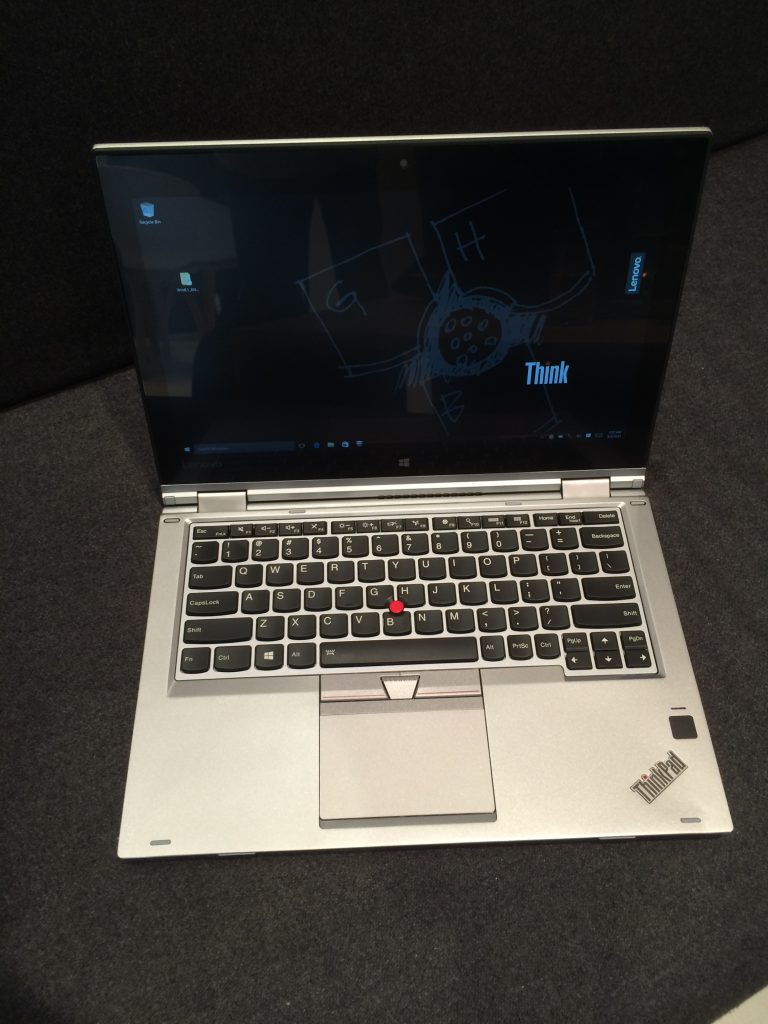 So the Berlin tour was delayed. So was our lunch, and after that the group met up with the tour guide. He said it was going to be a shorter tour, since we started so late, but this did not bother us. And what an exceptional guide he was, knew all kinds of weird little things about everything. It was not your regular "to your left you see building A" type of tour. I wish all tour guides would be as lively and interesting as this guy was.
We visited many places around Berlin, like Checkpoint Charlie …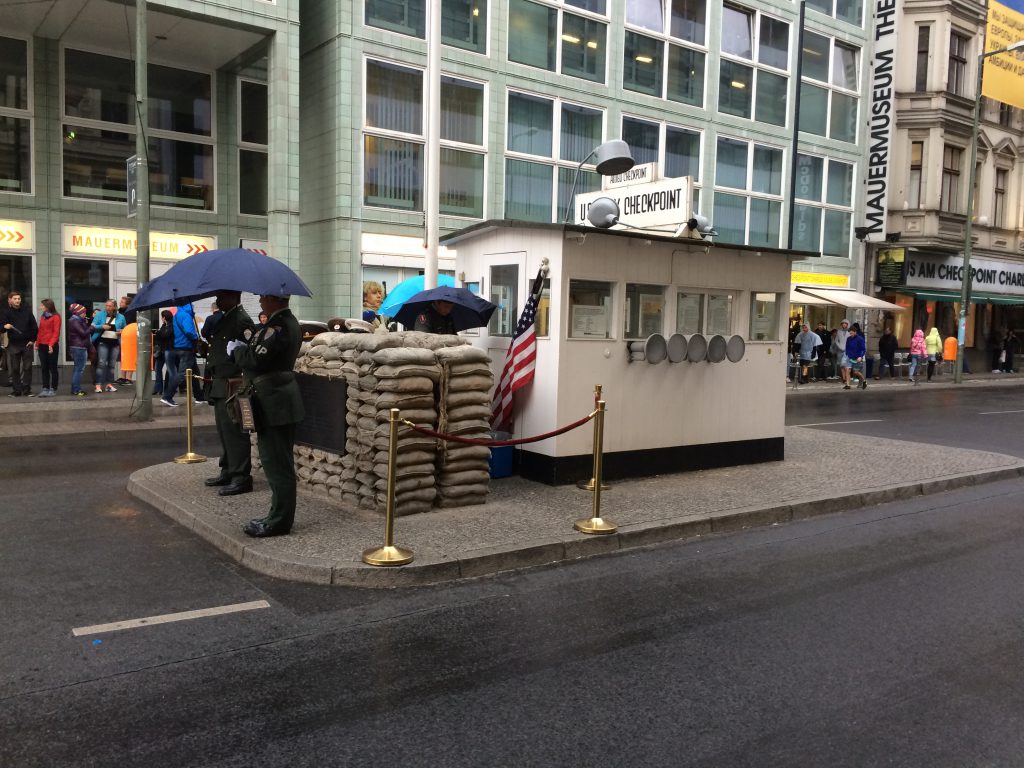 And Atli did a proper introduction to souvenirs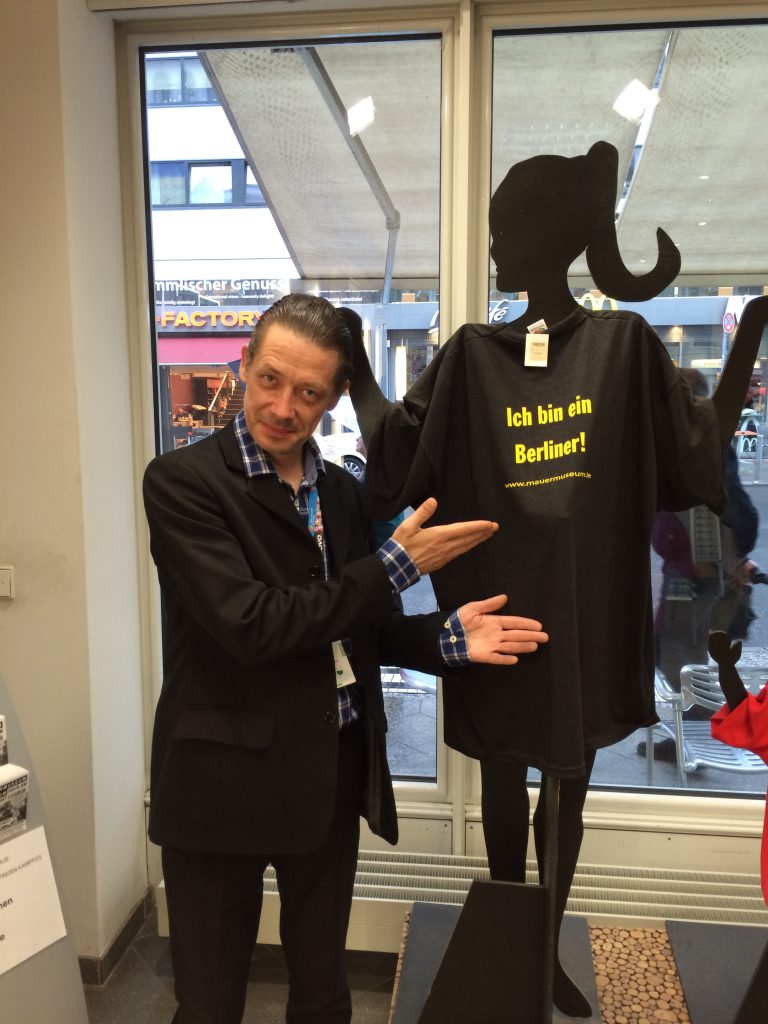 Photos were made at significant places …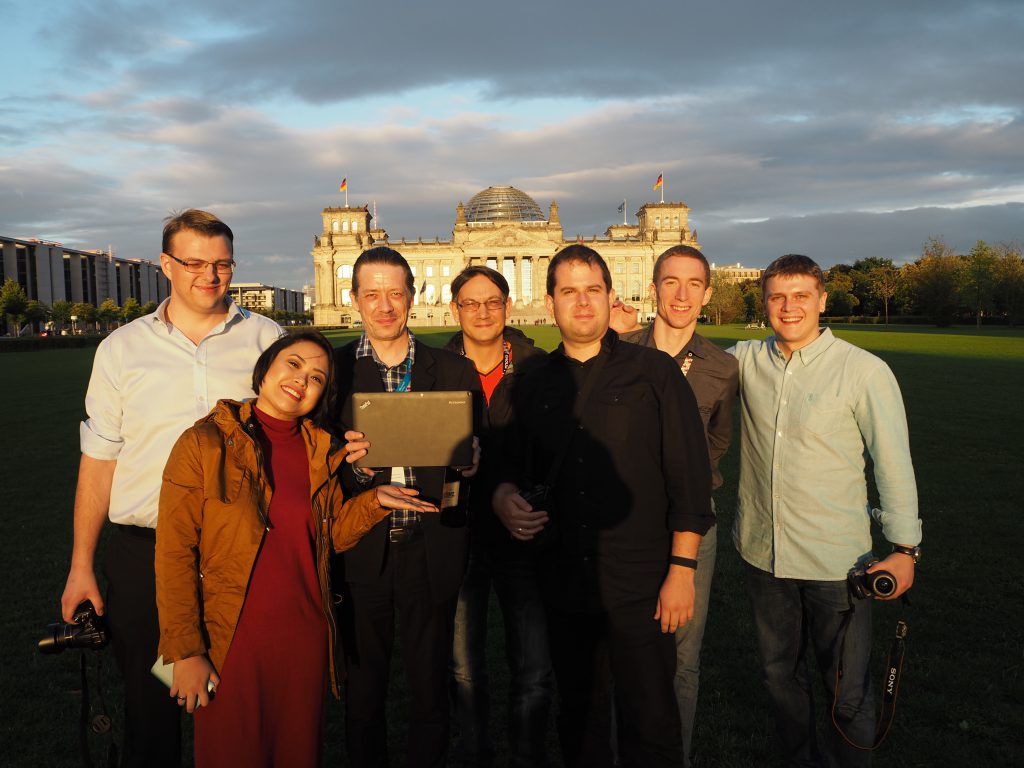 But eventually, the tour came to an end.
It was now going to be a simple dinner and that's it for IFA Berlin for us Insiders.
OR SO WE THOUGHT!
At this point Mr Atli asked the tour guide (before he left us): Good sir, would you happen to know any tattoo parlours in Berlin?
And this started our journey down a rabbit hole no one really expected to visit that night!
You see, Mr Atli had this secret plan / desire to get a special tattoo, and thought this would be the perfect timing. The group supported the idea, although our driver said something about that neighbourhood being a little shady. It was getting late in the day, and not many tattoo places were open any longer.
Atli called ahead if they had some time to spare for our special project. And then, we headed there!
If you have seen movies with dark abandoned streets in Eastern European cities, dark, old houses and whatnot, you already know what the street looked like. Not the place I would have wanted to walk alone at night. But here we were, all Insiders and our host, Yuszela.
The tattoo place did not want more than one visitor tagging along, so we sent in Yasmin, and we went into the bar next door, had some drinks, and waited for the event to happen. The bar was actually quite good, although very dark.
And then, we got the first picture …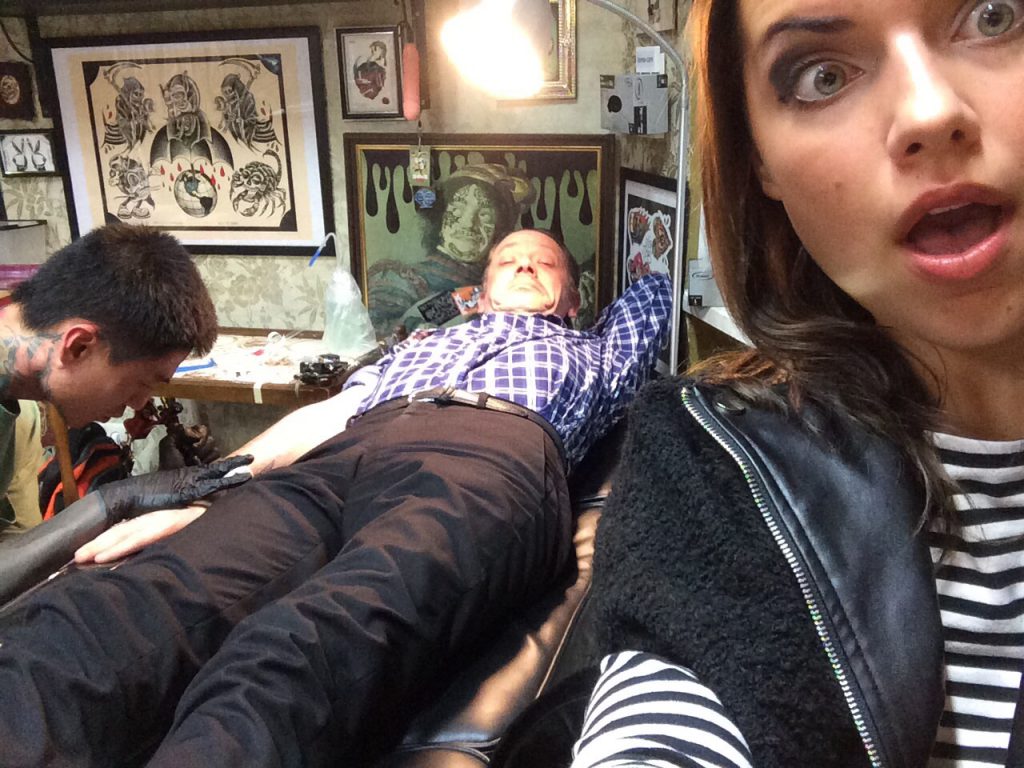 It had already begun. The thing, the THINKPAD TATTOO was taking shape!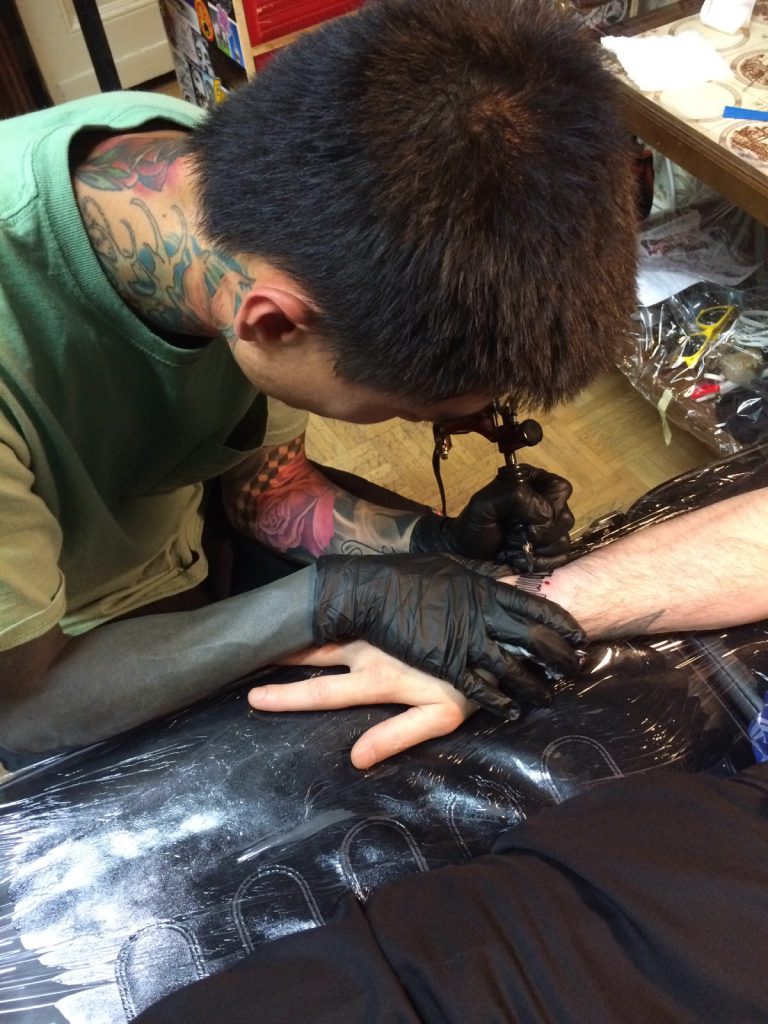 It was there, being born right in front of our Yasmin's eyes and we followed the event from the photos she sent us.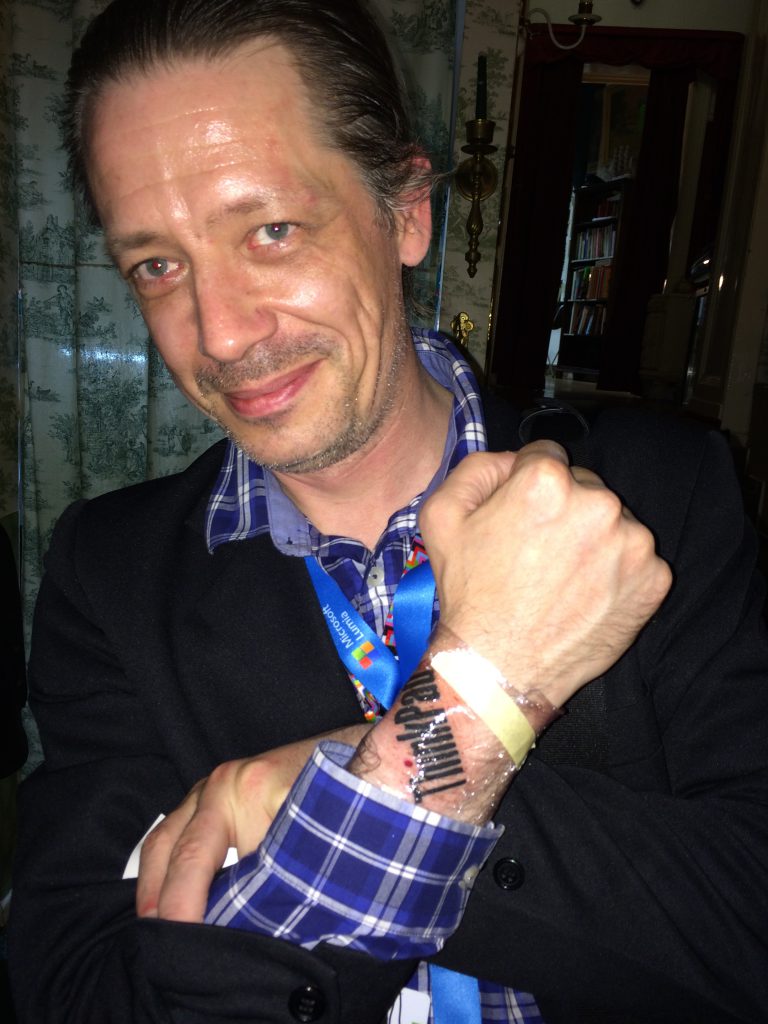 It has been an adventure, and I think everyone can remember the fallout, with even Lenovo's CEO Yuanqing Yang tweeting about it. And Atli is now forever branded. Not that he minds, I think.
It has truly been an exceptional adventure at IFA 2015. Thank you to all of you guys (read names under first photo!) and thank you Yuszela and of course Lenovo for inviting me to this event.