Overview of the Premium ThinkPads – The ThinkPad X1 family (2021H1)
Over the years, the ThinkPad X1 family has grown from the lonely Carbon to encompassing 5 (or 6) different premium models. The X1 is the Premium end of the ThinkPad segment.
But what are all these models and how you can choose from them?
The ThinkPad X1 Family
What machines exactly encompass the ThinkPad X1 Family this year?
ThinkPad X1 Nano (Gen 1) (available)
ThinkPad X1 Titanium (Gen 1)
ThinkPad X1 Carbon (Gen 9)
ThinkPad X1 Yoga (Gen 6)
ThinkPad X1 Extreme (Gen 3) (available)
ThinkPad X1 Fold (available)
I think the ThinkPad X1 Extreme will get an upgrade sometime in the summer – that is the typical time of the year when the Mobile Workstations get updates. But until then, these are the members of the ThinkPad X1 Family, with their corresponding generation.
Some of these are not yet available at the time of this writing. I will be updating the article as the devices start shipping, PSREF is published and reviews appear.
I will also leave out the X1 Fold from this article. Although it is member of the X1 Family, I have my doubts about the foldable devices. I just personally don't think foldable devices are a real choice for anyone but a technology enthusiast at the moment.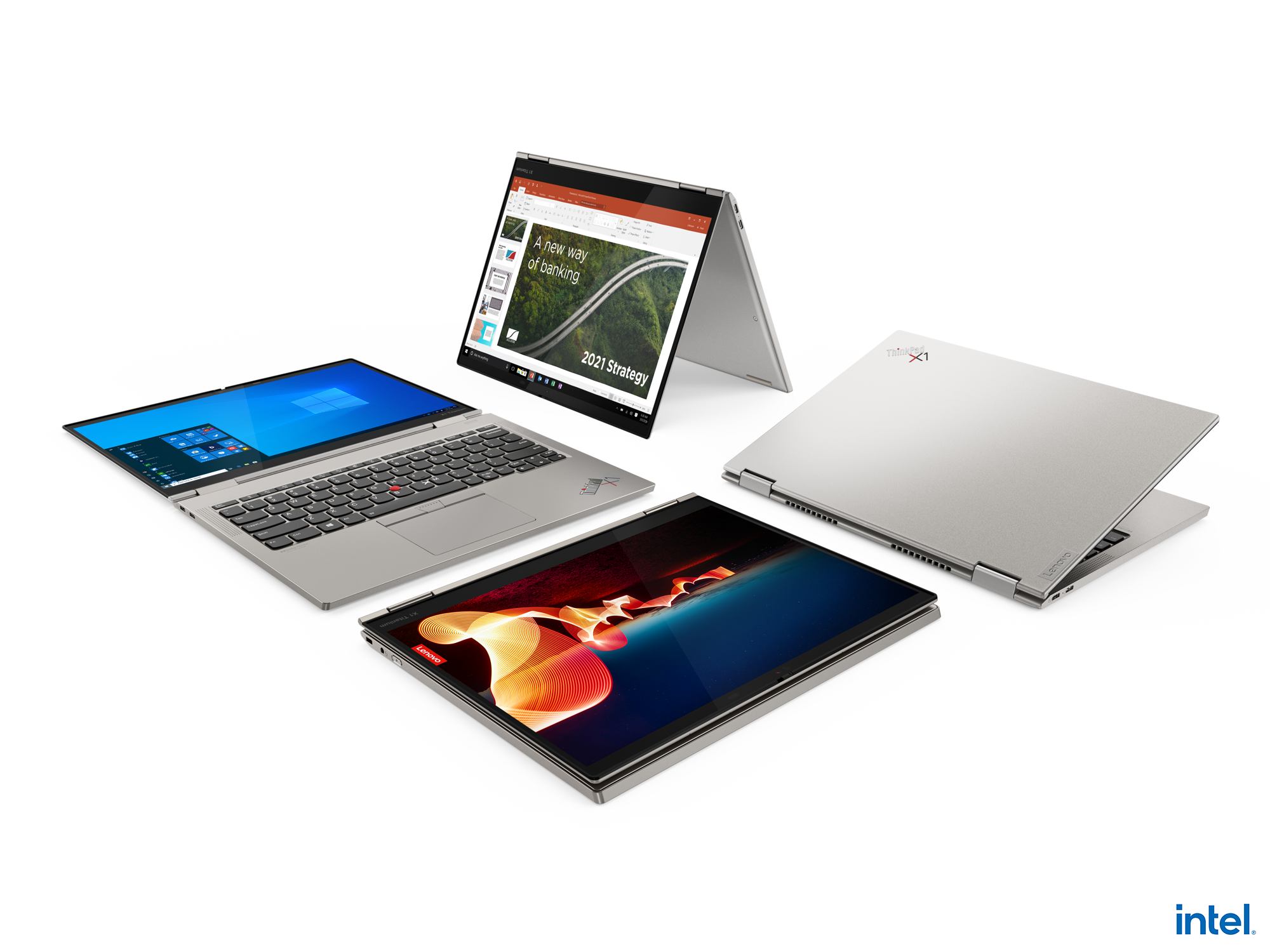 The odd one out
While leaving out the X1 Fold from the ThinkPad X1 family, I will add to the list of devices the ThinkPad X12 Detachable. This was also released this year. I will include that in this comparison, because I feel it completes the other X1 models. The predecessor for this is the X1 Tablet (3rd gen). I wonder why Lenovo chose not to continue that naming? (probably not to create confusion with the X1 Fold, which is now the "tablet for the X1 series").
I still feel that the X12 Detachable belongs in this comparison, and will include it as the 6th machine.
How we will do this?
I will write a brief text about all the machines, and what use cases I would see them be useful for. I will talk a little bit about the hardware differences, and conclude with a recommendations and summary in the end.
Quick comparison
Here is a quick comparison (graphic) for all the models.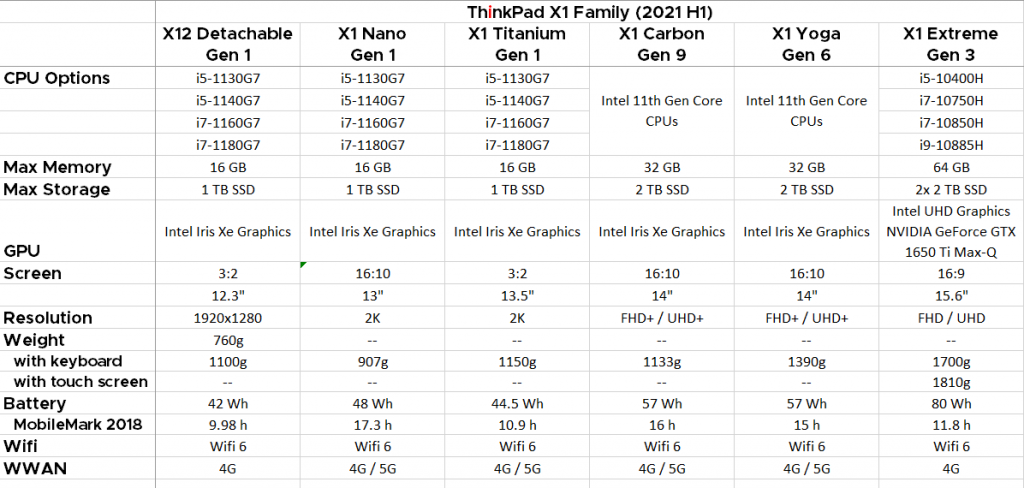 ThinkPad X1 Nano
The smallest notebook of the ThinkPad X1 family. This is a true Ultrabook: some reviewers even compare it to the MacBook Air. It runs cool and silent, while it still delivers a punch when needed. The notebook sounds great having loud and good sounding Dolby Atmos speakers. Four 360 degree microphones ensure you are heard loud and clear during conference calls.
It can even run some games (if you don't mind the lower settings). All in all, a pretty impressive package.
It does come with a lower power variant CPUs (probably to achieve the thinness). Port selection is limited, with only 2 USB-C / Thunderbolt 4 ports and a headphone audio jack.
Why you want it?
Small and light
Ideal for travel, conferences, presenting
Why you don't want it?
Maximum amount of RAM just 16 GB.
Less powerful CPU than the Carbon and Yoga.
Limited port selection — welcome to the dongle life!
Links
ThinkPad X1 Titanium
As the name suggests, the X1 Titanium is made out of titanium. As a material, Titanium is very durable but light at the same time – qualities you would want in a premium notebook.
Size wise it sits between the Nano and the Carbon, having a 13.5″ screen. Unlike the Carbon/Yoga, the Titanium comes with a 3:2 inch screen. This is because the computer is geared more toward a tablet like usage – it is a 2-in-1 convertible after all. You can put it into the four Yoga modes: notebook, tent, presentation and tablet.
While slightly larger and heavier than the Nano, it still gets the lower powered versions of the Intel CPUs. Oh, and only Thunderbolt 4 ports here.
Why you want it?
Premium build quality (titanium) while still very light
Convertible: use Yoga modes in different situations
Why you don't want it?
Maximum amount of RAM just 16 GB.
Less powerful CPU than the Carbon and Yoga.
Limited port selection — welcome to the dongle life!
Links:
ThinkPad X1 Carbon (Gen 9)
The ThinkPad X1 Carbon is the top of the line premium notebook for the ThinkPad line. This one gets the best features and highest quality implementation. 5G, glass touchpad, thin and light. It doesn't get any better than this.
This year the X1 Carbon also supports more RAM than before (32GB), which enables lots of great new features. Docker and VMs suddenly don't feel that cramped here.
Why you want it?
Portable and lightweight, general computing device.
Why you don't want it?
If you need workstation class CPUs, the Carbon does not offer these
While there is a touch screen option, if you want to work with a pen and/or require a tablet operating mode, the Carbon does not offer these
On an airplane the X1 Yoga or X1 Titanium provides better options to use the notebook …. If we ever fly again 🙂
Links
ThinkPad X1 Yoga (Gen 6)
A premium 2-in-1 laptop has all the different YOGA modes Lenovo popularized with their computers. After the Carbon, the X1 Yoga was the second device to appear in the ThinkPad X1 Family back in 2016.
The X1 Yoga supports pen input (best used when the computer is in tablet mode). This year the maximum amount of RAM has been expanded to 32GB, making certain it can handle everything you throw at it. Unless your need Dedicated Graphics or the CPU power of mobile workstations, there is probably not a single task you could not complete on the X1 Yoga.
The X1 Yoga also transitioned to an aluminum build during recent generations.
Why you want it?
You need touch and pen input. In tablet mode, both of these work great. While touch screens on laptops are available, in the tablet mode it really is a great input method. Note taking, drawing are typical tasks.
Traveling and presenting with a Yoga is easy.
Why you don't want it?
If you need workstation class CPUs, the Yoga does not offer these
If you rarely use or need touch and a pen, it might be redundant to have the feature of the Yoga.
Links
The X1 Extreme (Gen 3)
The ThinkPad X1 family's only mobile workstation. This computer packs some serious performance. With an NVIDIA dedicated GPU and H series 45W CPUs, up to 64GB of RAM and 2 M.2 SSD slots there is not much stopping this one when fully loaded. At the same time it maintains a relatively thin profile (for a mobile workstation).
Why you want it?
Offers most amount of RAM and fastest CPU options
Largest screen real estate of the ThinkPad X1 Family
Dedicated graphics card
Gaming on a ThinkPad 🙂
Why you don't want it?
Starting at 1700g, and having a huge power brick, this one is more heavy to lug around. If you travel a lot, this might be an important factor for you.
"Only" 4G / LTE connection
If you require workstation grade Quadro graphics solutions (look at the P series then)
Links
The X12 Detachable
The detachable form factor makes a return after skipping a year (The X1 Tablet 3rd Gen was a while ago). The X12 Detachable is a tablet first, but you can attach a ThinkPad keyboard that also comes with a TrackPoint and touchpad. The keyboard also doubles as a cover to protected the Gorilla Glass covered screen. Which is a 3:2 screen, that is great for productivity.
The build is durable, it has WWAN available. A serious tool for road warriors or anyone looking to have a small but powerful computer.
Combined with the precision pen, this computer can be a note taker's best friend.
Why you want it?
Pen input / digitizer is something you need
You need a tablet
Really light weight form factor
Why you don't want it?
Maximum amount of RAM is 16 GB.
Less powerful CPU than the Carbon and Yoga.
Less "lapable", because not a proper laptop – the stand is ok for desks, less so for your lap.
Only 4G / LTE is supported, no 5G in this one
Links:
Who these are for?
Let's go through a few occupations and see who would benefit from these computers. This assumes you already have your eye on the X1 Family.
Developer.
You will need lots of RAM and CPU power. You might get by a X1 Carbon or X1 Yoga if you don't need that much CPU power and don't mind waiting for beefier builds (builds include transpiling and packing JavaScript). Otherwise, you are better served with an X1 Extreme and the H series CPUs.
Web designer.
The X1 Carbon would be a great choice here. If you want to use the pen as well, maybe to draw or test things, the X1 Yoga is the better choice. If you work with JavaScript a lot or also code, then the X1 Extreme is something to consider for performance reasons.
Gamer.
If you really really want a ThinkPad for gaming and have your eyes on the X1 series, your only choice is the X1 Extreme. But as a Gamer you really should look elsewhere (ThinkPad T15g or Legion line). If you are a professional who wants to be able to game, then the X1 Extreme might be a good choice though.
Digital Artist.
You will want to look at the X1 Yoga and the X12 Detachable. Although the X12 Detachable might have a small screen for digital art. Both of these support pen input and can work as tablets.
Executive, project manager.
You will be better served by the smaller machines. Go X1 Nano or X12 Detachable or the X1 Titanium.
Office work.
Office work usually entails typing. The Carbon is a good choice, but the X1 Titanium could work as well. While having a larger screen, the X1 Extreme is too large and heavy and probably an overkill.
Student.
For school I would recommend the X1 Yoga, being the most versatile one, but also not as bad on your budget as the Titanium for example. The X1 Yoga is perfect for note taking, reading and whatever you can throw at it.
For less demanding work the X12 Detachable can be a good choice as well, but remember that one is not that great in the lap and probably needs a table/desk for optimal usage.
Exception: is if you are an engineering student, and want to be able to run CAD and other drawing applications. In that case, you will need at least the X1 Extreme, or even maybe another ThinkPad entirely, from the P series. Those have Quadro graphics that are ideal for this type of work.
Also, AI researchers, data engineers may probably need to look into other models or series or notebooks based on their requirements.
Creator.
Really depends on what you are creating. For Video creation, you will probably want the X1 Extreme for Video editing and rendering. The X1 Carbon could work as well if you work with photos and/or audio only.
Writer.
If you are writing things for a living, probably something like the X1 Carbon is what you are looking for. An excellent keyboard that you can enjoy long sessions with. Take the UHD+ screen for great looking fonts.
Secondary computer?
Some of these like the X1 Nano or the X12 Detachable could be used as a secondary smaller computer. If your primary machine is a mobile workstation or even a desktop computer, these are small and light weight that you could use as a secondary machine, for traveling, presenting, note taking, etc.
Although let me say, that being the premium end of the ThinkPad lineup, the X1 machines (and the X12 detachable) will cost a pretty penny. So not everyone might be able to afford them as secondary computers. 🙂
Some hardware notes for the ThinkPad X1 family
In this section I would like to draw attention to some key takeaways concerning the hardware inside these computers.
The display's aspect ratio
All the screens this year transitioned to 16:10 and 3:2 screens, which is really great news.
The CPUs
The X1 Extreme uses the H series 10th gen CPUs currently, while all others use the 11th gen Tiger Lake CPUs.
There is a difference though:
The X12 Detachable, the X1 Nano and the X1 Titanium use the lower powered variant of the CPUs (UP4). So while they are both i5 and i7, they are more thermally restricted.
The Carbon and the Yoga use the higher powered UP3 variant of the CPUs.
LTE or 5G or none?
Having a dedicated LTE or 5G connection in a notebook is very comfortable. No more Wi-fi hunting, pairing with the phone or mobile hotspot, using a USB stick, etc. You just go to the internet whenever you want to. But do you really need it?
In the current situation around the world, where we are forced to be working from home, the need for a truly mobile computer is less important. But as restrictions are lifted, and traveling starts again (maybe just visiting the customer office on the other end of town) these kinds of things will get more useful.
So do I need a WWAN connection?
If normally you often go to other places to work – coffee shop, customer offices, airports – then the dedicated LTE or 5G connection could be useful. On the other hand, if you mostly use your computer at work or at home, you can save some money by not buying a dedicated connection.
And which one, 4G (LTE) or 5G?
On the matter of 4G vs 5G – both are excellent choices.
5G will cost you more when buying the notebook and also down the line (connection fees)
5G will not be widely available in all places (at least for now).
On the other hand, getting 5G might be future proofing your notebook (if you care about such a thing)
Conclusions
The ThinkPad X1 family (along with the X12 detachable) are starting look like a pretty crowded space. This also means that is becoming difficult to choose which member of the family you should be getting. My goal with this article was to provide some guidance as to how these machines differ from one another and highlight the strengths and weaknesses of the various products.
A single machine will not fit all needs. Therefore before making a decision, consider what you really want to do with the computer. A purchase decision for many of us will lock us into that machine for several years, no wonder it is difficult to make the right choice.
A good idea before making a choice is to try out the machine in person. With ThinkPads, this is often a problem, because they are often not found in stores very easily.
I will update this article with links to YouTube videos about the different machines.
What would I choose from the ThinkPad X1 family?
I am very much interested in the ThinkPad X1 Nano. It has to be my favorite device from all of them. A close second is the ThinkPad X12 Detachable.
Since I am using mobile workstations for work (need the RAM and H-series CPU) the X1 family is usually not a primary choice for a work computer. But as a secondary computer, they would make a good companion. Hope to be able to review at least one of them. They both could both work great as a DM/GM/Keeper machine during role playing game sessions 🙂
Updates to this article
Updated 4.2.2021: Added X1 Titanium and X12 Detachable PSREF links + another review for the X1 Nano.