ThinkPad P52 preview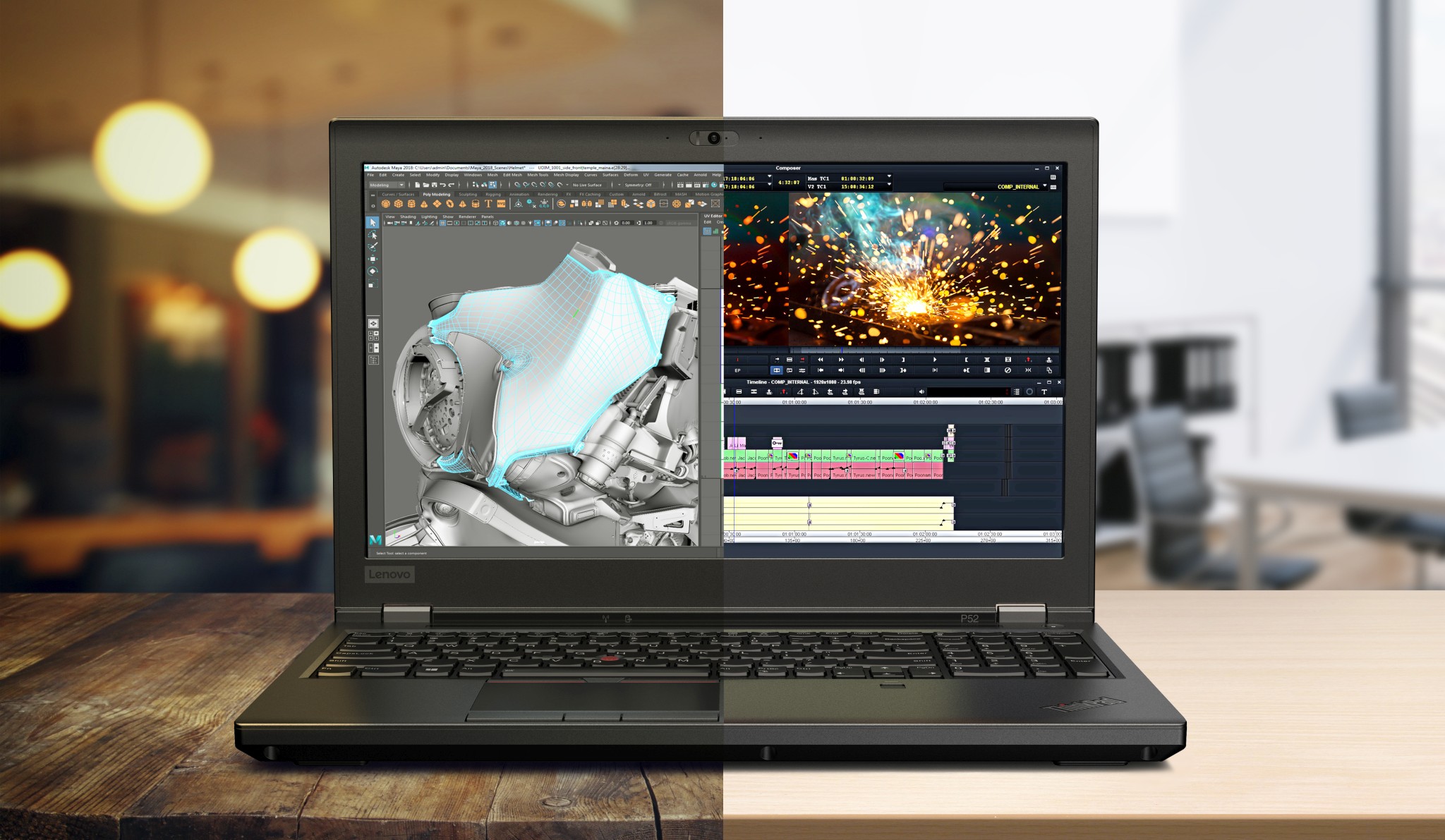 Lenovo announced the newest member of its ThinkPad mobile workstations, the ThinkPad P52 back in June. Equipped with 6 core processors and powerful graphics, it offers unprecedented power to those that need it. And it will even be available with 128GB of RAM.
In this article I introduce the new P52 and in the end I write about why I chose it as my next work computer.
Hardware overview
On the outside the ThinkPad P52 is a minor refresh of the P51. Its chassis is mostly the same, some ports have been changed and the mechanical docking port removed.
The internal changes are more important this year. We see the transition to six core CPUs (up from last year's four cores). The P52 also gets a very performant GPU option, which even allows the notebook to be used with VR or virtual reality.
The ThinkPad P52 contains the latest Coffee Lake processors that pack six cores (and twelve threads). It is also the first notebook from Lenovo to offer the option of 128GB of non-ECC memory (to be available at a later date, probably in August 2018). This means that you should be able to run Azure Stack on it 🙂
CPU options start with the Core i7-8750H. You can also opt for the Core i7-8850H or the Xeon 2176M. Some higher end CPUs like the Xeon 2186M and the i9 option are missing from the P52 currently.
The ThinkPad P52 has four memory banks, so with the 16GB modules that means a maximum of 64GB of memory. But at a later date it should be available with up to 128GB of memory as the 32GB modules become available. For ECC memory the limit is still 64GB.
Displays
The ThinkPad P52 offers two display options:
Full HD screen without touch. 72% gamut, 300 nits of brightness
4K screen with touch. And a semi-glossy finish. 100% gamut, 400 nits of brightness
I wish there were more options, because this now is just two ends of the spectrum. At least the screen quality seems to be better this year – I know many users have complained about display quality and this year Lenovo tried to get better displays in this flagship mobile workstation).
The 4K+touch option adds price, weight and reduces battery life. Both the 4K and the touch by themselves hit the battery life of notebooks. Combined it is just an even bigger hit. I wonder if this decision is based around what people were buying?
Restrictions in options
There are also some strange restrictions for the various hardware configurations. These have been called out online as well. I too think there are more restrictions than used to be, or maybe just the more vocal users on the internet want different things to what Lenovo is ready to offer?
Starting with the screen options mentioned above. There is no 4K-no touch or FHD-touch option. And then again, if you want a FHD screen, you cannot get that with the Xeon processor. Xeons come only with the 4K options.
Want the best graphics option (P3200, see below)? You can only get it with the i7-8850H CPU. You cannot combine the best CPU and best GPU option together.
No more color calibrator?
The P series (and the W series before it) offered a color calibrator built into the notebook, which is now discontinued. You will need to use an external calibrator should you wish to calibrate the display of the notebook.
Graphics
You can configure the P52 with a NVIDIA Quadro P1000, P2000 or P3200. Quadro graphics cards are aimed at professional users for things like CAD or 3D modeling. But they should run games as well, although they are not the primary audience for them.
Going with the P series (Pascal architecture) is a big upgrade from last years M series (Maxwell architecture) Quadro options.
The P2000 should perform similar to a GTX 1050 consumer card, while the P3200 should perform similar to the desktop version of the GTX 1060 card. The P3200 is also VR ready, meaning you can use that with VR glasses, and it should be able to push out the performance needed to run a VR simulation.
Ports
The P52 has a wide array of ports. There are several ports are on the back, which is great for cable management.
The back side has:
RJ45 (Ethernet)
Full size HDMI
2x Thunderbolt 3
Power connector
The left side has:
USB Type A port
SD card slot
The right side has:
Microphone combo jack
2x USB Type A port
Mini Displayport
Docking
Lenovo stopped producing mechanical docks – the ones you have to snap the computer into. Going forward, ThinkPads will be using Thunderbolt 3 docking.
Because a Thunderbolt 3 cable can only deliver 100W power, maximum, this is a problem with the P series. In addition to the Thunderbolt 3 cable, you also need to connect a power cable to the notebook, because the P52 requires a 170W power supply.
Lenovo will be making a new Thunderbolt 3 Workstation Dock, that can deliver both the power to the P series and offer Thunderbolt 3 docking, all using a single cable. Read more about it at Notebookcheck. The dock is rather strange in that it requires TWO power supplies connected. One of them will be fed directly to the notebook, while the other powers the dock.
Availability
The P52 is available now. Some configuration options are still missing, like the LTE modem cannot be added at this point. Also, the Workstation Dock is not yet available (probably coming in August 2018).
Conclusions
The ThinkPad P52 is a beast when it comes to performance. Even the lower options carry an insane amount of performance. Some options might not appeal to every user, but I think that will not detract from the usefulness of this notebook.
I am looking forward to reviewing one soon.
Will I get one?
I ordered a ThinkPad P52 to replace my ThinkPad X1 Yoga as my working computer. You can read my review of the P52 in a separate article.
Coming to this decision was a long road. Basically, there are two big reasons:
RAM
Performance
RAM
The various workloads I need to run have been getting bigger, and the maximum 16GB RAM of the X1 Yoga started to be a limiting factor. Emulators, virtual machines and memory dumps take up space in memory when you are working with them. Not to mention the need to run multiple Visual Studios and other tools at the same time.
Performance
During the last year, we (at my workplace) have extensively tested various computer configurations and how they behave and affect our workloads – we are developing software. Unfortunately we found that the X1 Yoga form factor – thin and light computers – place too big restrictions on our workloads: they are just too slow for what we want them to do.
While the performance is improving, the difference between the thin and light form factor performance and the workstation category performance is just too big to ignore.
I really like my X1 Yoga, but it is time to move forward and improve developer productivity with the P52! (At our company we are now recommending all developers get mobile workstations going forward)
What do I mean by slow?
Ok, so you want details?
We measured SSD performance and source code compilation performance for the projects we work with. We tested various systems and found the X1 Yoga to be slow compared to systems that contain HQ series processors. The slowness can be partially explained by the CPU, but we think other factors affect this as well. While it might be that newer CPUs and newer computers would work better (for example, the 2nd gen Yoga does work better), they still do not close the gap between thin and light and mobile workstation level computers.
In addition, we are more and more aware of how the current CPUs are throttling. Yes, you can get 4 core U series CPUs, but they behave very strangely, and all because of the chassis. This is proved by this test from Notebookcheck. Basically it means your computer performance is not dependent on your CPU alone. The same CPU might behave differently depending on the computer chassis. While this was always how it works, this CPU generation it seems to be getting more attention.
In summary: the slowness of the compilation and tools come from many factors, the CPU, the RAM, the SSD, the cooling. Computer manufacturer cannot defy physics: when you create something thinner, the CPU inside will generate more heat.
It is not just compilation: modern tools and IDE:s require a lot of resources for different code analysis scenarios. These run slow on the X1 Yoga as well, to the point that they create bottlenecks for our productivity.
So is the X1 Yoga bad?
Not at all! The X1 Yoga is a fantastic computer, very well engineered and having many use cases.
Our analysis is only for our use case. It means that for our workload the X1 Yoga is not the perfect fit. I enjoyed my time with the X1 Yoga very much, and I might keep it around for a little longer – it is just easier to drag around or into a meeting than a larger computer. I also still recommend the X1 Yoga to many friends and colleagues.
What about thinner workstations?
There is the P52s you say? The P52s has U series CPUs, and uses the same chassis as the T580.
There are also rumors of a 15″ X1 Carbon clone and a thinner mobile workstation dubbed ThinkPad P1. These might come with the new six core CPUs. These machines are not yet announced – we do not know for sure about CPU options or performance characteristics.
But they will probably be thinner than the P52. Therefore, with all probability, they will throttle more because of insufficient cooling. For this reason, I decided I will not wait any longer nor optimize for thinness, but concentrate on performance!