ThinkPad Stack review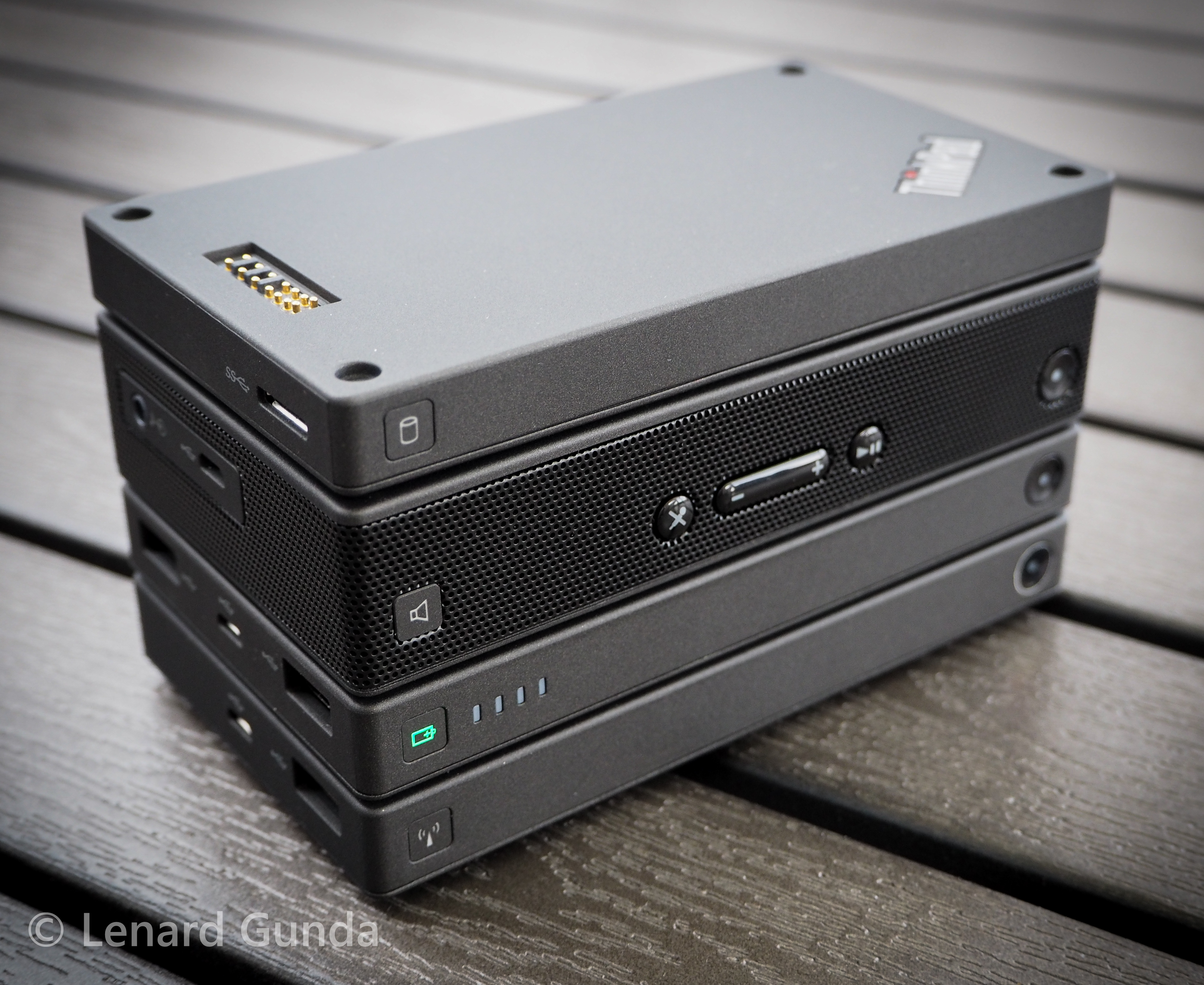 The ThinkPad Stack is a collection of four devices that you can connect together in a way you need them. The Stack consists of a power source (battery), a Bluetooth speaker, a wireless router/access point and a 1Tb harddrive.
I have shared a large number of images in my previous post: gallery of the ThinkPad Stack.
Disclaimer: This product was sent to me by Lenovo as part of the Lenovo Insiders advocacy program. All opinions presented in this article are my own.
Overview
In this review I will concentrate on the devices themselves. I will later create more posts about use cases for the ThinkPad Stack and more information about configuration and usage.
Right out of the box the different elements of the stack feel very sturdy and very well made. Build quality is top notch. The Stack elements are covered in the same soft touch material you come to expect from ThinkPad products.
As I tried to snap them together for the first time, I was pleasantly surprised by how strong magnets they use. But this also makes it very easy to plug them in together. The ports on the top/bottom of the Stack devices align and the devices stay strongly connected. You can easily carry the whole stack without the fear that some parts would drop off the stack. The whole package feels very well designed and executed.
What's in the package?
If you get the ThinkPad Stack Professional kit, your kit will contain the following:
The battery
The speaker
The hard drive
The router
USB to hard drive cable
USB cable (with micro-usb head, for charging
Charger (if you want to charge from the wall)
3.5mm jack cable (for connecting audio devices)
Carrying pouch
Documentation
The kit is also delivered in a nice package in which you can store the different parts when they are not used.
The battery
The battery slice is central if you want to use the ThinkPad Stack away from the wall power plug. It's nice and small, although is the heaviest in the stack. It contains a 10,000 mAh battery.
It can power the stack itself, but in addition, it contains two USB ports that can be used to charge your mobile devices. You can charge the battery itself by plugging in a micro-USB cable. While charging the four indicators in the front tell you how the battery is doing.
The speaker
The speakers can be used for music listening, movie watching or making conference calls (it has a built in microphone as well). For listening you can either use Bluetooth or a regular 3.5mm jack cable. For conferencing you need Bluetooth.
The speaker is the only element of the stack that can work by itself: it has a 8 hour battery built in. You can charge this battery using an USB cable or using the ThinkPad Stack battery. If you want to charge using the ThinkPad Stack battery it is enough if you simply connect the two. Two cables needed! 🙂
I paired the speaker with my iPad and listened to music from Spotify. The speaker was very clear and audio quality was also very nice (for a speaker of this size). I tested different music genres: Classical, Epic, Disco, Dance, Electronic and Rock. Everything sounded great (certainly much better than other Bluetooth speakers I have tried).
The hard drive
The hard drive is a 1Tb capacity USB 3 hard drive. You can connect it to any computer that supports USB2 or USB3 using the included cable.
Of course if you just plug it in to a computer, you cannot get the unique benefits of the Stack. For that, you need the router.
I tested the hard drive by creating a Windows Image Backup onto it while connected to my ThinkPad. It worked just great (as any other external hard drive would). I then transferred some big ISO files onto it to test the speed. Both read and write speeds were quite speedy. Writing speed was 103Mb/s (that is megabytes per sec!) and reading 105Mb/s. Probably the cable/port is the restricting factor in this case. I did not test smaller writes/reads, those would probably not be this high.
The network router/access point
The network router can be used to share your Ethernet network connection or your 3G/LTE network connection (by using a USB dongle).
The router has a simplified interface to configure it, which can be done from the
ThinkPad Stack software
. It is currently available for Windows, iOS and Android. I will be creating a separate article on the software. If you are a networking geek, you should switch the router to advanced mode right away. This mode is only recommended for experts, but now you get access to tons of settings for LAN, WAN, Wifi, Port forwarding, QoS, etc. Everything you come to expect from a advanced router.
#ArtOfStacking
The individual Stack elements are great by themselves, but they becomes much more powerful when you connect them together. Here are a few ideas of how you can use them.
The mobile speaker system
Connect your speaker and the battery, and you have a 48h+ listening solution. Listen to music, radio shows or watch movies while on the go. Or organize lengthy conference calls from your hotel room.
The wireless storage
Connect the wireless router and the hard drive, and you have a wireless storage. You need to supply power to this configuration through a USB cable. You can then access the hard drive using the Wifi network provided by the access point.
The mobile wireless storage
Now connect the battery to the wireless router and the hard drive, and you have created a mobile wireless storage, which does not require a power connection any more.
This could be used to share your files with others in a conference or meeting or just friends. (I know there are better ways to accomplish this, but this does not require any new installations, just that the recipients join a wireless network to access a network share).
Mobile office
The wireless router always has its own wireless network. Currently you cannot use it to connect to an existing network. But this can also be used to your advantage.
If you travel with multiple devices (or family members with many devices) you can simply set up the ThinkPad Stack router to be your access point. You create your wireless network, and configure all your devices (phones, tablets, computers) to use the router from the Stack.
Then whenever you need / have access to the internet, you connect the ThinkPad Stack router to the network. This will share the network connection to your devices. You do not need to set up anything in your devices.
Now you can go to the hotel room, plug in wired network to the router, and all your devices are instantly connected. In this configuration you can use it alone or with the battery so you don't need additional power for the router. You can share a connection from a 3G/LTE dongle in the same way.
Everything together
Of course why leave out any one Stack element when you can have them connected all together? This way you can have everything at once. Do note that the speaker and the router should be on opposite sides the Stack. This is described in the included documentation, and is probably because Bluetooth and Wifi signals can interfere with each other.
Conclusions
The ThinkPad Stack is a very well thought out and executed accessory. By looking at use cases I would say it's more ideal for office use or for those who travel a lot. If you just use your computer at home, the ThinkPad Stack is not as useful (you would be better served by different accessories).
If you do decide to get it, it's a very nice package and you get lots of value out of it, no matter which way you use it.
Highly recommended.
The only negative thing I can think of is that you cannot use the wireless router to extend/join an existing Wi-Fi network. If you have a wireless network in place, it would be neat to add a networked disk drive, which is currently not possible (you need to setup a different network). But this is really a minor issue. Rarely do you come across such a nice package that works as advertised.