Lenovo YOGA 900 and YOGA 900 Home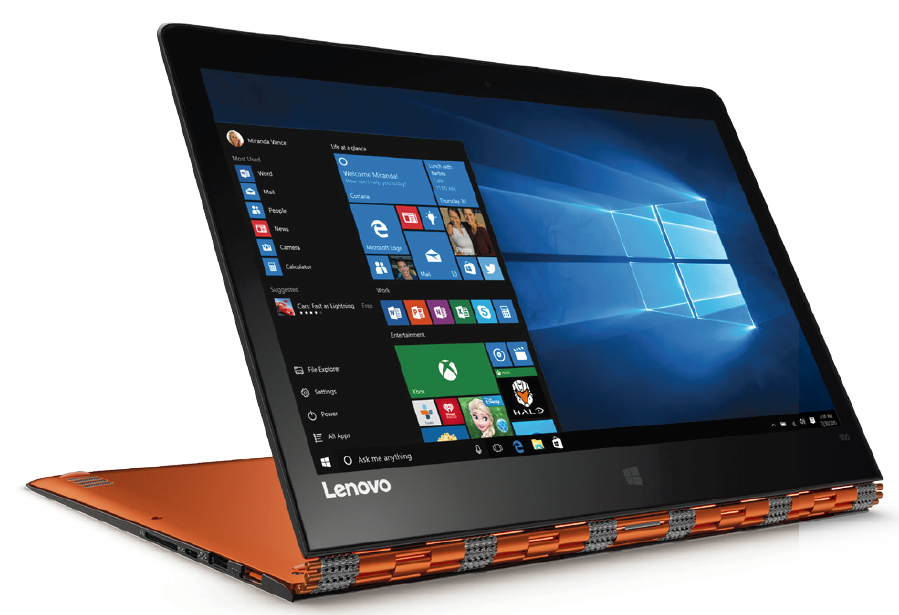 Lenovo just announced some very exciting products, the Lenovo YOGA 900 notebook and the YOGA 900 Home all in one (AIO). I will concentrate on the notebook, as that is the form factor I am more interested in.
I just looked back at what the previous YOGA, the Yoga 3 Pro have meant for me and my family (Yoga 3 Pro: 8 months later), and now here we are with the successor to that product.
YOGA 900
This is the successor to the Yoga 3 Pro. It looks like Lenovo has been listening to what people have been complaining about:
Dedicated function keys
Core i7 CPU (instead of Core M)
Support for 16G RAM
Increased battery life.
Almost the same form factor as the Yoga 3 Pro
The hinge looks the same, except it received some color. The size is almost the same, but the new YOGA 900 is a little bit thicker and heavier. The micro HDMI port from the Y3P is gone, replaced by a USB 3 Type C connector. The same you see on the MacBook. Except the YOGA 900 has some more ports compared to that one 🙂
Here is a comparison between the YOGA 3 Pro and the YOGA 900
CPU

Y3P: Core M 5Y70 or 5Y71
Y900:

 up to 6th Generation Core i7 processor

Operating system

Y3P: Windows 8.1
Yoga 900: Windows 10

Graphics

Y3P: Intel HD Graphics 5300
Yoga 900: Intel HD Graphics (the spec sheet does not specify this)

Display

Yoga 3 Pro: 13.3″ QHD+ LED Glossy Multi-touch (3200X1800)
Yoga 900: 13.3″ QHD+ (3200 x 1800) IPS, 300 nits

Memory

Y3P: 8GB
Yoga 900:

Up to 16GB

Storage

Y3P: 256GB or 512GB SSD
Yoga 900: Up to 512GB SSD

Keyboard

Y3P: 5 row keyboard
Y900:

6 row keyboard (separate Function key row)

Ports

Y3P: 2 USB 3.0, 1 DC-in with USB 2.0 function, 4-in-1 reader(SD, MMC, SDXC, SDHC out, audio combo jack
Y900: 2 USB Type A 3.0, 1 USB Type C 3.0 with Video-out, 1  DC-in with USB 2.0 Function, 4-in-1 Card Reader (SD, MMC, SDXC, SDHC), Audio Combo Jack

Dimensions

Y3P: 13″ x 9″ x 0.5″
Y900: 324 x 225 x 14.9 mm / 12.75″ x 8.86″ x 0.59″

Weight

Y3P: 2.62 lbs
Y900: Starting at 1.3 kg (2.8 lbs)

Battery life (given by manufacturer)

Y3P: 7.2 hours (4 cell 44.8 Whr)
Y900:

9 hour video playback / 10 hour web browsing
Features
As you can see from the table above, the YOGA 900 will have Core i processors. In fact Lenovo says is is the slimmest Core i7 notebook on the market at the point of release. While the physical dimensions are a little bit bigger than the Yoga 3 Pro, it still has an impressively small footprint. All in all it looks to be a very well rounded product in the 2-in-1 category. Given that Lenovo lead the way with the first Yoga notebook 3 years ago, and now other manufacturers are following along, I would say they are doing a pretty good job.
The YOGA 900 will be available in three color options: clementine orange, platinum silver and champagne gold. According to Kevin Beck (and based on the pictures in the technical specification) the hinge will reflect the color of the cover. I find this a small change but a very cool idea (and looks amazing)
By opting to go on the Core i7 route, the YOGA now is a viable alternative to the Surface Pro 4 and Surface Book. It solves the biggest complaint people had of the Yoga 3 Pro, and I beleive it will now be a good fit for a work computer – Core M could manage yes, but it had some limitations I talked about in my recent article and review.
The YOGA 900 notebook will be available in October. You can read the full press release on Lenovo.com.
The first reviews of the YOGA 900 also start to pop up.
YOGA 900 Home
The YOGA 900 Home is an All-In-One (AIO) machine from Lenovo, in the YOGA spirit. Giant tablet with an adjustable kick-stand on the back. So you can either lay it flat on the table or you can use it as a desktop when you attach a mouse and keyboard. The YOGA 900 HOME has a weight of 7.6 kg, it is not something you would be expected to carry around or hold in your hands for reading.
The YOGA 900 Home has a multitouch screen with a 27″ diagonal. The resolution is on the lower side for todays computes, being only Full HD (1920×1080). The YOGA products had recently quite high resolutions, so it is strange that a device with larger screen didn't get a higher resolution.
The CPU options only include 5th generation Core i3, i5 or i7, but luckily it comes equipped with a dedicated nVidia GPU (GeForce 940A with 2 GB of DDR3 memory). Memory is limited to 8GB (4GB or 8GB).
Storage options are 500GB or 1TB, but only a regular HDD can be chosen – even with the 8GB SSHD option this could be better (why no pure SSD option?).
There is no word on upgradeability.
What sets it apart from the usual AIO machines is that it also includes a battery. Given the powerful internals the battery will not last you for long – 3 hours – but from a desktop like machine that is not bad.
The first reviews of the YOGA 900 Home start to pop up online.