Lenovo YOGA 900 Review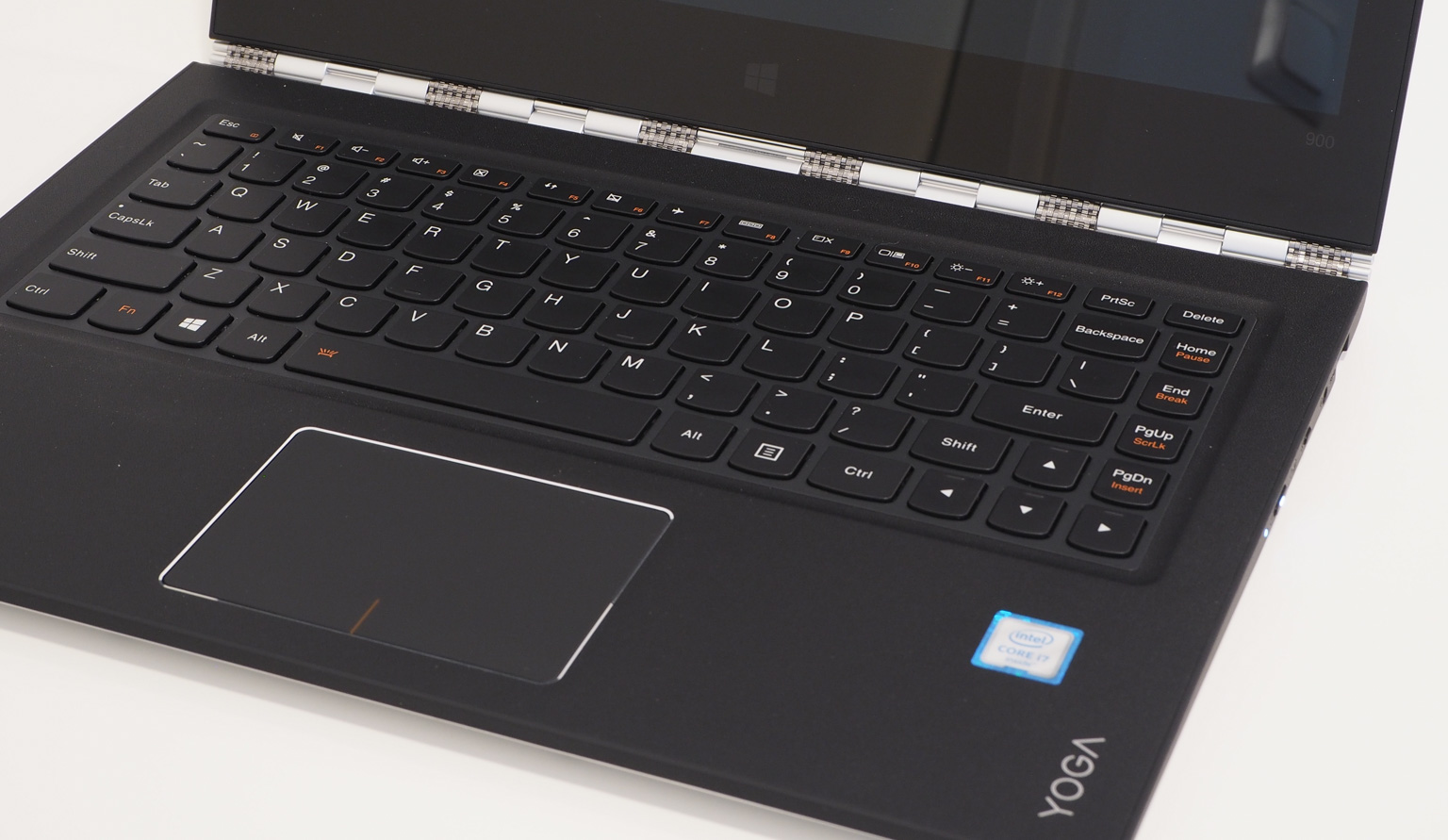 Continuing with the 2-in-1 product line Lenovo updated the 2014 Yoga 3 Pro in the autumn of 2015. The new notebook is called the YOGA 900, and it addresses basically all the complaints of its predecessor. You can read my preview and spec comparison from the launch event.
Having used the YOGA 900 for a few weeks now, I must say I am really impressed. Despite some missing business features, I would say I could almost replace my trusty ThinkPad with this one!
Disclaimer: This product was sent to me by Lenovo as part of the Lenovo INsiders advocacy program. All opinions presented in this article are my own.
Click on the images to get a high resolution version.
Pros and Cons
Pros
Great battery life
Great performance
Thin and light
Multitouch and multiple operation modes make for a versatile device
Cons
No native display-out, complicated to get it to working with the USB Type C output (at least for now)
USB 3.1 Type C adapters scarce, not available and expensive
Keyboard feels too soft
4K video playback is not hardware accelerated in other than Edge/IE
Specs
My YOGA 900 came in Silver color, with 256GB SSD storage and has 16Gb of RAM. There are other options as well summarized below:
CPU: Intel 6th gen Skylake Core i7 processor 6500U 2.5Ghz
GPU: Intel HD Graphics 520
RAM: 8-16Gb DDR3 RAM
Storage: 256-512Gb SSD
Display: 13.3" IPS, QHD+ 3200 x 1800 with 10 point touchscreen
Connectivity: 802.11ac WiFI, Bluetooth 4.01.
Camera: 720p
Weight: 1.29kg.
Dimensions: 324m x 225mm x 14.9mm
Operating system: Windows 10 Home
Other colour options are clementine orange and champagne gold. This generation of the YOGA also colours the hinge to match the colour of the notebook itself.
Hardware
The YOGA 900 retains the amazing hinge mechanism from the Yoga 3 Pro. It still looks awesome and holds the display in place pretty well. This means using touch even in notebook mode works great.
The hinge allows the YOGA to be transformed between four modes: notebook, tent, stand and tablet. Here are some pictures of the different modes. If you want to read about how you can utilize the different modes, I wrote an article about just this topic. Although it was written for the Yoga 3 Pro, it applies to the YOGA 900 as well.
The rubbery wrist rest area is improved from the Yoga 3 Pro: the Yoga 3 Pro was a little bit slippery rubber, with a texture. The YOGA 900 surface is more "sticky", and without a texture.
The notebook houses the latest 6th generation Intel Skylake processor. This is fast enough for all tasks I threw at the notebook. Coupled with 16Gb of RAM, this notebook is a real powerhouse, more than capable of handling all of the tasks I usually perform with my computers (programming, image manipulation, etc). I will talk about performance later.
Ports
Looking around the notebook there are plenty of ports included.
On the left hand side you will find:
Power port where you can charge your notebook. This also doubles as a USB port if you plug a normal Type A USB plug into it.
USB 3.0
USB 3.1 Type C
SD card reader. The normal size SD card will stick out when inserted.
On the right hand side you will find:
Power indicator
Power button
NOVO button (to enter BIOS, restore the notebook, etc)
Location lock button
Combo headphone/microphone jack
USB 3.0
You might notice that the notebook lacks any sort of digital display out port, but in fact the USB 3.1 Type C provides this output. It provides DisplayPort over USB 3.1 Type C, or you can use an adapter to transform that. More on this in the next part.
USB 3.1 Type C
This little connector that represents the future actually gives me the most headache. At least in Finland there is no proper conversion adapter to be able to connect the notebook to something I already have (HDMI, DisplayPort, DVI, VGA, etc). This means I cannot hook up the YOGA 900 to an external display. This situation might change as new adapters are released and USB 3.1 Type C connectors become more widespread. The situation today is pretty bad.
I tried ordering an adapter off eBay, only having to return it: it was not a proper adapter, rather an external USB graphics card. Nothing like that is needed for the YOGA 900: the USB 3.1 port is capable of driving displays. If you buy an "adapter" and it wants to install drivers, complains about USB modes or is just not plug-n-play, check again, you might have been tricked.
At the time of this review I have yet to find a good solution for outputting display signals. We will have to see how the situation changes down the line. There is one adapter offered by Lenovo, but I could not find a store in Finland to buy it from. https://support.lenovo.com/fi/fi/documents/acc100237
Build quality and hardware
Build quality is about on par with the Yoga 3 Pro. That is to say it is excellent for a consumer notebook.
The hinge feels premium and is very sturdy. Maybe even sturdier than on the Yoga 3 Pro.
The keyboard feels good to type on, although the key travel is very shallow and the keys feel a bit too soft. Regardless, the typing experience is very good, I was able to type quite fast and without errors. I typed this review on the YOGA 900 and I also did some coding with the keyboard.
The notebook contains a dedicated function row key which also doubles as special keys to control brightness, sound, etc.
The touch pad is very smooth and feels very nice to use. I had some trouble registering right clicks at first. For left clicks and gestures, it works perfectly. I love scrolling through web pages using the touch pad only (two finger scroll). The touchpad is quite large, which makes it easy to use.
Audio and speakers
The YOGA 900 comes with a Realtek sound card, JBL speakers and Dolby Audio software. The combination makes for a great package audio-wise.
The very flat profile of course means the speakers lack any kind of bass. They are still loud and clear, but I would not perhaps use them for music or movies (audio conferencing is ok, as is some light Youtube video watching).
Plug in some headphones and you will be pleased with what you hear. I enjoyed listening to all kinds of music very much. The sound is clear and sounded good to my ears.
You can tweak the sound with the Dolby Audio app, even create your own equalizer profiles.
Screen
The YOGA 900 has a 3200×1800 16:9 IPS screen. The display is very bright.
The display looks very nice, it is vibrant and has bright colours. I did not perform any RGB gamut testing or other measurements, I leave that to more scientific reviews. To my eyes the display is above average in quality. High resolution pictures look amazing, as do 4K videos I watched from YouTube.
Display scaling is not a strong suite for Windows, even in Windows 10. So because of the high resolution screen, some apps will look strange or work strange or will look so tiny, you need a magnifying glass to figure them out.
Performance
One point where people were complaining for the Yoga 3 Pro was the processor performance. The YOGA 900 includes a full mobile/ultrabook CPU, the i7-6500U. Unlike the Core M variant, this one is blazingly fast. I was able to perform all the same things as on my main work computer. Writing code, compiling, watching movies, image editing, the YOGA 900 took it with ease. Multitasking also works really well, even if running several large applications at the same time.
There were situations where the Y3P would slow down – there is nothing to notice on the YOGA 900, it just keeps going.
4K videos
I wrote about 4K videos with the Yoga 3 Pro in my original review, and revisited the problem later on. I am sad to see the situation is the same with the YOGA 900 as well.
In a nutshell: Google Chrome does not offer hardware acceleration for decoding and playing 4K videos. If you start a 4K video in Chrome, it will stutter, drop frames and will be terrible to watch. It also spikes the CPU to the Max.
If you watch the same video in Edge, the notebook will hardly even notice. CPU is used 20-30%, the video is buttery smooth (and looks absolutely gorgeous thanks to the terrific screen). So if you want to watch hardware accelerated videos, avoid Chrome.
Even though the YOGA 900 has an updated and much beefier CPU, this problem does persist. Again, SHAME ON GOOGLE for not supporting hardware acceleration where available.
2-in-1 operation
The YOGA 900 supports the four modes of the Lenovo Yoga product line: notebook, stand, tent and tablet. I wrote an article about how to utilize the various modes on the Yoga 3 Pro, and the same is true for the YOGA 900 as well.
Reading in tablet mode is really great. I tried reading PDF books and Amazon Kindle books. I usually use an iPad Mini to read, so the YOGA did feel a little bit big. It also heavy, so keeping in in your hands only will tire your hands fast. Other than that, it is a great reading device.
When you go beyond notebook mode, the screen will rotate itself automatically. There is a rotation lock button on the side, with which you can lock the orientation. This is useful is you are reading and change positions in bed / on the sofa.
The YOGA 900 includes a reading feature called Paper Display. This will dim the LCD brightness and turn the screen more into the sepia colour spectrum. As it was recently revealed that blue light actually prevents you from falling asleep easily, this mode is a great addition to any late night readers. It also makes the display gentle on the eyes late at night. I wish the iPad had similar features (if you read a PDF on the iPad at night, it will burn your eyes out, even on minimum brightness).
Touch operation
Touch operation is much improved in Windows 10, and generally it was a pleasure operating the notebook using touch. I also started touching my ThinkPad T430 screen, which of course is just a regular display 🙂
When you go beyond notebook mode, Windows 10 will automatically offer to go into "tablet" mode. You are free to decide if this mode suits you or not. In tablet mode, applications are full screen and the computer behaves more like a tablet and less like a notebook. As soon as you return to notebook mode, Windows 10 again offers to return to notebook mode. I found this feature useful.
You can of course switch to tablet mode manually any time you want.
Battery life
I did not perform any measurements, again, I leave that to other sites. Here are my estimates.
For reading or very light tasks like just chatting, you can get 11-15 hours
For some light office tasks, 9 hours is reasonable.
For more intensive work, 6-7 hours is reasonable.
A big contributing factor is if you use the network antenna (Spotify streaming) and the display brightness of course.
Gaming
I have not have time to test gaming yet. But my friend Atli did test a couple of games on the YOGA 900 and found it to be more than capable of playing all kinds of games. Read up on his impressions here.
What I did try is XBox One game streaming. It works like a charm, and after having your XBox controller connected you can enjoy the games from the XBox, wirelessly. I tried playing Fallout 4, and it was a great experience.
Conclusions
The YOGA 900 is a well rounded notebook that will serve you for years to come. It performs really well, includes top of the line hardware. The factory image is pretty light, so you can start using it right away. And it is a joy to use it. The typing experience is good. All in all, despite the few shortcomings I mentioned above I can highly recommend this notebook to anyone.
(if you do processing intensive tasks like 3D rendering or movie editing, that might the case when the YOGA 900 might not be the best fit for your needs).