Lenovo YOGA C630 WOS review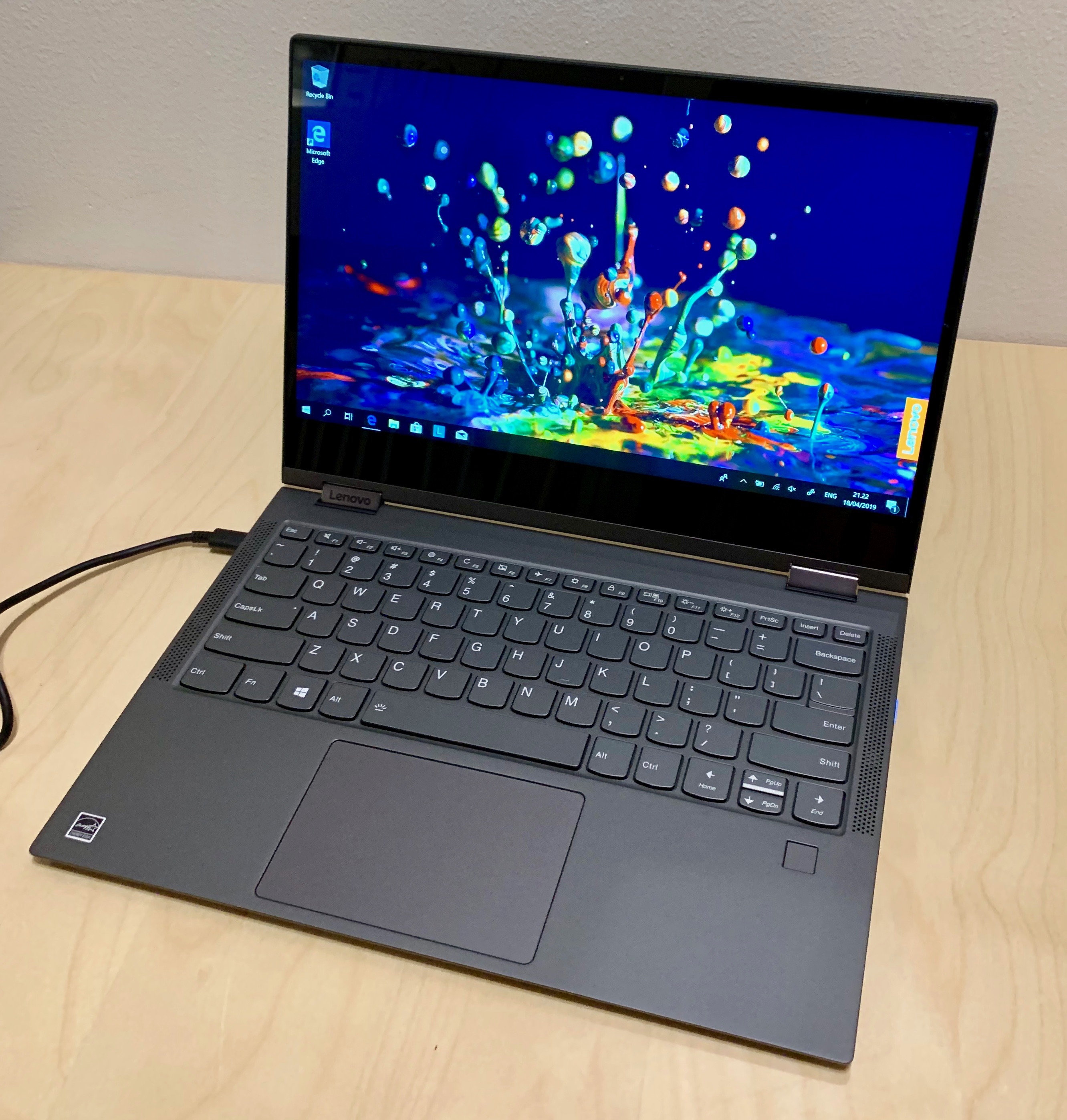 The YOGA C630 WOS is the second Snapdragon device from Lenovo. Positioned in the more premium YOGA line this time, can this little device take on the same tasks as a regular x86/x64 notebook?
Disclaimer: I received the YOGA C630 WOS as part of the Lenovo INsiders program. I did not receive any other compensation. All opinions presented in this article are my own.
Overview
The YOGA C630 is a striking little device. It is very thin and light, and looks great right out of the box. It boots really quickly and is a joy to use and take with me everywhere. Although it cannot run the full version of Visual Studio – so it cannot stand in as my primary work computer – I still enjoyed using it very much.
The Windows-on-Snapdragon (WOS) devices fell a little bit like an experiment at the moment. Not many manufacturers have entered this market, and there are still software missing (for example we are waiting to ARM versions of the major browsers). But this will change with time, and otherwise this is a fantastic little device.
Pros
Thin and light
Great performance for everyday tasks and office work
Insane battery life
Fast LTE speeds
Cons
Thick bottom bezel of the screen
No silo for the pen
Connected standby drains too much battery
Battery charging problems
Unboxing
The YOGA C630 comes in an Iron Gray color. This is a dark gray variant, that I already saw when I reviewed the YOGA S730. I really like this color, it is different from all the light gray colors used in many notebooks these days. The keyboard and touch pad come in matching color.
Beyond the notebook itself the box contains some warranty and quick start guides, the power adapter, a pen.
Snapdragon? What is this magic?
If you don't know what a Snapdragon CPU is, why it matters, and how it differs from a regular Intel or AMD CPU, this section is for you. Others may skip it.
Just like we humans speak different languages, so do the CPUs inside our computers. Two dominant "languages" are the x86/x64/amd64 family of processors, that Intel and AMD make. These are the CPUs you find inside desktop and notebook computers normally.
Another family is the ARM based CPUs, which differes radically in how it works as compared to the x86 processors. Snapdragon is just the product name for an ARM CPU from Qualcomm.
I will not go into details how these differ, but the major point that matters to us users is that because of the different language, you cannot just take an application that is for one CPU architecture, put it onto a computer with another architecture and run it. For this reason, the Snapdragon based Windows machines cannot run everything that we are used to. But the reality is actually quite good, because there are ways to overcome this. Read on, to find out how well this succeeds and how well it works.
Hardware
The C630 WOS that I received has the following hardware:
CPU: Qualcomm Snapdragon 850 CPU
GPU: Qualcomm Adreno 630
Cooling: Fanless design
Memory: 8GB (also available with 4GB)
Storage: 128 GB (also available with 256GB)
Screen: 13″ Full HD (1920×1080) touch screen with digitizer (pen included)
Speakers: stereo speakers
Although the storage capacity is not too big in the model I have, I do think that for an always-connected device it should be enough. All the "other things" can be stored in cloud storage.
Cloud storage
I have to point out that in this case having a cloud storage where you do need to synchronize/download everything is a big plus. I primarily use OneDrive, which supports on demand downloading of content (in addition to me being able to say what I want always to be available offline).
Not all cloud storage providers support this model, some (looking at you Apple) not even selective downloading. Those services are not great with small local storage.
Build quality
The build quality feels superb overall. The notebook is not too thick, but still has a very solid feel.
The top of the lid has a metallic feel. It is cool to the touch when you take the notebook in your hands. The bottom has a soft touch finish and large rubber legs. It sits very firmly on the table. The inside is also covered with the soft touch finish.
The hinges feel sturdy and hold the screen in place very well.
Keyboard
The backlit keyboard feels good to type on. It has good sized keys with enough key travel. I would prefer a slightly longer key travel and stiffer feel myself.
The surface of the keys are slippery, but I did not find this would affect the typing experience. I am able to type quite fast on this keyboard and it feels good even after longer typing sessions. Overall I would give the typing experience a 7/10 rating.
Touch pad
Touch pad is good sized and occupies the middle of the palm rest. Multi touch gestures work well. When clicking, it feels a little bit flimsy, and not as high quality as some other touchpads. But this does not affect the operation.
There are several multi touch gestures available, and these can be setup from the Windows Configuration tool. There are no separate utilities to adjust the touch pad sensitivity.
Pen
The notebook comes with a Lenovo Pen and a digitizer built into the screen. I tried hand writing and drawing in OneNote, and it feels natural and fast (I will try to post a video of this later). There is a slightly longer lag than on my ThinkPad X1 Yoga, but I might just notice it for comparison's sake. It certainly is accurate and fast.
Too bad the pen does not have a silo or a holder, so you just have to take good care not to loose it.
Fingerprint reader
The YOGA C630 also includes a fingerprint reader. This worked very fast in my tests, when opening the notebook from sleep and placing the finger on the reader it unlocked the system instantly.
It is so close to the edge, that I ended up scanning my thumb into the fingerprint reader as well (usually I am using my index or middle finger). Because of the way I open the notebook, I can touch the fingerprint reader with my thumb for instant unlocking as the computer is awaking from sleep. Very comfortable.
Screen
The screen is rated 300 nits in the specs. In everyday and in door use, it feels quite bright, I usually used it at one notch above the minimum brightness. This even worked in a relatively light room. But in a very bright room or outside you will need more brightness.
The screen is very glossy, and sometimes it was hard to see.
There is a relatively wide bezel at the bottom of the screen, which does disturb me a little, given how little bezels there are on the others side.
Speakers and Sound
The speakers are not really impressive and sound very hollow and tinny, with a complete lack of bass. I feel Lenovo could have added better speakers here.
Plugging in headphones solves this problem though. The sound through headphones is very rich and sounds great.
Performance
Performance is generally very good. Everything opens up really fast, and works great. Even when multi tasking, performance is great. I started Edge with a 10+ tabs, opened Outlook, OneNote and Slack. I could still switch between the apps and tabs, and everything worked great. At this point I had about 5Gbs of memory used up – so the smaller YOGA C630 with only 4 GB of RAM might be a tight fit if you like to multitask.
Running all of the abobe at once was no problem, and I could jump from app to app and continue with whatever I have been working on.
I also had KeePass running, which is a regular x86 application. These are not always running at full speed, because the ARM CPU cannot directly run these applications.  Slack feels like one of these as well. There are occasional slow downs or delays when using these kinds of apps, but nothing major. And then when the app is fully started, they seem to work great.
Wake from sleep
If I closed the lid, the notebook went to sleep. When I open the lid, the login screen comes right up, instantly. It works really great.
Sleep time battery usage is not that great. It lost about 5% of battery during a night time sleeping session. These devices are marketed as always on devices, so I wonder if the computer did something during that sleep time, like checking emails and such. I wonder if they can be set up to really sleep and not do anything in the background, but I am yet to find such an option.
LTE modem
One of the big selling points of the C630 WOS is that the SOC it contains – the Snapdragon 850 – has built in LTE support. I just slipped the nano sim card into the sim slot, and voila, instant connectivity.
Whenever there is no Wifi network, the notebook will switch to LTE automatically. The LTE speeds are really fast, I hardly even notice that I am not on my Wifi.
Using fast.com and just 3 bars of signals in downtown Vantaa got me 35 Mbps.
Using speedtest.net I got 50 Mbps for down and 4 MBps up. Ping was 19 ms.
Ports
There are only USB Type-C ports here (one doubles as the charging port) and a headphone jack. So if you need to connect something else, you will need a dongle or two.
Left hand side:
Nano sim card slot
USB Type-C / charging port
Right hand side:
USB Type-C port / display out
3.5mm headphone combo jack
Power button
Battery life
Lights tasks like taking notes can mean a battery life that is close to 20 hours (Wifi).
If you are using the browser only, it is a safe bet to get 14-15 hours of usage. Of course a lot depends on what you actually do in the browser.
When doing some more serious work, battery life estimate vary, but a full charge should still get you 10 hours of medium usage.
When using the LTE connection, battery life will be a couple of hours less.
Battery charging problems
I have bumped into battery charging problems on several occasions. Namely, the system just stops charging at one point. In order to charge more, you need to disconnect and reconnect the charging cable.
Sometimes Windows will tell you that it is still charging, but nothing is happening with the battery. At other times, it will simply tell you that it is not charging, although the battery might be 78% full, for example.
I hope a BIOS update can fix this problem, because this behavior makes the notebook a little bit unreliable. I can't just plug it in, I have to check how far the charging has progressed.
Another problem with the battery is, that it seemed to have creeped to 19% wear at 1 months of age, only to go back to 7% on the next full charge (drain empty, charge full). Battery charging does not seem reliable, but this might be a side effect of running Windows on an ARM platform. I will have to follow up on how this develops over time.
Connected standby
I really don't like connected standby. I have had meetings with this feature before, and I never understood why I need it, and never really liked it.
Pros?
Instant connections, refreshed mail are some of the pros mentioned for connected standby. But I never had any problem with content when waking my computer from sleep anyway. By the time I login and switch to the mail app, my normal computer would refresh the mails already. Doing this while sleeping just seems to me like a waste of battery life.
Cons?
Connected standby drains the battery about 0.5 – 1.5% per hour that is spent in connected standby. This is the only kind of sleep mode supported. For example I closed the notebook for over a day, and fifth of the battery capacity was gone.
One night took down 17%, but as it turns out, Windows has been installing a cumulative OS update during this time, and when I woke the computer it was just a restart away from applying the patch. I am really not satisfied with this behavior, because it means I cannot count on the battery life of the device if it starts installing random things and updates in the middle of the night or while it is in the bag.
While there is a registry hack to disable connected standby, it created some problems and strange behaviors. And the notebook just could not sleep after that.
I could think of many things to improve this model. For example I wish there would be an option to tell the computer to go hibernate itself for the night. And certainly I don't like Windows doing all sorts of things while the computer is "sleeping".
Windows 10 S
The notebook came with Windows 10 Home in S mode. S mode is a special mode of Windows in which you are only able to run applications that were installed from the Windows Store.
I thought I will give this mode a try, having read much things about it. But it didn't take too much time to bump into a major limitation: I could not even open a command prompt in this mode. It is a nice concept but unfortunately I had to turn off S mode.
I still tried to stick to applications from the store for many things, just to see how I could get along with all thsese apps.
Browsers: Firefox
Just recently a beta for Windows on ARM was released by Firefox. Or so say the blog posts and news sites. But I was unable to find a downloadable version of this on the Mozilla web page. So as of now, I was not able to test this out. (if anyone has more info on how to download it, please send me a comment!)
Edge Chromium and Google Chrome are said to be coming to the ARM architecture as well, but they are not yet ready and cannot be tested at the moment.
So the only browser you can really use is the native Edge browser. I did not want to try the 32bit browsers in emulated mode, because I fear that would have been a sub optimal experience, es even more simpler apps are sometimes struggling in the emulation mode.
Lenovo Vantage and driver updates
The only purpose of Lenovo Vantage on this notebook seems to be offering the Users Guide to me. It cannot download any updates, nor can it set any hardware parameters. But going to the Lenovo Support site will reveal that there are no driver updates available for this computer. The only updates I got for hardware devices, including a BIOS update, was through Windows Update.
Using an ARM based Windows PC
Generally speaking, using this laptop is quite same as using any other laptop. I need to take care to install x86 (32 bit) versions of apps. They work in the emulation mode, are a bit slower, but nothing major. You cannot install 64 bit apps on here. Hopefully, native ARM64 apps will be coming from at least the browsers (see above).
The store has all the same great apps we are used to. Spotify and Netflix are both there. The browser can support many more services if dedicated apps are missing.
Working on the YOGA C630 WOS
I was able to run Python here, NodeJs, Visual Studio Code, so light development is certainly within the possibility of this notebook.
Of course Office apps work great here, as does for example Slack. So this is an excellent computer for an information worker. I have yet to bump into any serious problem doing work related things.
Well of course, some apps are just not possible to run here, like full Visual Studio or Photoshop. But this computer was not designed for these anyway.
Conclusions
During this first month of usage I grew very fond of the YOGA C630 WOS. It is thin and light and very easy to carry with me anywhere. Touch and pen input along with YOGA modes make this a versatile machine. The Snapdragon CPU is certainly plenty fast, and can multitask really great as well. I don't really feel that I am limited by it, especially since I can run 32 bit x86 apps.
I noticed I used my iPad less and this more during this month. And in fact you can think of this as an iPad with keyboard 🙂 It certainly has the battery life and touch options available, the tradeoff for Windows is a bit of bulk.
It is an excellent machine and if you have read so far you already know the limitations of the platform. I can very much recommend this computer to anyone looking for a general purpose machine or something to travel with. But it works equally well just surfing on the sofa.
The included LTE connection is just way too comfortable, and works really well.
Who is it for?
For a pure media consumption device the C630 WOS makes a lot of sense. But in this case a tablet might be even lighter, so it is a choice of balancing what else you want to do with your device.
The C630 WOS can browse the web or watch videos (YouTube, Netflix, etc) with ease. The LTE connectivity and long battery life means it is also perfect for traveling.
The notebook can run office apps just as easily. It is a good fit for a business executive, for a project manager or other IT worker. It is thin and light, easy to carry around while travelling. And again, because of the battery life even long haul flights are no problem and can be managed without the need to recharge the battery.
A word of warning to business users: if you rely on custom software in your business, you need to make sure that either an ARM version is available, or that it is 32 bit and that the notebook can handle it. There are no good rules here, probably it needs to be tested out to know for sure. But if you rely on an Office suit or web based apps, there should be no problems.
Students will also appreciate the C630 WOS, and it can be used as a note taking device.
Gaming and heavy lifting is an area which are not suited for this notebook. If you are in these areas, this might not be the notebook for you.
Development, virtual machines and containers are beyond the capabilities of this notebook. You can use it for light web development, but even these tools you need to use in the 32bit emulated mode, because there are no native ARM versions available at the moment.