YOGA C630 WOS – a year later
I have been using the Lenovo YOGA C630 WOS for over a year now. I thought I would revisit, how I have found it during this year.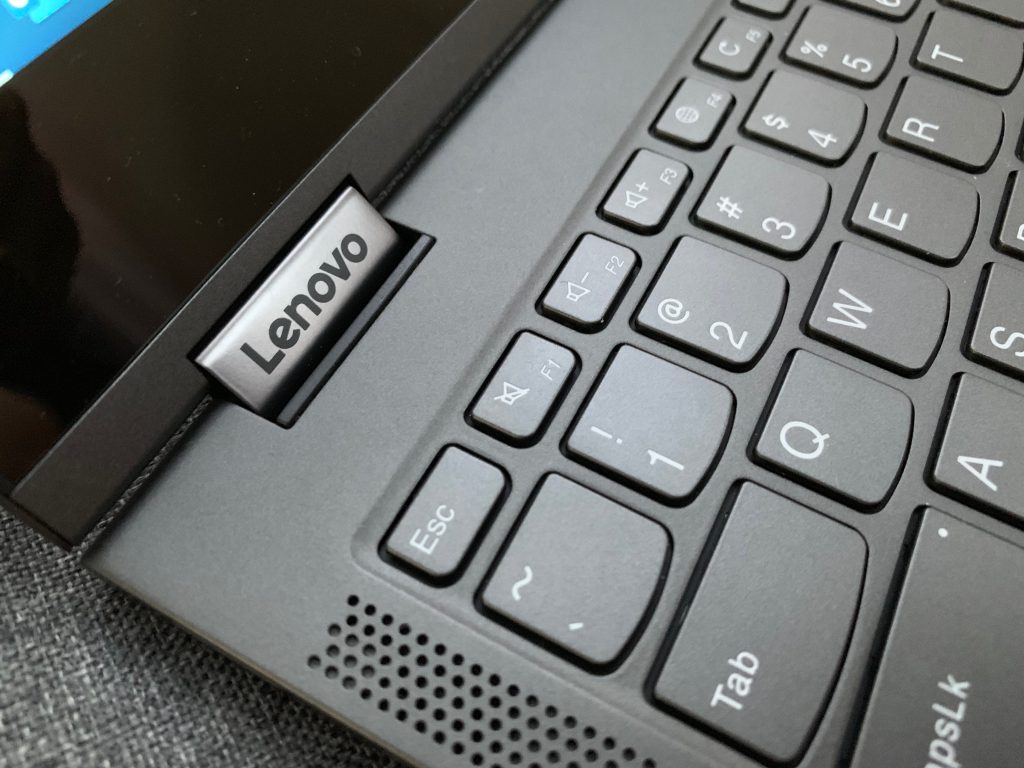 Overview
The YOGA C630 WOS is a thin and light notebook with 4G connectivity built in. It has a fanless design, long battery life, so is ideal for all day (and even multi day) working without the need to plug it in. Because of the connectivity, you can use it anywhere – anywhere where you have cellullar network coverage or a Wifi network.
(If you have read my previous articles on the C630 you might recall I changed the battery. The new battery has been working perfectly, and I am very happy with the computer and battery life now.)
Technical background
The YOGA C630 WOS is an ARM powered device. This means that unlike regular notebooks, the CPU inside is not using the x86/x64 architecture that Intel and AMD processors use. Instead it uses the ARM architecture, and is provided by Qualcomm.
This also means that the notebook runs a special version of Windows, that has had many names, but we will refer to as Windows on ARM.
Although this means the device is thin and light, lasts a very long time on battery, has no CPU fan to make noise, it also comes with drawbacks. Not all apps and programs that are available on Intel CPUs will work. Some might work, but will be very slow or react differently.
I have gone through the limitations in my original review.
One year on
Let's now concentrate on how the device has fared during this first year of usage.
I have used the YOGA C630 WOS as a secondary device – my requirements for software development prevent me from using such a device as a primary one. Nevertheless, for certain use cases, it very well might be a primary device.
Let me also say that there is also a successor device available, the YOGA 5G. It has 5G connectivity built right in, otherwise, it would seem it is pretty much the same design philosophy, than this C630 WOS. So most of the things probably apply to that device as well.
The screen
While the screen looks awesome inside with plenty of brightness and good looking colors, this is not true outside.
The brightness is just not too good for working outside. In the shade, it is ok. But in sunlight it is not very visible, the brightness just does not go up high enough. The extreme glossiness of the screen also means that it is full of reflections outside. So much for working from the terrace 🙂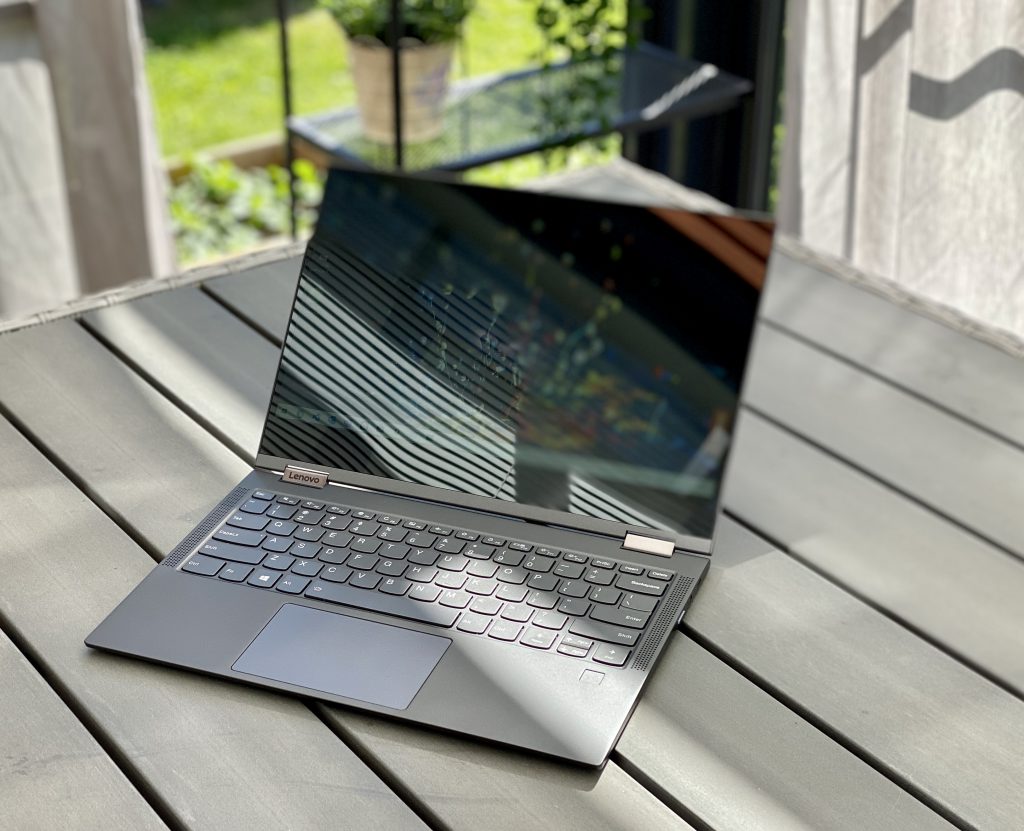 I usually use my computers with dark mode (day and night), it is just much more easier on the eyes for long time working. I had to turn it off completely in Windows and in the apps for the notebook to be usable outside.
The very good portability and connectivity means that you want to bring the device with you everywhere – but you should know, that outside on a sunny day it might not be the best choice.
While we are talking about the screen, I should also mention the thick bottom bezel. These tend to be disturbing every time I use this computer.
Office apps and performance
Performance for Office apps is great. Working with Word, Excel or PowerPoint, checking the email (with Outlook) – these all work great.
My unit is equipped with 8GB of RAM, and I never had any problem performing work tasks and running multiple apps at the same time.
Battery life
Battery life is just so large, that it blows my mind. Note taking? You could probably get 15-20 hours even with the brightness turned quite up. And even browsing and using Office apps will still easily get you to almost 15 hours.  That is, if you use Wifi. On 4G, this will be slightly less. All in all, I never ever had even close calls with this notebook, and wearing the battery down is truly hard 🙂
I think either Windows or the Lenovo drivers got better during this year, because the notebook does not eat through the battery when placed into sleep mode. It still drains (thank you connected standby :-P), but not as much as it did in the beginning.
Note taking
Note taking is a strong point of the C630 WOS. The digitizer with the pen and the touch screen, the Yoga modes of the notebook mean that it is comfortable and fast to take notes.
I will point out, that I am not impressed by the quality of the digitizer. I compared it with other Lenovo ThinkPad devices and an iPad, and the C630 WOS was the least good in my opinion.
Palm / hand rejection was the worst of the bunch, with the C630 WOS often picking up my hand, instead of the pen, even when the pen was hovering over the screen.
Pen tracking was also a little bit on the slow side – this might be because of the ARM CPU inside. My handwriting is not very pretty, but it turned out worse on the C630 than other devices. I don't know what causes this.
While I am very critical in this section, I am not saying the C630 is bad, it is just not the best possible option. The results are still good and usable for note taking, and I have used the computer to design a text adventure and to draw maps for role playing games. The results are ok. But if you are a digital artist, you might not like the digitizer that much.
Development
I also made a separate article about using this little computer for development. My opinion has not really changed since then. If you are interested in this, you should read that one.
Role playing games
I have used the notebook to participate in role playing games. Because of the small size and portability, it is easy to take with me. I can stuff it full of PDFs (rule books), that I can access during the game. Works like a charm.
Zoom and other meetings
The notebook is good for online meetings. I actually lent it to our son, for him to participate in some pre-school work.
I am not too fond of the speakers though – they are a bit underwhelming. So I connected a Jabra Speaker, but the webcam was used from the computer.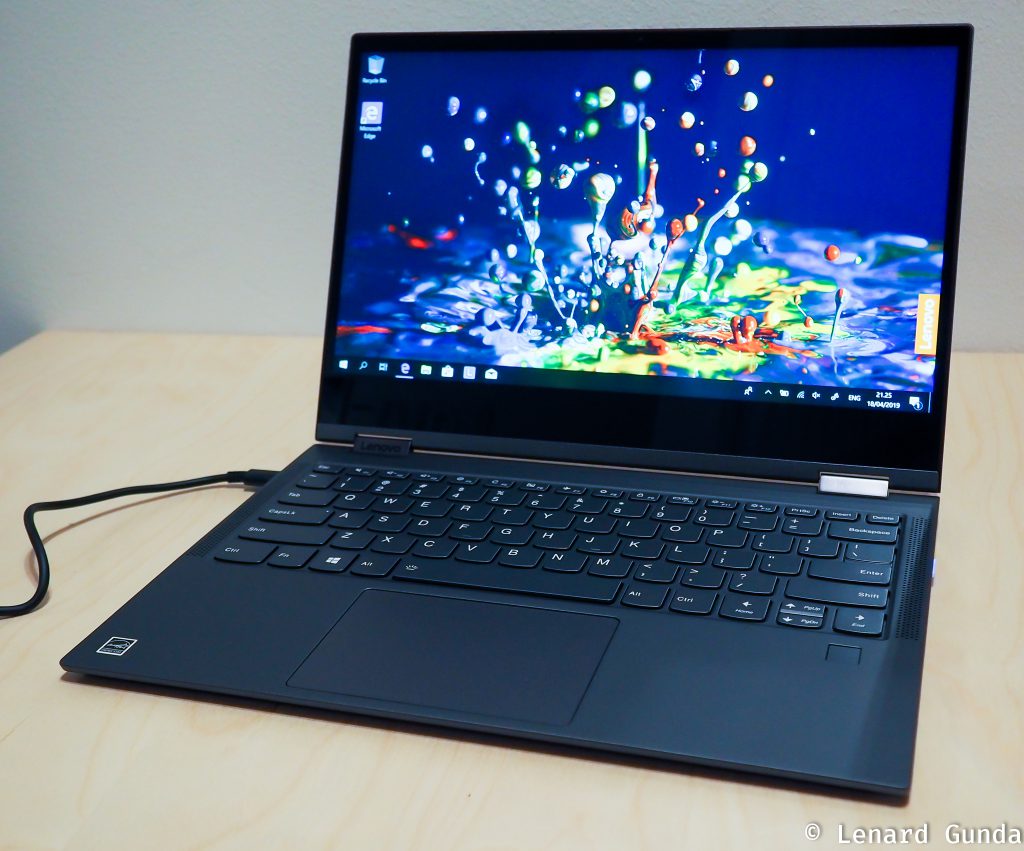 External displays
I tried using the notebook with external displays. Since there are only USB-C ports, this is what I used. I tried the ThinkVision P44w display with the notebook, my goal being that the sole cable would power the notebook (from the display) and the notebook would use USB devices and the display as well.
I ran into some problems. While charging the notebook, the display and USB devices would not work properly. After charging is done, the setup works as expected. I don't know where the problem lies in the setup. But I will not complain too much, because I am yet to find a computer (not just Lenovo) that will work with all other devices right away when connecting 🙂
The forgotten child?
Although I received one or two driver updates through Windows Update, none came this year that I remember of. Given how other notebooks are constantly updated, I feel like the forgotten child. I fear the C630 WOS did not sell too well, and as such, support is slowly dying for it.
Not that I know of any major problems, everything seems to work great. It is just something to bear in mind when choosing a not so popular model.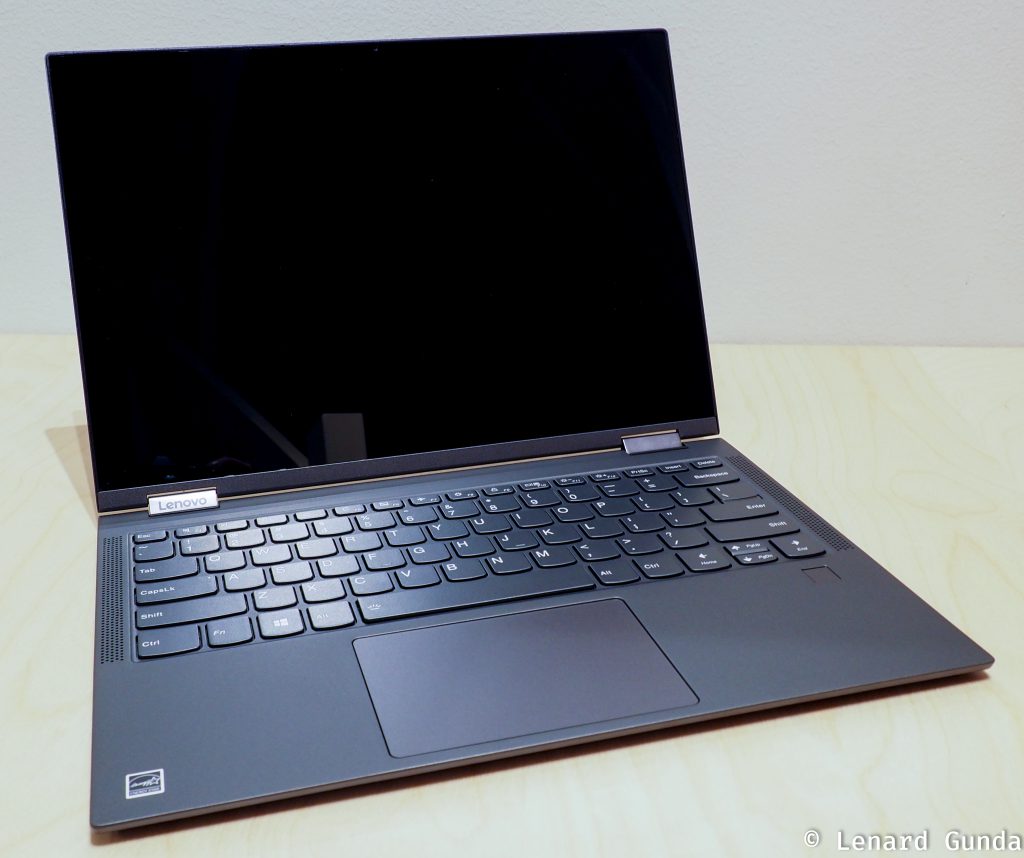 Conclusions
I still find the YOGA C630 WOS an excellent little computer. I used is a secondary device, and works perfectly well for that. For school or university (unless you need the processing power), this could be an ideal companion. It works great for media consumption or even creating written content.
Because of the digitizer, I would not recommend it to a digital artist. But for notetaking, it is perfectly fine.
As mentioned in my original article, the notebook does some form of x86 emulation to run programs that are made for Intel CPUs. Qualcomm and Microsoft said that x64 (64 bit) emulation would not be coming to this machine. This feels a little worrysome when Apple just announced their ARM Mac offering, that will have support for emulating/transpiling x64 applications. This is of course not the C630's shortcoming, neither Lenovo's, but I would wish that Microsoft took ARM as seriously as Apple does. It would mean we could get much better offerings with Windows on Snapdragon. As it stands currently, I feel that Windows on ARM is just a second class offering, not a real alternative.